Corporate and Commercial Law
The Corporate & Commercial Law Program is designed to prepare Denver Law students with knowledge, insight, perspective and skills required to practice effectively in the areas of corporate law, commercial law and bankruptcy and business litigation. A rigorous second-year curriculum and experiential and critical-thinking courses in the third year (fourth year for part-time students) provide our graduates with a running start as they begin their careers practicing business law.
Jan. 2023: Denver Law 3L Ryann Connell wins Baylor Law's The Closer transactional competition. Read more

 
Here are some frequent questions about the Corporate & Commercial Law Program. Please don't hesitate to contact program director Professor Stacey Bowers for more information.
Interested in events, courses and experiential learning opportunities in Corporate and Commercial Law?
Complete the Form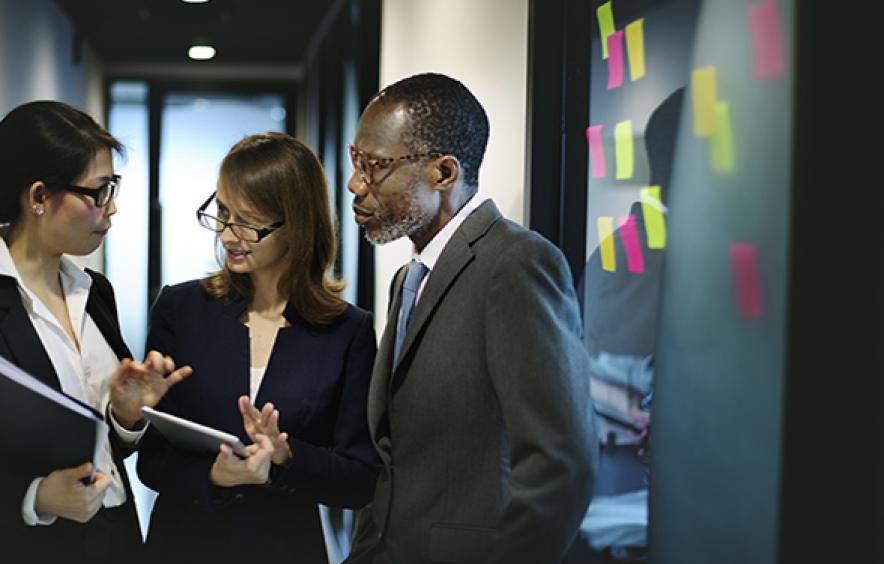 Producing lawyers who understand the needs of business clients
Faculty and integrated learning
The business law faculty at Sturm College of Law have many decades experience teaching, publishing and practicing in corporate and commercial law. In Denver Law's clinical program, business law students represent clients in the Community Economic Development Clinic. The legal externship program permits students to gain experience by working in diverse legal settings including law firms, courts and administrative agencies.
Community nexus
Students participating in the corporate and commercial law program enjoy meaningful opportunities to interact with faculty, alumni and local practitioners. The Business Law Society and the Corporate Governance Society are student organizations aligned with the program. The Race to the Bottom is a blog with student and faculty contributors.
Corporate & Commercial Law Program Newsletters
The Corporate and Commercial Law Program shares information with students and the community through its bi-semester newsletters. These publications highlight program-related student opportunities and achievements, and provide information about program affiliations and upcoming events.
Corporate and Commercial Law Faculty
Brownstein Summer 2019 Fellowship Program

Applications closed on March 7, 2019

Overview and Selection Criteria

Two Denver Law JD students will be selected, through a competitive process, to work in the legal departments of Arrow Electronics and RES Americas.

The Brownstein Hyatt Farber Schreck (Brownstein) Fellows will be expected to work for an eight-week period (30 hours per week maximum) during summer 2019. The Fellows will each receive an hourly rate of $24.00 per hour with a maximum payment not to exceed $5,760 from the Corporate & Commercial Law Program through the Brownstein Fellowship.  In addition, in accordance with ABA standards, Denver Law will allow students to receive pay and credit simultaneously. If Fellows are interested in applying for academic credit as well, please review these guidelines and contact externships@law.du.edu for more information.

Brownstein Summer Fellowship opportunities are available for current 1L/2L/2LE/3LE students who are either enrolled in the Corporate/Commercial Law Program or have a sincere, demonstrated interest in pursuing this program or career path. All candidates must have a strong academic record and a demonstrated interest in a corporate and commercial law practice.

Fellowship Job Descriptions

Opportunities at Arrow Electronics and RES Americas are sponsored by Brownstein. One Fellow will be placed at each site. Attorneys from Brownstein will serve as mentors to the Summer 2019 Brownstein Fellows and Fellows will be included in firm events specifically designed for the Fellowship program.

With Arrow Electronics, the Fellow will work with various members of the domestic and international Legal Department on different aspects of the company's business. In particular, the Fellow will assist in the following areas: supplier and customer contract review/negotiations, intellectual property, digital marketing, real estate, privacy, trade compliance, labor and employment, litigation and other matters or disputes as required. As part of the position, the Fellow will assist in the resolution of a variety of business and legal concerns in conjunction with all levels of Arrow management. The Fellowship is located at Arrow's offices in Centennial, CO.

RES Americas is one of the top renewable energy companies in North America. The Fellowship at RES Americas is intended to expose the Fellow to the culture of an in-house legal department and to enable the Fellow to better understand the unique needs and circumstances of corporate clients. As part of the Fellowship, RES Americas will, as best it can, integrate the Fellow into all aspects of the legal department. This will include an appropriate cross section of work assignments and, where appropriate, participation in departmental meetings and activities. The Fellowship is located at RES Americas offices in Broomfield, CO.

Application Process

DOWNLOAD THE 2019 BROWNSTEIN FELLOWSHIP APPLICATION FORM HERE (Fillable PDF)

Application packets are due by Thursday, March 7, 2019, at 9:00AM via e-mail to Gayle Keahey at gkeahey@law.du.edu.

You will be considered for a Fellowship opportunity at both sites. If you have a preference for a particular host site, please indicate that within your application form.

The following items MUST be included in your electronic application packet and should be in the following order:

Cover Letter (Must be addressed to "Brownstein Summer 2019 Fellowship Program Selection Committee")
Completed Application Form (see above form to download)
Resume
Unofficial Law School Transcript

Applications must be 100% complete and e-mailed to Gayle Keahey at gkeahey@law.du.edu. Hard copy, incomplete, partial and/or late applications will not be accepted. The Fellowship is only open to JD students. Application packets must be received electronically in one (1) PDF document. The final PDF file name must be titled: Your Last Name_Your First Name_BHFS Fellowship_2019

Selection, Interview and Notification Process    

Completed applications will be sent to the Fellowship Program Selection Committee to review. A short list of the top candidates will then be sent to host sites for in-person interview selection. In-person interviews with host companies will happen in mid-to-late March, after which all applicants will be notified of their status.

Questions

Please contact Gayle Keahey at gkeahey@law.du.edu, 303-871-6197 or in Suite 223 with any questions regarding the application process. Our Career Development Office is an excellent resource for assistance in reviewing your cover letters and resumes.

We are strongly dedicated to the pursuit of inclusive excellence and diversity. See our Diversity Statement. DU is an EEO/AA employer.

 
"It's not enough to have taken the full panoply of courses in subjects that provide a well-rounded legal education. The corporate-commercial law curriculum is designed to train lawyers who aspire to be respected transactional lawyers in the substantive law that they will use every day and the practical application of those principles through problems, writing, and experiential exercises to relate the law to the real world. That training will be recognized by law firms as extremely useful for new associates to begin projects for businesses with issues they understand and strategies with which they are already familiar."

John Moye Founder of the Denver law firm Moye White