Whether you are seeking employment in large firms, small firms, or your own firm, the advisors at CDO can help you structure a career plan that is right for your legal career path. 
There are several opportunities available for Denver Law graduates interested in private sector employment:
Law Firm Careers

Many Denver Law graduates work for law firms throughout Colorado and around the country, in firms of all sizes, ranging from solo practitioners to firms with 500+ attorneys. Law firm experience as a law clerk or intern during law school is highly recommended if pursuing this path. Some popular practice areas include the following:

Alternative Dispute Resolution 
Bankruptcy Law
Civil/Commercial Litigation
Civil Rights
Corporate/Business Law
Criminal Defense
Education Law
Elder Law
Employment Law
Energy & Natural Resources Law
Entertainment & Sports Law
Environmental Law
Estate Planning
Family Law
Healthcare Law
Immigration Law
Intellectual Property Law             
International Law
Marijuana/Cannabis Law
Oil & Gas
Patent Law         
Personal Injury Law
Privacy/Data Security
Real Estate
Tax Law
Water Law

In-House Counsel

Colorado is the home headquarters of many businesses, ranging from Fortune 500 companies to small start-ups. Many of our students obtain summer or school-year law clerk positions working with in-house legal departments, and some graduates go straight in-house after law school. Companies that have hired Denver law students as interns/externs or hired graduates for full-time positions include:

Arrow Electronics
Molson Coors Brewing Company
Century Link
Davita
DISH Network, LLC
Lockheed Martin
CoBank
Toyota Tsusho Corporation
Western Union
Westmoreland Coal Company
University of Denver Office of the University Counsel
Great-West Financial
Gates Corporation
National MS Society
Paladina Health, LLC
NBH Bank
Location3 Media, Inc.
National CineMedia, LLC
MarkWest Energy Partners, LP
CH2M HILL
CSG International
First American Title Insurance Company
Grease Monkey International, LLC
Vertafore
Newmont Mining
Slack
Elevations Credit Union
Spectrum Retirement Communities
ICON Advisers, Inc.
Advanced Energy Industries, Inc.
Nelnet, Inc.
TTEC
SM Energy Company
Translogic Corporation dba Swisslog Healthcare Solutions
Cable Televisions Laboratories, Inc.
National Corporate Housing, Inc.
IMA Financial Group      
Ball Corporation
Noble Energy
Purple Land Management

 

J.D. Advantage and Emerging Careers

Some students come to law school to advance a current career, enhance their background in business or other fields, gain knowledge to start their own venture, or pursue alternative or emerging careers. Some decide during law school that they do not want to practice law in the traditional sense. There are many opportunities in private sector where a J.D. is highly preferred and advantageous. Jobs known as "J.D. Advantage" or "alternative careers" are jobs in which having a J.D. puts you at an advantage with employers and on the job, but do not typically require a law license. The number of J.D. Advantage jobs is growing, as are the number of students accepting these jobs. If you are not sure what you would like to do with your law degree, consider a J.D. Advantage job, which will allow you to have a fulfilling career using your J.D.

J.D. Advantage jobs are found in many industries, including land use/oil and gas, banking, finance, investment management, accounting, health care, technology, insurance, entertainment/sports management, real estate, and management consulting. One of the most common job types among J.D. Advantage jobs is in the field of compliance. You can find compliance jobs in many organizations including hospitals (privacy/health law compliance), banks (AML), businesses (cybersecurity, privacy, human resources, risk management and ethics), and higher education (Title IX, etc.). Another common JD Advantage opportunity in Colorado and the Rocky Mountain West region is landman in the oil and gas industry.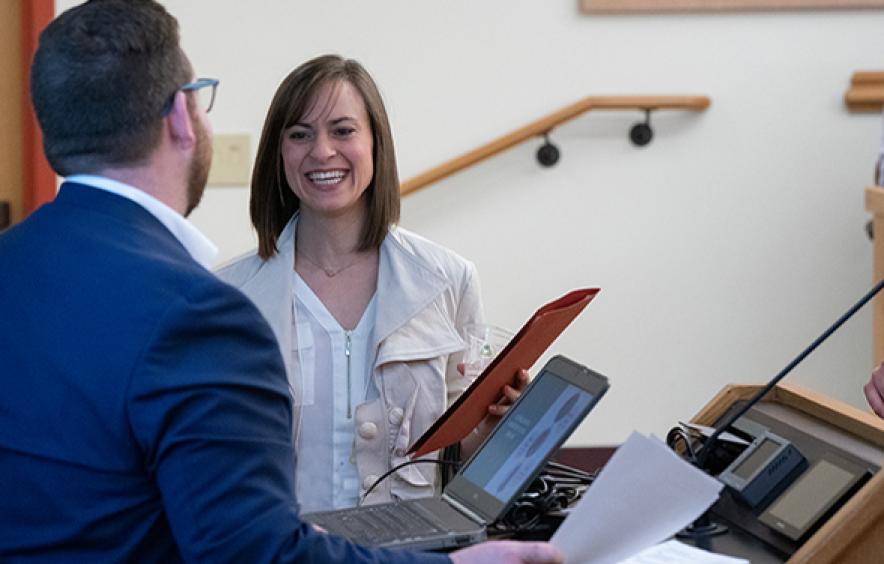 On-Campus Interviews (OCI)
On-campus interviews (OCI) is the late summer and early fall recruiting program through which some law firms, corporations and government employers hire summer associates, law clerks, interns and, not as commonly, first-year associates. A smaller OCI is held in the spring semester.  Some employers, particularly larger law firms, only hire through this process for their summer or school-year positions, and ultimately for their entry-level associates. 
As a general guideline, grades play an important role to many OCI employers, although employers are interested in more than just class rank by itself. The process is competitive, involves online applications, interview selections, on-campus interviews, and callback or second-round interviews at the firm, company or agency. Specific information and deadlines are provided yearly via programs, emails and our blog in the spring semester before applications are due mid-summer.
Employer registration opens each spring in March/April for participation later that summer. Employers should contact the Office of Career Development for specific dates and information about how and when to register.