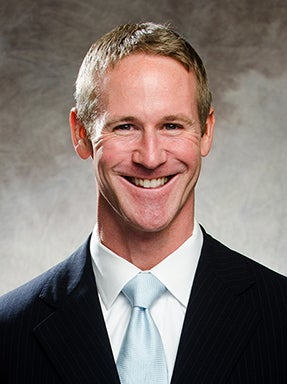 Michael Siebecker
Professor
Maxine Kurtz Faculty Research Scholar
Faculty
Corporate & Commercial Law Program
917-572-2581 (Office)
Office 435G, Frank H. Ricketson Law Bldg., 2255 East Evans Ave. Denver, CO 80208
Specialization(s)
Business Law, Corporate Social Responsibility, Corporations and Corporate Governance, First Amendment Law
Professional Biography
After graduating magna cum laude from Yale University, Professor Siebecker earned a J.D. and LL.M. from Columbia Law School where he was both a James Kent Scholar and a Harlan Fiske Stone Scholar. As a President's Fellow at the Columbia University Graduate School, he received a Ph.D. in Political Science. Prior to teaching at the University of Florida College of Law from 2005 through 2012, Prof. Siebecker worked at the New York firm of Cravath, Swaine & Moore in both the litigation and corporate departments.
Prof. Siebecker's research addresses the intersection of law and political theory, focusing primarily in the areas of corporate law, securities regulation, corporate social responsibility, and corporate speech. His widely quoted publications appear in a variety of leading journals, treatises, and books, including the SOUTHERN CALIFORNIA LAW REVIEW, the FORDHAM LAW REVIEW, the GEORGE WASHINGTON LAW REVIEW, the WASHINGTON UNIVERSITY LAW REVIEW, the WILLIAM & MARY LAW REVIEW, the OHIO STATE LAW JOURNAL, the CONNECTICUT LAW REVIEW, the ALABAMA LAW REVIEW, the JOURNAL OF CORPORATION LAW, and the FIRST AMENDMENT HANDBOOK. Previously, Professor Siebecker represented a group of socially responsible investment firms as amicus curiae in Nike v. Kasky, a commercial speech case before the U.S. Supreme Court.
Degree(s)
JD, LLM, MPhil, PhD (Political Science), Columbia University
BA, Yale University
Licensure / Accreditations
Bar of the Supreme Court of the United States
Bar of the State of California
Bar of the Southern District of New York
Bar of the State of New York
Featured Publications
Democracy, Discourse, and the Artificially Intelligent Corporation,

84 Ohio State Law Journal__ (forthcoming

2023).

The Incompatibility of Artificial Intelligence and Citizens United,

83 Ohio State Law Journal__ (forthcoming

2022).

Cultural Due Diligence and M & A in the Wake of a Pandemic, co-authored with Iris Lozano, 81 Ohio State Law Journal Online 239 (2020).
Making Corporate Boards More Humane Through Artificial Intelligence, 45 Journal of Corporation Law 95 (2019).
Corporate Compliance and Criminality: Does the Common Law Promote Culpable Blindness?, co-authored with Andrew Brandes,

50 Connecticut Law Review 387 (2018).

Political Insider Trading, 85 Fordham Law Review 2717 (2017).
Bridging Troubled Waters: Linking Corporate Efficiency and Political Legitimacy Through a Discourse Theory of the Firm, 75 Ohio State Law Journal 103 (2014).
A New Discourse Theory of the Firm After Citizens United, 79 George Washington Law Review 102 (2010).
Trust & Transparency: Promoting Efficient Corporate Disclosure Through Fiduciary-Based Discourse, 87 Washington University Law Review 115 (2009).
Building a "New Institutional" Approach to Corporate Speech, 59 Alabama Law Review 247 (2008) (lead article), reprinted in First Amendment Law Handbook 1051(Rodney M. Smolla ed. 2009).
Corporate Speech, Securities Regulation and an Institutional Approach to the First Amendment, 48 Willaim and Mary Law Review (2006), reprinted in First Amendment Law Handbook 601 (Rodney M. Smolla ed. 2008), quoted in Bulldog Investors v. Galvin, 23 Mass. L. Rptr. 413, available at 2007 WL 4647112, at *5 (Mass. Super. Ct. 2007).
Cookies and the Common Law: Are Internet Advertisers Trespassing On Our Computers?, 76 Southern California Law Review 893 (2003).