When Congress amended the American Indian Probate Reform Act (AIPRA) in 2008, it drastically affected the way that tribal member trust estates are distributed to heirs after death. Under the act, if a tribal member were to die without a will, most of his or her trust lands would pass to the oldest child, the oldest grandchild or the oldest great-grandchild. If none of these descendants exist, the trust lands will pass to the tribe. This means that regardless of the tribal member's desires, no other family member will have any claim to the lands. This has created a need for wills for tribal members so they can determine to whom their land shall pass.  
Through the Tribal Wills Project, Denver Law students to go to American Indian reservations at the invitation of the tribes to spend a week drafting much-needed wills, medical powers of attorney, living wills, and burial instructions for tribal members. Students gain the wonderful experience of doing real work for real clients in spectacularly beautiful and rural parts of the country, accompanied by an assortment of generous volunteer attorneys. To date, we have served clients in five different states.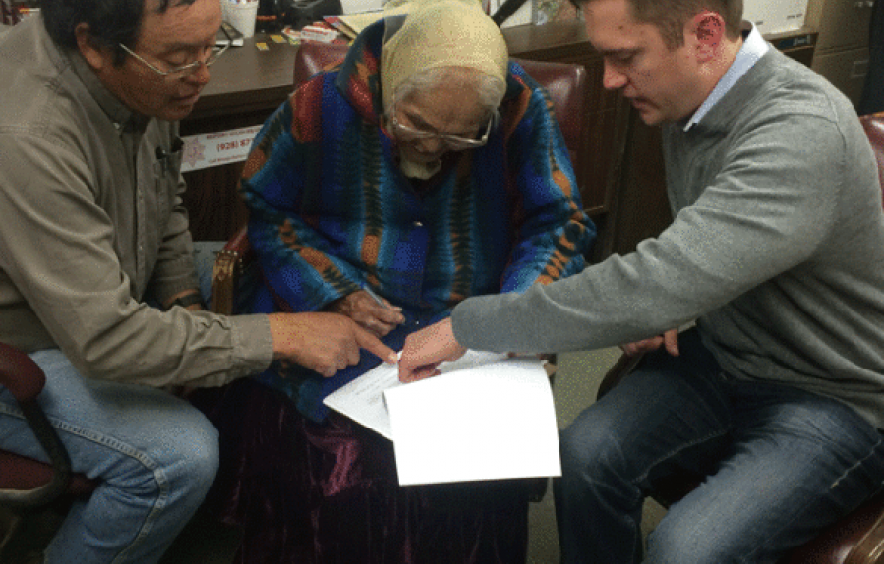 Get Involved
The Tribal Wills Project is open to all law students, from second- and third-year students who interview, draft and oversee the execution of legal documents, to first-year students who serve as project directors.
In addition, the project always welcomes volunteer supervising attorneys who guide the students as they work alongside clients. 
Contact the Tribal Wills Project
In the News
The Tribal Wills Project is gaining a significant reputation in the legal community and beyond. 
DU Professor Lucy Marsh Leads the Tribal Wills Project Team

It always begins with a group meal, a celebration of the mission that we are undertaking, and a gracious thank you from our hostess for joining her on this journey. Professor Lucy Marsh has been organizing and overseeing two to three trips like this each year for the past four years. 

Program Helps Native Americans Develop Wills 

With the help of a Navajo language interpreter, Rosie A. Chavez asked questions about the process to draft a will. She traveled from Nageezi to the Upper Fruitland Chapter house on Wednesday to participate in the Tribal Wills Project, an effort by the University of Denver Sturm College of Law that provides free wills to Native Americans.

American Indians Grapple with Land Divided by History 

The Tribal Wills Project helps Crow Indians to write wills and make sense of a complex property puzzle.