Denver Law understands the value of graduating students who can succeed in the courtroom on their first day in the profession. We place a strong emphasis on trial and appellate advocacy in its curriculum to fulfill that mission. We complement that courtroom-focused curriculum by educating our students on how to effectively prepare a case prior to entering the courtroom.  
The fruits of the school's efforts are illuminated on the national stage, where our nationally recognized, competitive advocacy teams travel to tournaments across the country.  
With the support of award-winning faculty, seasoned trial practitioners and student organizations, every academic year is filled with opportunities for Denver Law students to continually participate in advocacy courses and programs, as well as receive the mentoring support that is vital for our graduates to excel in the profession.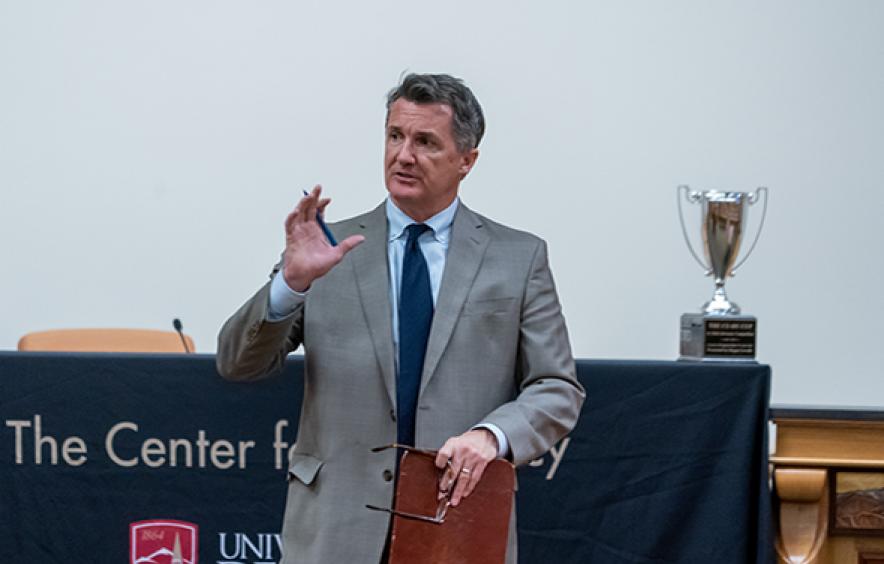 Preparing Students for the Practice of Law
Trial Team
Earning a spot on the National Trial Team is a coveted achievement. Students participants receive year-round education from actual practicing trial attorneys. When not preparing for national competitions, the students engage in practice modules where they acquire professional knowledge in areas such as depositions, voir dire, motions in limine, client counseling and more. Our National Trial Team members boast stellar bar exam passage rates and job placements.
National Teams Resume

 The Center for Advocacy proudly sponsors our law school's National Trial Team, which travels to 8-10 national tournaments each year and 15 nationally travelling moot court teams.

Check out the resumes and individual achievements of the students who comprise our National Trial Team and our national moot court teams. 

 

National Trial Team 2020 Tryout Information

Tryout Sign-Ups 

Sign-up sheets are posted outside the Center for Advocacy (Suite 390) beginning on March 2.  Sign-ups will close on Wednesday, March 18 at 5:00 p.m.

At the time of signing-up, each student must email the completed Tryout Information Sheet to CFA Director, David C. Schott (DSchott@law.du.edu ) that can be found on this CFA site.

Tryouts Part I 

Part I of the tryouts for the National Trial Team will be held on Thursday, March 19 from 5:30 p.m. to 11:00 p.m.  A tryout only takes approximately 30 minutes total.

Courtroom attire is required (i.e. suit and tie, etc.).

Part I of the Tryouts consists of a student preparing a short Opening Statement or Closing Argument (no more than 5 minutes). Students are welcome to use their Opening or Closing used in The Advocates Cup, or from any case of their choosing.

After a student presents their Opening or Closing, that student will be given a one-page witness statement on another case, and be given 15 to 20 minutes to prepare and then present a brief Cross Examination regarding that witness statement. A witness will be provided by the National Trial Team coaching squad.

Within 1 week after the tryouts, each student will be instructed if they are invited to Part II of the tryouts.

Tryouts Part II 

Part II of the tryouts is participation in the inter-session course, Trial Practice I – Intensive.  There will be a two-hour course organizational meeting on Thursday, May 21, 2020.  The course then proceeds during the days and some of the evenings of May 26, 27, 28, 29, 30 (Saturday).  The course then continues on a flex-time schedule June 1, 2, 3.  (If you are taking the summer evening Evidence course or starting an internship on those days we can work around your schedule.) 

This is a 3 credit, graded, course and satisfies the Trial Practice I requirement for students pursuing the Concentration in Litigation and Trial Advocacy. 

Invitations to The National Trial Team will be extended on June 4th.

If a student is prohibited from enrolling in TP1-Intensive due to a summer job or externship, that inability to attend the course does not automatically disqualify a student from being considered for The National Trial Team. However, attendance in TP1-Intensive is strongly recommended – if for no other reason than it will better prepare you for your summer job or externship.

Meet the Team

Check out our accomplished National Trial Team competitors. 
Moot Court
Our CFA also sponsors a great number of competitive teams that travel nationally. As most students attest, these national forums are some of the most beneficial educational experiences in their law school careers. We offer 13 National Moot Court teams, including Jessup International Appellate Law Moot Court, Negotiation and Mediation and Vis International Arbitration, to name a few. 
Jessup International Law Moot Competition

The Philip C. Jessup International Law Moot Court Competition is the world's largest moot court competition, with participants from over 550 law schools in more than 80 countries. The Competition is a simulation of a fictional dispute between countries before the International Court of Justice, the judicial organ of the United Nations. Thousands of law students from around the world work all year long on the season's Jessup Problem that focuses on the procedural and substantive issues arising from unresolved issues in international law. Past issues include the legality of the use of weaponized drones, annexation of one state's territory by another, bilateral investment treaties, the destruction of cultural heritage sites, modern-day piracy, and torture. Teams prepare written briefs and then compete in oral arguments. U.S. teams must place 1st or 2nd at the U.S. Super Regional rounds in February or March, competing against 23 other teams, in order to secure a spot at the international rounds in April. The international rounds are held in Washington D.C., where over 100 finalist teams from around the world will compete for the Jessup trophy. The competition's judges are composed of the most eminent international legal scholars and practitioners in the world, including current and former judges from the International Court of Justice. More info: https://www.ilsa.org/about-jessup/

The University of Denver's Sturm College of Law's Jessup Team regularly advances to the international rounds in Washington D.C. and both our written briefs and oralists receive awards annually. In 2013 one of our oralists ranked 4th place at the international rounds, out of nearly 500 competitors. The team is coached and taught by Megan Matthews and John Powell serves as Coach Emeritus. Team members can earn 5 credits a year for team participation and upper level writing requirement fulfillment. Try-outs are in April.

NALSA Moot Competition

DU LAW'S NALSA TEAM ADVANCED TO "SWEET 16"

The University of Arizona James E. Rogers College of Law in Tucson, AZ hosted the 40th annual NALSAMoot on March 5 and 6, 2015. The question addressed cultural regulatory and civil jurisdiction over non-members on tribal lands. DU Law students* Nadin Said* and K.C. Curillo advanced past the preliminaries to the Sweet 16 round beating out 60 other law school teams. They were supported by teammates* Amy Maas* and Kyle Montour, who is a registered member of the St. Regis Mohawk Tribe in Upstate New York, who led the team's legal research. This advancement was won based on their appellate brief scores, and their oral arguments on the current Federal Indian civil jurisdiction law. Congratulations to the team and its coach, Helen Hoopes, as this was the first DU Law team to advance past the preliminaries since 2007. The team looks forward to continuing to compete in the international legal field in international indigenous peoples' law next year in Michigan March 4-6, 2016 at Michigan State University Law School.

Pace National Environmental Law Moot Competition

On February 20-21 2014, DU Law students competed at the National Environmental Law Moot Court Competition hosted by Pace University School of Law in White Plains, New York. The team was composed of third-year law students Laurie Strong (a black belt in kung fu) and Stefanie Arndt (a U.S. Marine), and second-year student Alexandra Hall (a chemical engineer). Coached by Professor Kelly Davis (fellow at DU's Environmental Law Clinic), the team members were the top performers at the DU Environmental Law Moot Court Competition held in September 2013, earning the highest scores based on a brief and oral arguments.

The team continued DU's long tradition of competing in the annual competition, which this year drew nearly 80 teams from law schools around the country. The team represented three fictional parties in a Clean Water Act case, which required them to prepare arguments for each party on issues ranging from the scope of the Act's citizen-suit provision to the determination of point sources and navigable waters. The team prepared a brief with no outside help in November 2013, and represented all three parties in oral arguments at the competition. They demonstrated a commitment to teamwork as well as superb knowledge of environmental law and appellate procedure at the competition.

"I really enjoyed the experience of representing DU at NELMCC. Working with Prof. Davis, Stefanie, and Laurie was educational and fun," said team member Alex Hall. Ms. Hall looks forward to participating in DU's competition next year and hopes to compete at NELMCC again in 2015.