preLaw Magazine Ranks the Sturm College of Law 5th for Practical Training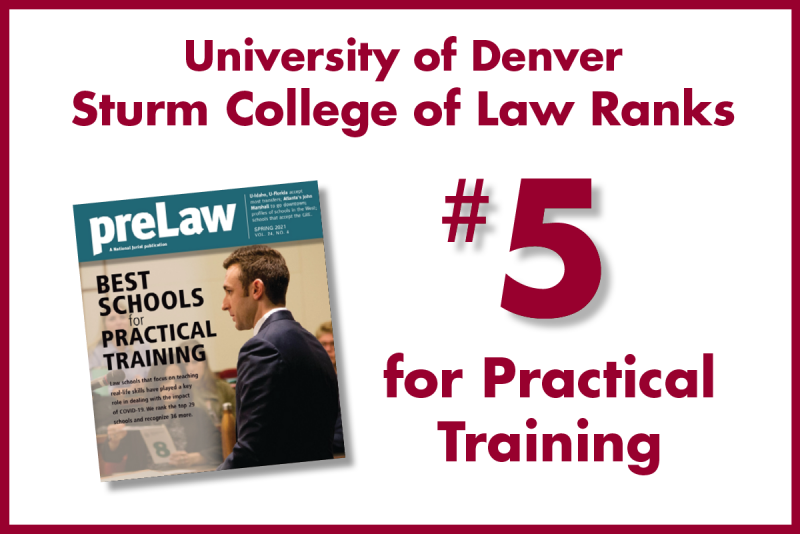 The University of Denver Sturm College of Law received an A+ ranking by preLaw Magazine in their 2021 Spring publication. Honoring law schools across the nation that demonstrate outstanding efforts towards practical training, preLaw Magazine noted that this publication wants to give a platform to, "Law schools that focus on teaching real-life skills have played a key role in dealing with the impact of COVID-19. We rank the top 29 schools and recognize 36 more...Schools have managed to do incredible work, even during a pandemic when face-to-face clinical work and externship opportunities were disrupted." This year presented exceptional circumstances and required law schools to adapt; preLaw celebrated these schools' creative educational adaptiveness.

The Sturm College of Law earned an A+ and ranks fifth out of the 29 schools that received acclamation from preLaw Magazine. This high placement was a result of a holistic review from the magazine: "We graded school on a number of data points, focusing on key practical training offerings such as clinics, externships, simulation courses, pro bono hours and moot trial participation." This is the third year that the Sturm College of Law has received an A+ from preLaw in their evaluation of law schools that offer students the best practical training opportunities.

Although the Denver Law joined the high ranks of many schools this year, the law school has been pioneering practical experiences for years; "At Denver Law, experiential learning isn't just a buzz phrase but an approach to teaching that's been a part of our culture for more than a century. In fact, we've long been recognized as a pioneer in experiential learning, opening the nation's first law school legal aid clinic in 1904." Some of the other various ways that the Sturm College of Law encourages practical experiences for its students is through clinical programs, the Center for Advocacy, externships, the Lawyering Process Program, and the newest addition, the Law & Innovation Lab. It is through these diverse experiences that University of Denver upholds a core tenant of its mission, providing its students with comprehensive and immersive education.