Graduate Programs at the Sturm College of Law
The Sturm College of Law offers nine advanced degrees: 
Supplement your law degree with specialized knowledge 
Introduce foreign lawyers and those educated in other disciplines (non-attorneys) to the U.S. legal system  
Train students in the unique rigors of tax or legal administration 

Master of Laws (LLM)
Current U.S. lawyers, JD students and foreign lawyers can gain legal expertise with one of four LLM degrees from Denver Law. A JD or foreign equivalent degree is required. 

Master's Degrees
Denver Law's master's degree program is ideal for students who have earned a bachelor's degree from a regionally accredited college or university. No JD required.

Degrees in Taxation
The Graduate Tax Program at the University of Denver has been a leader in the education of tax professionals for over 40 years. Earn your degree on-campus and online. 
Frequently Asked Questions:

Prospective Students

Do you offer online programs?


What is the application fee?

A non-refundable application fee of $65 is required. Please contact

gradadmissions@law.du.edu

to inquire about an application fee waiver.


How much do the LLM and Master's programs cost?


What are the eligibility requirements for an LLM program?

A candidate for the LLM must have earned a Juris Doctor or equivalent degree from a law school that is a member of the Association of American Law Schools or is approved by the American Bar Association, or in the case of a foreign candidate, must have completed a law degree with high academic standards from a recognized foreign university. LSAT is not required for admission to an LLM program.


What are the eligibility requirements for a Master's program?

A candidate for the Master's must have earned a bachelor's degree from an accredited higher education institution, or in the case of a foreign candidate, obtained the equivalent of a bachelor's degree from an acknowledged institution of higher learning. GRE/GMAT is not required except for the Master of Taxation program.


Do I need to take the LSAT for an LLM or Master's program?

No, the LSAT is not required for admission into either an LLM or a Master's program.


Do I need to take the GMAT or GRE for an LLM or Master's program?

GMAT is required only for the Master of Taxation; however, for any application submitted on or after April 1st, 2015, we will consider you waived from the GMAT if you have one or more of the following attributes:

You received a Bachelors degree in Accounting or a Business Administration degree with a major in Accounting with a cumulative GPA greater than or equal to 3.0.

You received a Bachelors degree in Accounting or a Business Administration degree with a major in Accounting and you have earned a graduate level degree from an accredited school.

You have passed all four parts of the CPA Exam. Verification must be sent as an official document from the testing authority to Graduate Legal Studies before you can register for classes.

GMAT or GRE are not required for any other LLM or Master's programs.


What is the minimum GMAT score you will accept?

There is no minimum GMAT score cutoff. Admissions decisions are based on a review of all application materials submitted.


Do I need to take the TOEFL/IELTS?

Official scores from the Test of English as a Foreign Language (TOEFL), International English Language Testing System (IELTS) or C1 Advanced are required of all applicants, regardless of citizenship status, whose native language is not English or who have been educated in countries where English is not the native language. Scores are valid for two years from the test date. Request that your test scores be sent from the testing organization to LSAC or to the Office of Admissions.

The requirement can be waived if you have completed a post-secondary degree at an institution whose language of instruction and tests is English. The whole program of study must have been completed in English.

TOEFL
The minimum TOEFL score accepted by the Sturm College of Law is 95 (internet-based test) or 587 (paper-based test).
- LSAC TOEFL Code: 0058
- University of Denver Institution Code: 4842

IELTS
The minimum IELTS score accepted by the Sturm College of Law is 7.0.

C1 Advanced
The minimum C1 Advanced score accepted by the Sturm College of Law is 185.


Do you offer English Conditional Admission (ECA)?

No, we do not offer ECA for any of our Master's or LLM programs.


Do you offer scholarships?

Yes, limited merit scholarships are available. You will be automatically considered for an award at the time of admission.


Can I do the programs part-time?

Yes, domestic students can enroll in all the programs part-time. For financial aid purposes (FAFSA) part-time is anything less than 8 credits per semester/quarter. International students can do the programs part-time only in exceptional circumstances.


Can I enroll as an evening student?

We do not enroll evening students, but elective courses are offered after 4 p.m.


Can I work while studying?

Yes.

International students may work on campus a maximum of 20 hours per week while classes are in session and a maximum of 37.5 hours during vacations. On-campus positions are extremely limited. After nine consecutive months of enrollment, and under very limited circumstances, students may apply for permission to work off campus through the

International Student and Scholar Services

office. Dependents of students holding an F-1 Student Visa are not permitted to work under any circumstances.


Where do I apply for a US visa?

Visa application processing times vary from several days to several months. The processing time for your application will depend on a number of factors, including your country of citizenship, your major field of study, and the state of diplomatic relations between your government and the United States. Information on obtaining your Certificate of Eligibility (Form I-20 or Form DS-2019) from DU is available on the

International Student and Scholar Services (ISSS) website

. Contact us at

gradadmissions@law.du.edu

additional information and next steps for submitting documents.


Can international LLM students gain practical legal experience in the United States?

International LLM students may have options to gain practical legal experience during and after their LLM programs. The staff in the

International Student and Scholar Services

office can talk with students about employment eligibility for F-1 and J-1 students. Please keep in mind that the US legal job market is a competitive one and that LLM graduates should set realistic expectations for any employment during or after their LLM program. The

Career Development & Opportunities staff

is happy to talk with you about your career goals and about opportunities that fit your goals, skills, and experience.


My question is not listed here. Who should I ask?

Frequently Asked Questions:

Admitted Students

DUID Number

You have been assigned a DU ID number which was included in your admission email. This ID number, which starts with "87…" is used to uniquely identify your records at the university. Having this number handy will help various offices on campus look up your student record.


MyDU:

MyDU is our online student portal. It will serve as a gateway to information and resources for DU students, faculty, and staff. MyDU will allow you to submit your admissions deposit(s), check your financial aid status/award, waive health insurance, pay your bill, access online registration, and more.
Admitted students will access MyDU using your DU ID number and your 6-digit DOB (MMDDYY) as your login credentials.

After your first admissions deposit is submitted, your login credentials will change and you will need to activate your MyDU student account. You will receive an email that includes updated login credentials including your username and a one-time password (OTP). You will be prompted to set your own password and asked to set up security questions should need to change your password in the future.

If you forget your password, you can click on the "Forgot your password?" link at login and answer two of your security questions to set a new password.

If you did not receive an email containing your DU ID and temporary password or you are encountering problems logging in to MyDU, please contact the DU IT Help Desk at 303-871-4700.


Admissions Deposit

Yes, in order to confirm your intention to attend Denver Law, you will need to submit a deposit by the deadline indicated in your acceptance letter. The $300 admissions deposit is non-refundable and will be credited toward your first tuition payment. Our tuition payment center allows you to pay your deposit using electronic check (ACH) for no fee or a credit card with a nominal fee (3%).

To pay your admission deposit(s) online:

Login to MyDU
Using the search bar at the top of the page, type "Make a Deposit" to access the DUPay Payment Portal.
Click on the "Deposits" tab in the gold navigation bar.
First year students select the "Fall Sem 2023" term in the drop-down menu and press select.
Select "Admissions Deposit" + your choice of payment (ACH, Visa, etc…) in the drop-down menu and press select.

Enter your specific deposit amount:

First Year JD Applicants

1st Admissions Deposit: 500
2nd Admissions Deposit: 300

Full Admissions Deposit: 800

Advanced Standing/Transfer Applicants

Follow the remaining prompts to enter your payment information and submit your deposit.

A transactional receipt from the Bursar's Office will be emailed to you when the payment has processed.

Official Transcripts

Admitted applicants must complete their file by furnishing the program with official transcripts from all post-secondary educational institutions.

If your graduation date occurs after the submission of your transcripts to LSAC, you will be required to submit an official transcript to Denver Law, including final grades, degree conferral and degree conferral date.

It is your responsibility to request an official copy of all required transcripts to be sent to either Denver Law or LSAC directly from the registrar's office of your institution OR from one of the following approved electronic transcript transfer sources: National Student Clearinghouse, Credentials Solutions, Scrip-Safe, or Parchment. If your school does not participate in delivery via Electronic Transfer, you must request that your official transcript be mailed to one of the following addresses:


University of Denver Sturm College of Law
Office of Admissions
2255 E. Evans Ave., Ste. 115
Denver, CO 80212

Or

Law School Admission Council
662 Penn Street
PO BOX 2000-M
Newtown PA 18940-0993

If your LSAC file includes all your transcripts with degree(s) conferred, you do not need to send updated transcripts.

How much do the LLM and Master's programs cost?

When are bills due?

The Bursar's Office will send email notification to the student's DU email address when electronic bills (ecoBill) are ready for viewing, approximately four weeks before the beginning of the term. A statement listing actual charges and financial aid credits for the term will be generated and posted to DUPay, our online tuition payment portal. Authorized Users will also be notified.

Tuition Payment Options?

Do I need health insurance?

All students enrolled in one or more hours of graded, on-campus coursework at the University of Denver are required to carry personal health insurance coverage. DU offers its own convenient health insurance plan designed specifically for our student body — the Student Health Insurance Plan (SHIP) is ideal for the vast majority of students in the DU community.
The Health & Counseling Fee (HCF) is an optional fee that can be waived. It is not a charge for individual services or coverage. Instead, the HCF allows students access to a wide range of services provided by the Health & Counseling Center (HCC) including low- or no-cost visits, medications, lab tests, procedures, and more. Co-pays and additional charges remain the student's responsibility.
You may waive the DU Student Health Insurance Plan (SHIP) if you provide proof of adequate alternate health insurance and submit a SHIP waiver.

What are the University immunization requirements?

The University of Denver is committed to ensuring the health and safety of the entire community. University of Denver policy and Colorado State Law require most students to show proof of immunization against measles, mumps, rubella, meningitis, influenza, and COVID-19. The University of Denver Health and Counseling Center (HCC) is responsible for ensuring student compliance with both state and university vaccination requirements.

Detailed information regarding those requirements, as well as information on where to get vaccinated and how to submit proof of immunization or requests for exemptions is available on the HCC website.

What are my housing options?

We encourage you to plan early and consider a variety of options as you prepare for your arrival. You can visit our Off Campus Housing Office for further information on apartments off-campus and moving to Denver. Additional resources are listed here.

Is there an orientation?

Orientation is mandatory for all incoming students. It is structured to allow you to learn about the law school, meet fellow students, faculty, and administrators, and take care of administrative tasks before classes begin.
The Office of Student Affairs will provide additional information about orientation in the summer.


My question is not listed here. Who should I ask?

Visit Us or Schedule a Virtual Information Session
We encourage you to schedule an information session or visit at your earliest opportunity. If we know when you are planning to visit us, we can arrange for your tour to include visits to various classes and meetings with student leaders and faculty members.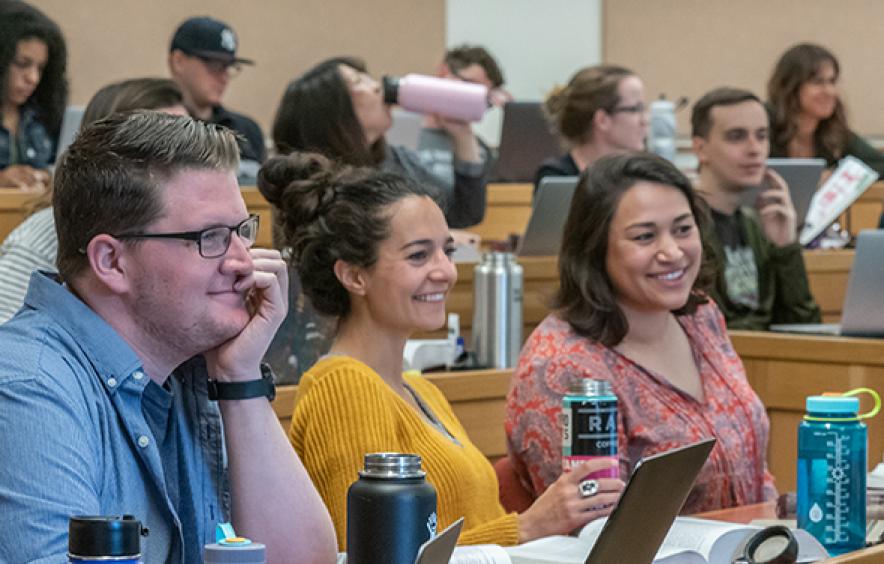 Professional Certificates
Advance your career with non-degree options and certificates that will help you hone valuable specialization skills.
Learn More
LLM and Master's Admissions