Sturm College of Law Launches Law + Innovation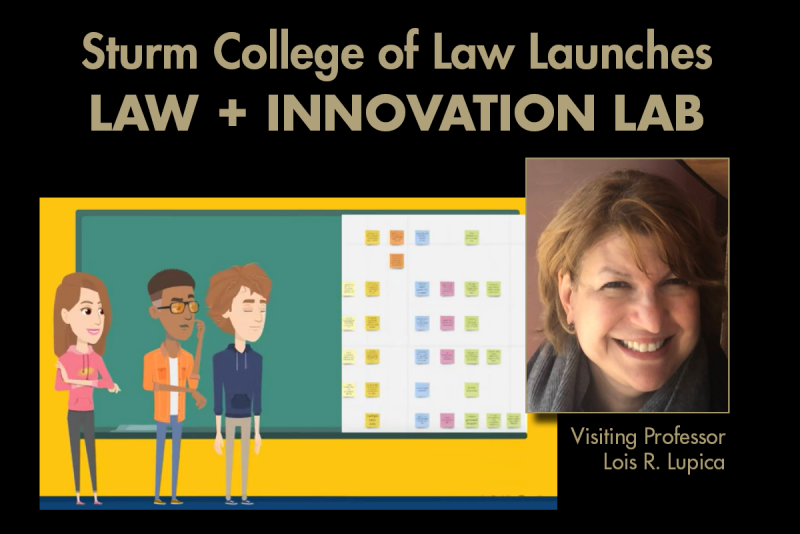 The Sturm College of Law Launches Law + Innovation Lab for the Spring 2021 Semester

The University of Denver Sturm College of Law places great value on its tradition of providing experiential learning opportunities to all students. For more than a century, practical experience has been a core tenet of the legal education offered at the College of Law, and it continues to be a top priority to advance viable skills and ensure our students' success in their legal careers. In the spring 2021 semester, we take a major step in extending our commitment and furthering this mission as the Sturm College of Law launches the Law + Innovation Lab (the "Lab"). The Lab provides students with an intensive study of the landscape of innovation and technology in the legal marketplace, addressing real-world issues and offering hands-on experience building technology tools.

The Lab is led by Visiting Professor of the Practice of Law Lois R. Lupica, an internationally recognized expert in access to civil justice and legal innovation strategies. Over the course of the semester, Lupica will immerse students in the study of the evolving legal profession and provide them hands-on learning about technology's potential for improving the delivery of legal services. The Lab is the law school's achievement to effectively meet this new need and contribute to the educational development of practice-ready law students.

With just four weeks under their belts, students have been working closely with guest lecturers, Toma Officer, Co-founder and Product Designer of Afterpattern (formerly, Community Lawyer), Molly French, Manager of Technology at Colorado Legal Services (CLS), Penny Wagner and Sharon Sturges of the Colorado Judicial System, Emy Lopez, Colorado Resource Network, Sam Flynn of Joseflegal, Angie Lignon and Christian Zust of Bryan Cave Leighton Paisner, John Lord, co-founder of Neota Logic, and DU alumnus John Montana of the Montana Group (an early adopter of addressing legal problems using technology). In addition to welcoming guest speakers, the Lab requires its students to engage in the human-centered design and product development process as it develops technology tools. Throughout the semester, students will focus on various solutions:
Working with community partners to understand the practice areas with the most compelling need for self-help tools and process improvement;

Design, prototype, test, improve and refine digital solutions to the identified problems; and 

Create a comprehensive go-to-market strategy to deploy their app into the hands of those who need it most.  
Students have already tested their technology prowess by using no-code platforms to build a document automation system that generates thank you notes to the guest lecturers, as well as developing an expert system designed to provide guidance to tenants facing eviction. 

Students are also blogging, in order to reflect on their work. Lab student Mark Emde wrote the blog post, Real-World Design Thinking Application, where he considers some of the principles of design that he has been learning:

"The design thinking process made it simple to work through different solutions and understand what underlying issues and concerns were for each party. The iterating and prototyping stage allowed for visual representations of the final product and created a form of communication to ideate on different designs."
With the launch of this exciting new program, Lupica notes that the Lab currently seeks community participation in a range of the semester's coming projects. The Lab will welcome anyone "who has negotiated legal issues as a self-represented party and is interested in working with students on system improvement." Feel free to reach out with interest or questions.

We are eager to see how the Lab will discuss and promote new ideas and encourage the legal profession to embrace product and process innovations to scale scarce resources.