Law Students Spend Spring Break Providing Aid to the Borderlands Region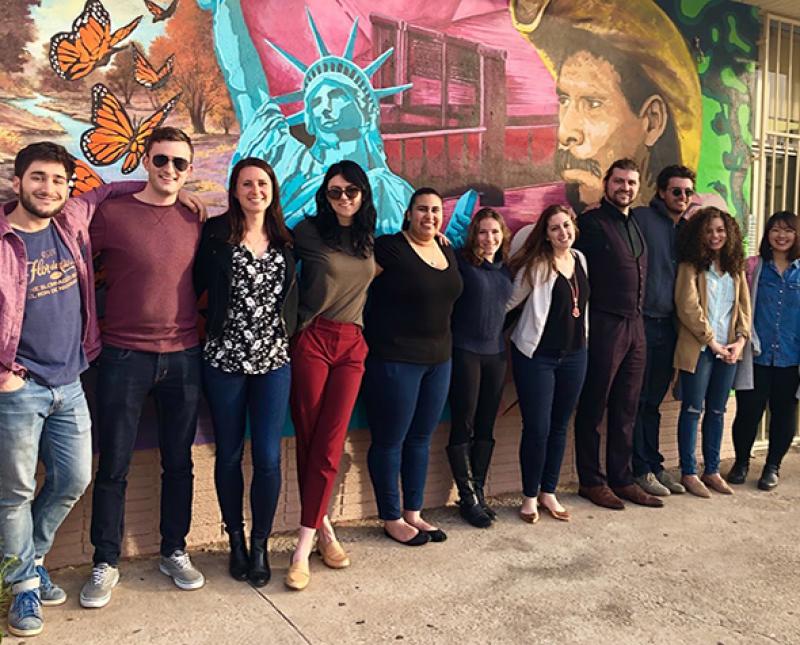 Thirteen University of Denver Sturm College of Law students chose to step up their spring break and take their legal skills on the road. Thanks to the Alternative Spring Break (ASB) program, they traveled to El Paso, Texas, and Las Cruces, New Mexico to provide legal support and advocacy to immigrants.
Denver Law's ASB program gives law students the opportunity to participate in meaningful legal service, spending their spring break working in public interest-based settings.
This year, the program provided student support to four partner organizations:
Las Americas Immigrant Advocacy Center, hosting Juliet Jung (1L,) Kiley Oblisk (1L), Scott Singer (1L) and Mary Snover (1L);
Catholic Charities of Southern New Mexico, hosting Ashley Cordero (1L), Carly Hamilton (1L), Lauren Jones (1L), and Kimberly Langona (2L);
Hope Border Institute, hosting Humberto Prospero (1L) and Viry Valdez (1L); and 
El Calvario United Methodist Church, hosting Jesi Davis (1L) Alex Lubin (3L) and Susannah Rogers (1L).
"I am so proud of our students' dedication to devote their breaks to serving immigrant individuals and families, as well as communities that are incredibly marginalized and attacked in our society today. The four partner organizations needed support ranging from immigration court observation to legal research to translation and more, and our students rolled up their sleeves and did everything that was asked of them," said faculty advisor, Associate Professor Alexi Freeman.
Students who worked with each organization worked on the immigration issue from all angles. Their efforts ranged from providing food, clothing and medical care to 60-plus refugees who were recently released from ICE and CBP custody to doing legal research and writing for a nonprofit that provided direct representation to immigrants.
The experience also provided opportunities to observe U.S. Immigration Court and collect data about the hearings, as well as meet directly with detained migrants in detention centers who were pleading for asylum or other forms of relief.
"I received a rapid-fire lesson on the current state of affairs in asylum law and policy in our country and how we are treating asylum seekers at our border. The need for assistance outstrips the legal and humanitarian resources available," said Oblisk, team leader, who was provided clearance to interview several immigrants in two Texas detention centers. During her work, she interviewed a young father whose child was removed from his custody, whereabouts still unknown, as well as new detainees and women who were seeking asylum from dangerous situations in their home countries.
Importantly, the students' work gave them a chance to understand all aspects of the immigration issue. Beyond legal issues, the trip presented the opportunity to grasp the human side of the situation first-hand. 
"Although I have spent time on the El Paso-Ciudad Juárez border before, this trip gave me a much more holistic view of the immigration issue," said Langona, team leader. "Unfortunately, most people view immigration through the lens of their politics rather than the realities of what is actually happening. What we saw and experienced is that of a human rights issue, not a political issue."
The Alternative Spring Break trip came to fruition due to the hard work of the student committee of Allison Crennen-Dunlap (3L), Grace Lundergan (2L), Langona, Oblisk, Jenny Regier (2L), Allison Sheets (3L), and faculty advisor, Professor Freeman. Professor Freeman, along with Professors Lindsey Webb and César Cuauhtémoc García Hernández, also provided trainings prior the trip on cross-cultural communication and immigration law, preparing students for what was a fulfilling experience for all.
"I feel most proud that 13 overworked, sleep-deprived law students were willing to spend their spring break without a break—providing support to vulnerable populations and their advocates and learning about an overwhelmingly important, but often confusing, area of the law," said Langona.