Catherine Smith, Associate Dean of Institutional Diversity and Inclusivity, Receives Colorado LGBT Bar Association Attorney of the Year Award
Alumna and second-year student also honored for their contributions.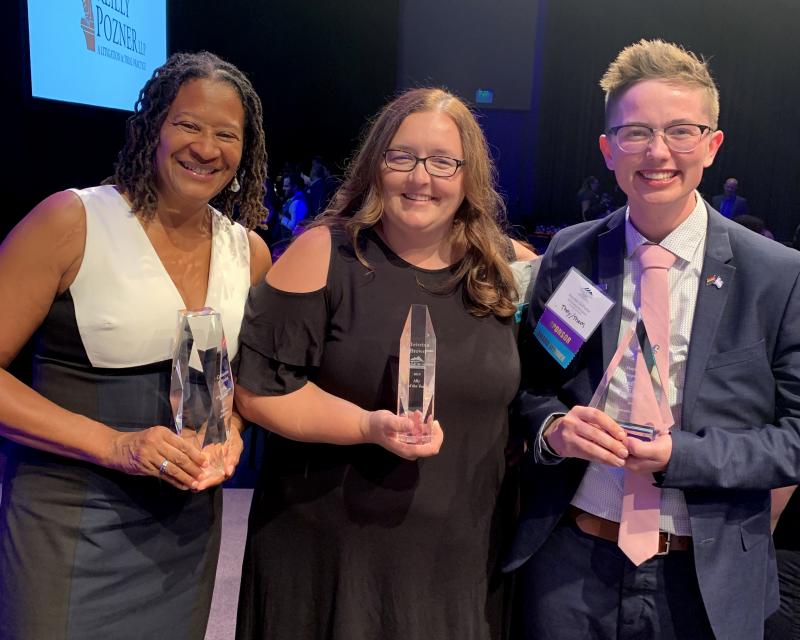 Congratulations to University of Denver Sturm College of Law Associate Dean of Institutional Diversity and Inclusiveness and Professor Catherine Smith; alumna, immigration attorney and founder of Colorado Asylum Center, Christina Brown, JD'13; and Denver Law student, Hayden DePorter, 2L, on receiving honors at the 2019 Colorado LGBT Bar Association Awards and Scholarship Dinner.
Professor Smith received the 2019 Attorney of the Year Award. This honor is given to individuals in all areas of the legal field, from lawyers to educators, doing groundbreaking work in the LGBT community.
Professor Smith was nominated by several of her peers for her outstanding work within the legal education and policy system.
"It is always an honor to have one's work recognized. It is especially rewarding as a law professor to have my work and contributions recognized by the Colorado LGBT Bar Association. An organization made up of lawyers and leaders who have done ground-breaking work for LGBT people in Colorado and nationally," said Professor Smith. "It was also a pleasure to share the spotlight with alum and immigration attorney, Christina Brown, and Denver Law student, Hayden DePorter. And I can't thank my DU colleagues enough for joining me on such a fun and inspiring evening."
Christina Brown, JD'13, of The Law Office of Christina Brown LLC is an immigration attorney dedicated to serving Colorado families. Brown was a prior recipient of Denver Law's Solo Practice Grant, which helped launch her law practice.
Through the Colorado Asylum Center, she works with LGBT individuals seeking asylum from places where their lives are often in danger.  A denied case could mean injury or death back in their home country, so Brown works tirelessly to ensure their rights are represented in the asylum process.  
"I really want to thank the Colorado LGBT Bar Association for the honor of receiving this award. My work in the LGBT Community is really important to me, and we plan to continue the fight and hope that the rest of you will join us," Brown said in her honor video.
In addition to honoring individuals making a difference, the Colorado LGBT Bar Association Awards Dinner serves a fundraiser for the Colorado LGBT Bar Association Foundation. The 2018 event raised enough funding to award two scholarships at this year's gala. The Summit Scholar recipients are Denver Law student Hayden DePorter, 2L, and Amber Paoloemilio, 3L, University of Colorado School of Law.
Marc Clouarte, chair of the Colorado LGBT Foundation Board, sang DePorter's praises during the ceremony.
"Hayden is a scholar and leader at DU. In their first semester, first year, Hayden was elected President of OUTLaws. In their spare time, Hayden has started a social group for trans-Coloradans, which now has over 300 members, some of whom travel over four hours just to come to the group's events. They are also very active with the Colorado LGBT Bar Association, and they worked this summer as a legal extern with One Colorado, which is our state's largest advocacy organization for LGBTQ Coloradans and our families," he said.   
The Colorado LBGT Bar Association is a voluntary professional association of gay, lesbian, bisexual and transgender attorneys, judges, paralegals and law students and allies who provide an LGBTQ presence within Colorado's legal community. For more information or to get involved, please visit the association's website.