2020 New and Visiting Faculty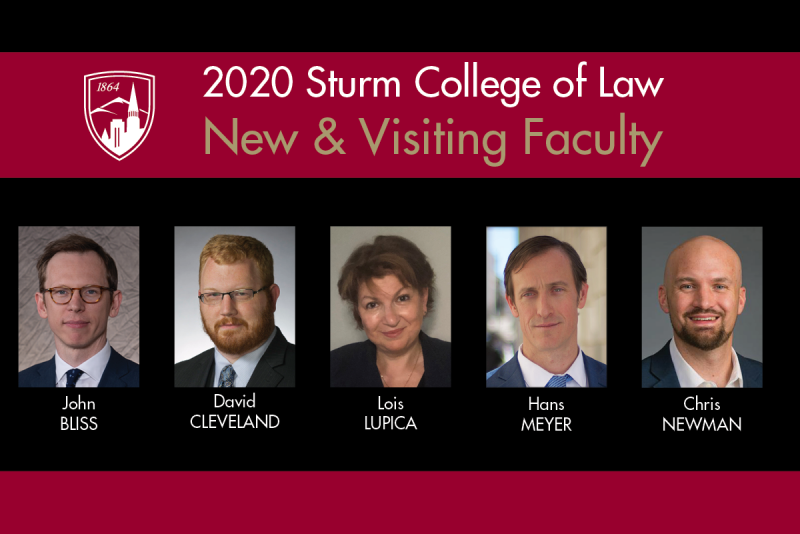 As the fall 2020 semester begins, we welcome our new and visiting faculty members to the Sturm College of Law. After being a visitor since 2018, John Bliss is now an assistant professor of law. David Cleveland comes to Denver Law from Valparaiso University, where he served as dean from 2018-2020, to join the Lawyering Process Program as a visiting professor. Lois Lupica joins the law school for the spring semester as a visitor to launch the Legal Innovation Program. Hans Meyer, who earned his law degree from DU in 2006, is a visitor in both the Criminal Defense Clinic and the recently established Immigration Law and Policy Clinic. Chris Newman, former director of the law school's part-time program, is a visitor in the Legal Externship Program as well as the DU Bar Success Program.

John Bliss is a graduate of Berkeley Law and holds a PhD from the UC Berkeley Jurisprudence and Social Policy Program. He is also an affiliated faculty member of the Harvard Law School Center on the Legal Profession, where he recently spent two years as a resident fellow. Bliss teaches in the areas of legal profession, property, and local government law. In his research, he explores the intersection between lawyers' professional identities and public-interest contributions in a changing profession. Bliss also earned a double BA from the University of Washington.

David Cleveland is a classically trained educator who has taught at the high school, college, and law school levels. He is also an experienced litigator and accomplished scholar, specializing in legal writing, legal ethics, and federal court reform issues. He has been teaching legal research, writing, and analysis in law schools since 2005. Cleveland holds a JD from Georgetown University Law Center and a BA from the College of Education at Western Michigan University.

Lois Lupica is an internationally recognized expert in access to civil justice and legal innovation strategies. She is currently an affiliated faculty member at the Harvard Law School Access to Justice Lab; Co-Principal Investigator of the Financial Distress Research Study; Co-Principal Investigator of the Princeton University Debt Collection Lab; and was Principal Investigator of the Apps for Justice Project. Lupica earned a JD magna cum laude from Boston University School of Law, and a BS in Consumer Economics from Cornell University. 

Hans Meyer is the founder of the Meyer Law Office, P.C., which specializes in immigration law and removal defense, criminal defense and post-conviction relief, the immigration consequences of crimes, and the civil rights of immigrants. Meyer advocates for the statutory and constitutional rights of immigrants before various immigration agencies and state and federal courts, often against governmental and institutional abuses of power.  He is a graduate of the evening program at the University of Denver Sturm College of Law and earned a BA from Pacific Lutheran University.

Chris Newman teaches courses on the foundations for practice in the Legal Externship Program. He also teaches and coaches in the DU Bar Success Program and other courses helping prepare JD graduates for the bar exam. Newman is a JD graduate of the Sturm College of Law where he also worked as a staff member and coordinated the launch of the law school's #11 nationally ranked hybrid  weekend Professional Part-Time JD Program. Newman earned a Master's in Education from the University of Phoenix and a BA in Education from the University of Arizona.

These new faculty members bring an incredible breadth of expertise to the Sturm College of Law and our students benefit greatly from their knowledge and experience. Denver Law continues to attract the most talented law professors from across the nation which enhances the exemplary legal education provided at the University of Denver.