2023 DU Law Stars Honorees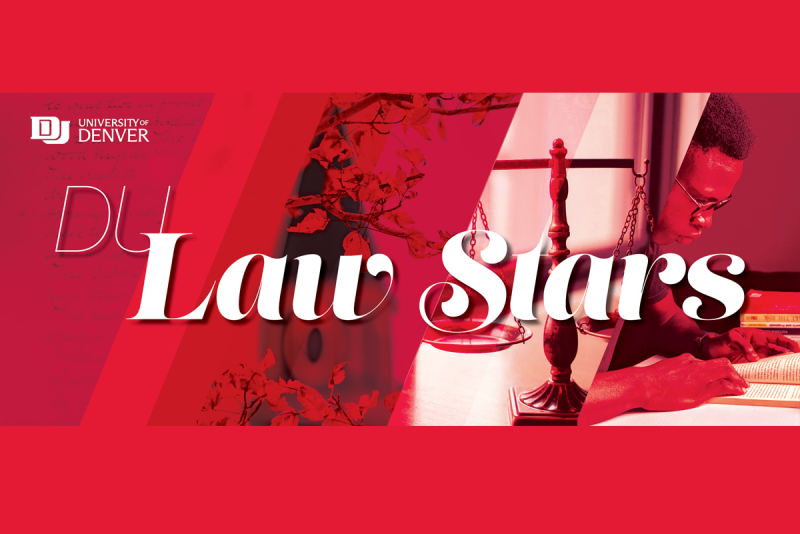 The University of Denver has named its 2023 DU Law Stars honorees, who will be honored at an awards ceremony on November 10, at Denver Art Museum – Sturm Grand Pavilion.
Since 1993, DU Law Stars has recognized distinguished Sturm College of Law alumni and faculty for their outstanding achievements, and their contributions to the University of Denver and the Colorado legal community.
 
2023 DU Law Stars Honorees
 
Dolores Atencio, JD'80
William L. Keating Outstanding Alumni Award
Licensed for 42 years, Dolores Atencio developed a diverse career within and outside the legal profession and has been an active member of the law school's alumni community. Atencio is recognized as the national expert on the history of Latina lawyers for her numerous works and creation of the Luminarias Study to identify and produce original empirical data on the first Latina lawyers in the U.S., circa 1880-1980. The Hispanic National Bar Association awarded Atencio the 2021 President's Award and 2018 Latina Commission Primera Abogada Award. In 2014, she received the prestigious Ohtli Award, Mexico's highest honor bestowed to non- citizens, and was honored as one of four founders of the National Coalition of Bar Associations of Color.
 
George "Skip" Gray III, JD'85
Robert H. McWilliams, Jr. Alumni Professionalism Award
George "Skip" Gray III is a retired senior attorney from the City of Denver's Department of Law. He practiced law for over 30 years in the Denver area, working as a prosecutor, litigator and transactional attorney in both the public and private sectors, including Holland & Hart, LLP, and Gray Jones Hahn and Browne. Throughout his legal career Gray has devoted time to the area of diversity and inclusiveness in the legal profession. He is a former member of the Colorado Bar Association Board of Governors and past president and lifetime member of the Sam Cary Bar Association. Gray also is a former chair of the Board of Directors of the Center for Legal Inclusiveness, a nonprofit organization dedicated to advancing diversity and creating cultures of justice, equity and inclusion within private and public sector legal organizations in Colorado.
 
Allison Herren Lee, JD'97
Thompson G. Marsh Award
Allison Herren Lee was appointed by President Biden as acting chair of the U.S. Securities and Exchange Commission (SEC) in January 2021. She was previously appointed as an SEC commissioner and unanimously confirmed by the Senate in 2019. During her tenure with the SEC, Commissioner Lee focused on bringing transparency and accountability to markets on issues related to climate change. Since stepping down from the SEC in 2022, Lee has taken on various roles including as a senior research fellow and adjunct professor at NYU Law, and as a director at the International Foundation for Valuing Impacts, a spin-off of Harvard Business School's Impact Weighted Accounts Initiative, with a mission to build a global impact economy translating environmental and social impact into the language of currency.
 
Olivia Mendoza, JD'19
Bruce B. Johnson Outstanding Young Alumni Award
Olivia Mendoza currently serves as director of litigation and policy for the National Redistricting Foundation (NRF), which works to end gerrymandering across the country. Prior to her law career, Mendoza was director of strategic partnerships at the Latino Leadership Institute (LLI).
She also led the Minority Business Office in the Office of Economic Development and International Trade through a strategic realignment. She has been recognized for her leadership and selected as a German Marshall Memorial Fellow; Livingston Fellow, and a National Hispana Leadership Institute Fellow.
 
Professor Catherine Smith
Robert B. Yegge Excellence in Teaching Award
Catherine Smith joined the University of Denver Sturm College of Law faculty in 2004. After graduating from the University of South Carolina School of Law, Professor Smith clerked for the late Chief Judge Henry A. Politz of the U.S. Court of Appeals for the Fifth Circuit and for U.S. Magistrate Judge William M. Catoe Jr. She then served as a legal fellow at the Southern Poverty Law Center. Professor Smith teaches Torts, Sexuality, Gender and the Law, and a Children's Rights and the Constitution seminar. Her co-authored amicus brief on children's rights was cited and relied upon in the same-sex marriage decision, Obergefell v. Hodges. She currently serves as an expert in Juliana v. United States, the landmark climate case brought by twenty-one young people suing the federal government for its role in the climate crisis. In 2023, Smith cofounded the DU-affiliated Consortium for the Advancement of Children's Constitutional Rights.