Professional Mentoring Program
Mentors can have a remarkable professional influence on a law student's career by offering advice not only on specific legal skills but also on classes, employment opportunities and practice areas.
The Professional Mentoring Program (the "Program") offers all Denver Law students (JD and graduate programs) and recent graduates the opportunity to develop a professional relationship with a mentor. Students and recent graduates who participate in the Program (often called "mentees") are matched with mentors according to career interest areas and other factors. Once matched, students and mentors engage in a series of discussions guided by suggested discussion topics provided by the program. 
The Professional Mentoring Program has three sub-programs:
The Juris Doctorate Program matches JD students with an attorney or judge mentor. 
The Summer Program matches current JD students with a mentor during the summer, often in situations where a student wants a mentor located in a market outside of the Denver Metropolitan Area. 
The Graduate Mentoring Program offers current graduate students in the law school the opportunity to connect with an alumnus of their graduate program or a comparable professional.
The Program engages in periodic outreach campaigns, mostly through word-of-mouth and email forwarding among DU Law's alumni network and friends of the law school.
Information for Program Participants
Students
The Professional Mentoring Program is here to support your efforts to establish and grow your professional relationships.
Why Participate?

More than any other factor, your career satisfaction and success will be driven by your ability to develop strong, long-lasting, authentic professional relationships. In today's economy, intelligence, knowledge and skills are not enough. Students who thrive after graduation are those who develop strong interpersonal and professionalism skills. And like the knowledge you learn and the skills you cultivate during school, relationship-building requires learning and development. The Professional Mentoring Program is here to support your efforts to establish and grow your professional relationships.

Once enrolled in the Program, you will have the opportunity to be matched with a practicing or recently retired attorney or judge. You and your mentor will meet monthly at times and places of your mutual choosing where you will engage in a series of practice- and law school-related discussions. These discussions can follow the Program's suggested Discussion Topics, which include topics like career paths, professionalism, ethics, networking, and practical career tips, among other topics. Alternatively, you and your mentor can discuss other topics of your choosing, such as work-life balance, coursework, or substantive law.

We hope that you will use your mentor, and any opportunities you may have to speak with other mentors in the Program, and other lawyers and judges with whom your mentor works, to create strong relationships within the legal profession. These relationships will likely become important, either in the immediate future or sometime further down the road. We also hope your discussions with your mentor will help you: (1) absorb the culture of the legal profession; (2) gain perspective about what lawyers do; and, (3) see how the substantive law you learn in class is applied in the "real world." Finally, we hope that the Program will help you develop strong networking skills. These skills do not come easily, but they will come with effort and practice.

To participate in the Program, please complete and submit the Student Registration Form. Before doing so, please read the "Requirements & Information" tab below.

Requirements & Information

To participate in the Student Program, you must:

Be a student at Sturm College of Law;
Be willing to commit the necessary time to meet once per month with your mentor;
Be willing to communicate with your mentor regularly, including timely responding to your mentor's communications;
Be willing to attend the beginning-of-the-year orientation/networking exception, and the end-of-the-year Appreciation Reception;
Remain in good standing with the Program;
Complete and submit the Student Application; and
Agree to and electronically sign the "Statement of Participation" at the end of the "Law Student Application."

If admitted to the Program, you will meet with your mentor several times each month at mutually agreed upon dates, times and places. If you meet at your mentor's office, please dress appropriately.

The relationship you have with your mentor is largely what you and your mentor make it. Mentoring relationships within the Program vary greatly. Students and mentors often decide to meet more frequently than the Program requires; others decide to meet only as required. We ask that you and your mentor keep your discussions professional and consider the professional development purposes of the Program when meeting.

Please remember that your mentor has volunteered their time. Be flexible regarding your mentor's practice obligations. Occasionally mentors have extremely busy periods where they will be unable to meet – such as the month of a trial.  And although finding employment is important, do not expect your mentor to offer you a job. Your mentoring relationship is an opportunity for you to learn and develop necessary professional skills.  If employment opportunities arise out of the relationship, great.  However, employment opportunities from contact with a single person - i.e., your mentor - are rare; instead, employment opportunities generally result from continued, persistent networking, relationship building and professional development. 

If you have any questions about the Program, please contact the Program Coordinator, at mentor@law.du.edu.
Mentors/Future Mentors
Mentors can mentor current law students, recent law student graduates, or current graduate program students.
Why Participate?

Mentors serve as a career liaison, role-model, and professional friend. They provide practical career insights, information about the job market, and contribute to the mentee's cultivation of their own unique professional identity.

Mentors can mentor current law students or current graduate program students – such as students in the Graduate Tax Program, the Master of Science in Legal Administration Program, or the Environmental Law Graduate Program, among others. Mentors for JD students must be current or retired attorneys or judges. Mentors of other programs must be in or adjacent to the legal profession. Being a graduate of DU's Sturm College of Law is NOT a requirement.  We welcome – and appreciate! – all legal practitioners who are willing to volunteer.

A recurring comment from mentors who have participated in the Program for many years is how much it has helped them learn and network.  Although mentors commit their time to help mentees, they are often surprised how much their mentees help with their own professional career development and advancement.  While mentors can share their experience with mentees, mentees can often share their knowledge of technology, electronic research methodologies, and writing trends, as a few examples. Moreover, mentors who have been in the program for years (some with 15+ years) frequently remark about "running into" their former mentees while practicing.

To participate in the Program, please complete and submit the Mentor Registration Form. Additional information about the Program is available in the "Requirements & Information" section.

Requirements & Information

The Program asks that participants to do everything in their power to meet at least once per month throughout the academic year (i.e., about three times per semester for JD students, or two times per quarter for graduate students).  The date, time and place of each meeting is established by the mentor and the student. The Program sends monthly Meeting Reminder Emails that can be used to spur coordination between mentors and mentees regarding scheduling a meeting. 

At the meetings, mentors and mentees are free to discuss any professional topic they like.  However, the Program provides suggested Discussion Topics that mentors and mentees can use as a conversation guide. The Program also asks mentors to commit to working with the same student(s) throughout their time at DU Law if their student(s) is/are willing.

In addition to the monthly topic meetings, mentors and students are asked to attend one orientation meeting at the beginning of each academic year, as well as an end of the year Volunteer Appreciation Reception. The Program also invites mentors and mentees to a breakfast reception following the winter break, and we frequently offer free continuing legal education (CLE) events that mentors and students can attend individually or together. The Program Calendar lists recurring event dates for the academic year, though continuing legal education seminars are promoted by email throughout the year. 

Mentors are strongly encouraged to communicate with their students frequently. If you find your schedule precludes you from continuing in the Program, please contact the Program Coordinator at mentor@law.du.edu.

The amount of contact between a mentor and a mentee varies greatly. Many mentors and mentees discuss the suggested Discussion Topics and meet more frequently to discuss other issues. Others meet as suggested.

As a mentor, you can choose to be assigned a Juris Doctorate student in the day division (1L, 2L, or 3L), a Juris Doctorate student in the evening division (1L, 2L, 3L, or 4L), or a student in one of the law school's graduate programs (Master of Legal Studies, Master of Laws (LLM) in American Law Practice, Environmental & Natural Resources Law and Policy, Taxation, or International Business Transactions). Information you provide on the Mentor Registration Form will be used to match you with a mentee. Many mentors continue mentoring their student throughout their student's law school career, seeing their student transition from green to well-rounded lawyer.

If you are interested in becoming a mentor, please complete and submit the Mentor Application Form (below). After submittal, you will receive a confirmation email. Contact information for your mentee and the Program Calendar will be forwarded to you via email as soon as the Program matches you with a student (usually occurring in late July or August).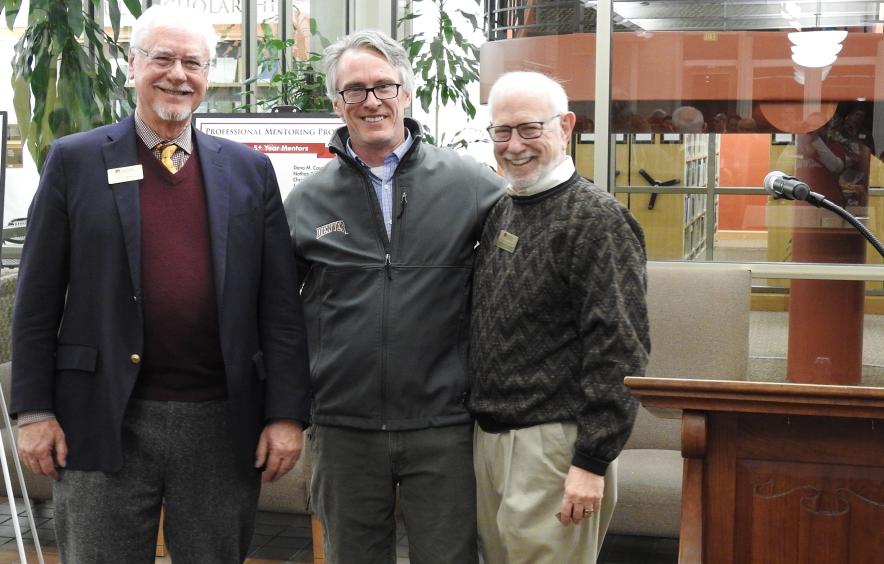 5+, 10+, and Hall of Fame Mentors
Hall of Fame Mentors:
Bill Banta
Howard Beck
Doug Brown
Elizabeth Carver
Brent Chicken
Tal Diamant
Dick Fleischman
Lindy Frolich
Shawna Geiger
Paul Karlsgodt
Gregg Kay
Bruce Kaye
Jeffrey Knetsch
David Kreutzer
John Leopold
Denis Mark
Anna Martinez
Ann McCullough
Chuck Newcom
Deb Overn
Merc Pittinos
Joe Ramirez
Roberto Ramirez
Dan Roberts
David J. Schaller
Timothy Schimberg
Brad Shefrin
Erin Smith
Suzanne Staiert
Leia Ursery
Joel Varnell
Zachary Warzel
Carolynne White
Tally Zuckerman
---
10+ Year Mentors:
Steven Abelman
Roger Adams
Robert Ahrenholz
Damian Arguello
David Aspinwall
John Baker
Tessa Becker
Shannon Bell
Edward Bronfin
Andrea Bronson
Nathan Cassell
Mark Collier
Brooke Copass Pardee
Jamie Cotter
Christopher Cross
Amanda Cruser
Trey Douglass
Chris Eby
Erik Estrada
Jeffrey Felder
Fran Folin
Michele Frishman
Max Gad
Mary Jo Gross
Mark Gruskin
Howard M. Haenel
Ed Hamrick
Rehan Hasan
Patrick Hutchinson
Christopher Irby
V. Iyer
John Jennings
Kerith Kanaber
Stephen Kapnik
Kris Kleiner
Maile Kobayashi
Simon Krauss
Paul Kyed
Bryon Large
Marian Lee
Laura Liss
Robert McCormack
Ryan McManis
Douglas McQuiston
Mary McWilliams
Hans Meyer
Jason Meyers
James Mulligan
Robin Nolan
Brad Olsen
Shane Percival
Caitlin S. Quander
Sal Quintana
R. Scott Reisch
Echo Ryan
Arthur Saltarelli
Donald Samuels
Theresa Sauer
Margaret Schaff
Barry Schwartz
Alyson Scott
Hannah Seigel Proff
Maxwell Shaffer
Jamie Sheridan
Casey Shpall
Mark Simon
Natalie Simpson
Bud Slatkin
Melanie Snyder
Jake Spratt
Karen Steinhauser
Max Stich
John Streelman
Connie Talmage
Jenny Tiedeken
Louis Underbakke
Andrew Unthank
Culver Van Der Jagt
Brad Varmo
Ian Walsworth
John L. Watson
Gwen Young
Jason Young
---
5-9 Year Mentors:
Roy Adkins
Gary Agron
Tiffany Aguilera
Joyce Akhahenda
Pete Albani
Joshua Amos
Michael Angel
Joseph Archambault
Jason Astle
Rod Atherton
Alan Avery
Richard Banta
Anthony Barbe
Tamara Barkdoll
Vivian Barrios
Michael Beaver
Kate Beckman
Matthew Bender
Joshua Benn
Stephanie Berberich
Michelle Berger
Ian Bird
Diana Black
Nicole Black
Amber Blasingame
Mark Bolton
Victor Boog
Julie Borisov
Cody Bourke
John Bowlin
Andrew Brandes
Jared Brandyberry
Sheryl Bridges
Laura Broniak
Robert Brovege
Christopher Brummitt
Susan Brushaber
Courtney Butler
Becky Bye
Jocelyn Campanaro
Leah Capritta
Dana M. Casper
Chris Castilian
James Castle
Sherri Catalano
Seth Cedars
Laura Chartrand
Rob Cohen
Stacie Colling
Alison Connaughty
Amy Cook Olson
Cathy Cooper
David Cosson
Jason Crow
Blair Daniels
Kyle Davenport
Julie Davis Ratner
Frank Debick
Matt Deegan
Nicole DeHerrera
Katherine Delgado
Amy DeVan
Greg Diamond
Beth Dickhaus
Kristi Disney
Katie Dix
Nate Donovan
Anna Drasan
Neal Dunning
Trey Eckloff
Dan Edwards
Sarah Ehrlich
Jared R. Ellis
Julian Ellis
Debbie Enck
Andrew Engeman
John Feeney-Coyle
Drew Fein
Richard Ferro
Ben Figa
Brenna Finn
Colin Fletcher
James Fogg
Geoff Frazier
Laurinda Frederick
James French
Jean French
Sheldon Friedman
David Frommell
Pamela Gagel
Svetlana Gans
Bryan Garrett
Robert Garvey
Erika Gebhardt
Terry Gill
Joseph Goldhammer
Emily Gordon-Swanson
Edward Gorman
Charles Gray
Stephen Greenhalgh
Chelsea Grossi
Matt Groves
Bryan Gwinn
Shannon Haen
Lauren Hammond
Will Hanisch
Tomi Hanson
Robert Hardaway
Dean Harris
Suzy Harris
Joan Heller
Alan Hendrix
Curtis Henry
Michael Henson
Ruben M. Hernandez
Karen Hester
Laurie Heydman
Otto Hilbert
Eric Hilty
Alex Hinz
Douglas Hoak
Eric Hobbs
Jacob Hollars
Robert Holmes
Kevin Homiak
Elizabeth Howard
Jamie Hubbard
Terry Hugar
Brittany Hurley
Richard Huttner
Aaron Jacks
Kimberly Jackson
Don D. Jacobson
Greg Janssen
Russell Johnson
Jerry N. Jones
Mike Jones
Paul Jordan
Craig Joyce
David Kaplan
Leslie Kaye
Ricki Kelly
Russell Kemp
Howard Kenison
Ed Kennedy
Kevin Keyes
Lynda Knowles
Heidi Kutcher
Ryan Lake
Juli Lapin
Matthew Larson
Frank Lawson
Chuong Le
Chris Levkulich
Robert Liechty
Brittany Limes
Patrick Linden
Stan Lipkin
Jordan Lipp
Bob Little
Dominick Lloyd
Jeremy Loew
Amy Lopez
Krista Maher
Michael Mantia
Elyse Maranjian
Cynthia Mares
Richard Marsh
Meghan Martelon
Kim Martin
Meghan Martinez
Michelle Martinez
William Martinez
Dave Mason
Fay Matsukage
Emily McArthur
Andrew McCallin
Peter McFarland
Kathy McGhehey
Liza McKelvey
Laura McNabb
Alexander McShiras
Rebekah Melnick
Kate Mercer-Lawson
Dave Meretta
Kent Modesitt
Colleen Morey
Esteban Morin
Jeremy Moseley
Lisa Moses
Megan Moses
Pax Moultrie
Craig Mueller
Katherine Mulready
Kelli Nagel
Emma Nasif
James Nechleba
Scott Neckers
Ryan Newburn
Heather Nicolls
Steve Niparko
Randolph Nogel
Catherine O'Brien Crum
Kaitlyn O'Hara
Scott Oliver
James Orcutt
Peter Ornstein
Brian Osterman
Maria Oxman
Nora Passamaneck
Nadia Patrick
Jerrico Perez
Jessica Perrill
Patrick Pfaltzgraff
JP Phillips
Joe Pierzchala
Forrest Plesko
Jason Pock
Ashley Pollock
Johnny Poon
Rachel Powell
Charlotte Powers
Katie Pratt
Jillian Price
Leslie Ranniger
Asucena Rascon
Lauren Rhinehart
John Richilano
Luke Ritchie
Tom Roan
Allison Robinette
Jesse Rodgers
Lucy Rosas
Jonathan Rosen
Andrew Rubin
Heidi Ruckriegle
Carlos Rueda
Austin Rueschhoff
Tony Ryan
Darrin Sacks
Lucas Satterlee
Nicole Savino
Timothy Scalo
Bill Scarpato
Jason Schall
Alan Schindler
Natasha Schissler
Jake Schlesinger
Ema Schultz
Scott Schultz
Michael Schuyler
Virgina Sciabbarrasi
John D. Seidel
Edward Shaoul
Al Shelden
Caitlin Shields
Bob Showalter
Juan Silva
David Simmons
Benjamin Skeen
RaLea Sluga
Abigail Smith
Don Smith
Sheldon Smith
Zach C. Smith
Stephen Southwick
Kit Spalding
Lukas Staks
Julia Stancil
Adam Stapen
Alma Staub
Eliza Steinberg
Christopher Stork
Sara Strufing
Andrew Swan
Jennifer Talbert
Erin Tatman
John Tatum
David Taussig
Daniel Thatcher
Christopher L. Thomas
Shelly Thompson
Sean Thomson
John Tinder
Ralph Torres
Jack Trigg
Nicole Trotta
Scott Turner
Kurt Tyler
Tina Van Bockern
Sara Van Deusen
Charlotte Veaux
Lisa Vigil
Steven Visioli
Sara Wafai
Tom Wagner
Ashley Wald
Lyle Wallace
Sean Walsh
Tom Walsh
Zach Warkentin
Heather Warren
Julie Warren
Rebekah Watada
Kobi Webb
Narissa Webber
Elizabeth Weishaupl
Tyson Welch
Dan Wennogle
Doug Widlund
Robyn Wille
Brittany Wiser
Kellen Wittkop
D. Brett Woods
Danae Woody
Clark Yeh
Jane Young
Steven Zapiler
Lara Zarzecki
Chris Zenisek
Kaela Zihlman
Elie Zwiebel
---
Outstanding Mentors:
Meghan Martelon-Evans
Cayolynne White
Mark Masters
Esteban Morin
Professional Mentoring Team