Fall 2024 and Spring 2025 (YEAR-LONG CLINIC):
Professor Laura Rovner & Clinical Fellow

Miriam Kerler

The Civil Rights Clinic (CRC) is an intensive, year-long litigation program in which students represent clients in civil rights cases in federal court under the supervision of clinic faculty. 
The clinic emphasizes the development of analytical and writing skills, an appreciation of the importance of fact development and case theory, the need to be consistently self-conscious and self-critical about strategic decisions made throughout the course of litigation, and a sense of responsibility about the capacity of the law and legal institutions to do justice. Our goal is to graduate compassionate and rigorous attorneys who are committed to resolving legal problems effectively and responsibly.
Currently, the focus of the CRC is on the constitutionality of the conditions in which federal and state prisoners are held, including issues such as indefinite solitary confinement, freedom of expression and the free exercise of religion, as well as issues such as failure to provide incarcerated people with adequate medical or mental health care, violations of the federal disability rights statutes, and infringements on the free exercise of religion. Some of the claims currently being litigated in the CRC will impact constitutional jurisprudence nationwide.  
See the clinic flyer below for information on prerequisites, required classes and more. 
Civil Rights Clinic Current Cases

Current Civil Rights Clinic Cases

Ajaj v. Federal Bureau of Prisons, et al.: CRC students currently represent Ahmad Ajaj, who used to be confined to the United States Penitentiary – Administrative Maximum (ADX), the federal supermax prison in Florence, Colorado. Mr. Ajaj is a devout Muslim, and his lawsuit seeks injunctive relief and damages for the substantial burdens placed on his religious practice by Federal Bureau of Prisons (BOP) officials. CRC students filed an amended complaint alleging that BOP officials violated Mr. Ajaj's constitutional and statutory rights by failing to provide him food and medications outside the fasting hours during religiously required fasts, by failing to provide him halal meals, by failing to provide him access to an imam, and by forbidding him from engaging in group prayer. CRC students brought these claims under both the First Amendment free exercise clause and the Religious Freedom Restoration Act (RFRA). CRC students briefed three motions to dismiss filed by the government raising questions of qualified immunity, the availability of certain remedies for constitutional and statutory claims, and administrative exhaustion requirements. All of Mr. Ajaj's claims for injunctive relief survived the motions to dismiss, and CRC students began discovery on these claims in December 2016. After years of litigation, CRC students conducted a two-day bench trial in federal court and won an injunction against the BOP. CRC students then appealed several claims that had been dismissed prior to trial to the U.S. Court of Appeals for the Tenth Circuit, and a CRC student argued the case in November 2021. In February 2022, the Tenth Circuit reversed the district court's dismissal of several of Mr. Ajaj's claims. Barring any further appeals, Mr. Ajaj's case will be in discovery in the district court in 2022-23.

---

Bacote v. BOP: CRC students currently represent Michael Bacote, who is currently incarcerated by the Federal Bureau of Prisons (BOP) at the United States Penitentiary—Allenwood in Allenwood, Pennsylvania. Until last year, the BOP confined Mr. Bacote in ADX.  Mr. Bacote has serious mental illness that necessitates appropriate treatment, disability accommodations, and placement in an appropriate facility, among other things. CRC students, with co-counsel from several Denver law firms, currently represent Mr. Bacote in a lawsuit bringing claims challenging the retaliation he has faced by the BOP, his placement in solitary confinement, and the BOP's failure to provide him accommodations for his disabilities as required by the Rehabilitation Act of 1973. Most of Mr. Bacote's claims have been dismissed, although one claim is pending before the district court. 

---

Chapman v. BOP, et al.: CRC students currently represent Seifullah Chapman, an individual formerly incarcerated by the Federal Bureau of Prisons (BOP). Mr. Chapman has a severe form of Type 1 diabetes; without appropriate medical care, frequent fluctuations in Mr. Chapman's blood sugar cause him acute pain and, if ignored, could be fatal. In February 2015, when Mr. Chapman was confined at ADX, a group of CRC students filed a federal lawsuit on his behalf, alleging that the BOP and certain individual defendants violated Mr. Chapman's rights under the Eighth Amendment and Section 504 of the Rehabilitation Act. On December 4, 2015, the United States District Court for the District of Colorado denied the Defendants' motion to dismiss Mr. Chapman's claims, and CRC students began discovery. Since February 2016, teams of CRC student attorneys propounded and responded to multiple sets of written discovery, briefed numerous substantive motions (including for summary judgment), taken and defended depositions, conducted entries on land, and appeared in discovery dispute hearings in federal court. After the district court denied summary judgment in 2018, Mr. Chapman was released from prison, and the individual defendants filed an interlocutory appeal on qualified immunity grounds. CRC students successfully fought the appeal, and the Tenth Circuit remanded the case back to the district court. The case is currently awaiting a trial date, likely to be set in late 2022 or early 2023.

---

Disability Law Colorado v. Colorado Department of Corrections, et al.: CRC students currently represent Disability Law Colorado (DLC) on behalf of its constituent clients who are Deaf or hard of hearing individuals incarcerated by the Colorado Department of Corrections (CDOC). The CRC co-counsels this case with Fox & Robertson and the Civil Rights Education and Enforcement Center (CREEC). The case alleges violations of the federal disability rights statutes and seeks injunctive relief for appropriate accommodations within the DOC.

The CRC filed the lawsuit in March 2021. CRC students have worked on all aspects of the case including mediation, propounding and responding to discovery, entries on land, working with experts, preparing for depositions, and client communications. CRC students and co-counsel are currently engaged in the mediation process and may continue to move through discovery depending on the success of mediation.  Trial is currently set for October 2022.

Civil Rights Clinic Former Cases

Representative Sample of Former Civil Rights Clinic Cases

Shapiro v. Rynek, et al.: Anthony Shapiro is a state prisoner incarcerated at the Sterling Correctional Facility (SCF), a facility operated by the Colorado Department of Corrections (CDOC). Several teams of CRC students represented Mr. Shapiro in a federal lawsuit alleging that a CDOC staff member subjected him to an unlawful group strip search in violation of his Fourth Amendment rights. Two teams of CRC students represented Mr. Shapiro through the discovery process (the CRC was appointed to represent Mr. Shapiro after his pro se complaint survived a motion to dismiss), including multiple depositions and briefing on the defendants' motion for summary judgment. In February 2017, a team of CRC student attorneys represented Mr. Shapiro in a four-day jury trial. Ultimately, the jury concluded that Mr. Shapiro was subjected to a group strip search on December 6, 2012, but determined that Mr. Shapiro did not prove by a preponderance of the evidence which CDOC defendant conducted that search. After judgment entered in favor of defendants and awarded them costs, the Colorado Attorney General's office moved to alter the judgment to add an award of attorneys' fees amounting to $167,219.00 to the judgment against Mr. Shapiro, an indigent life-sentenced prisoner making less than $0.60 a day ($12 a month). The CRC student team fervently opposed the motion and persuasively argued that the Court should, in fact, amend the judgment to eliminate the costs award assessed against Mr. Shapiro. After reviewing the parties' briefs, the Court found in favor of Mr. Shapiro, denying the Attorney General's motion for attorneys' fees and amending the judgment to eliminate the costs award. In its order, the Court found that Mr. Shapiro "actually prevailed on the single most important issue before the court" – that his "constitutional rights were violated."

---

Federal and State Clemency: A team of CRC students represented two prisoners incarcerated in the federal prison system who are seeking clemency under President Obama's federal clemency initiative. Both of the CRC clients were serving mandatory life sentences for non-violent drug offenses. The CRC student team prepared and submitted clemency petitions to the Office of the Pardon Attorney at the United States Department of Justice on behalf of both of both federal clients. In October 2017, President Barack Obama granted clemency to both clients. The CRC clemency team also represented a Colorado state prisoner who is both seeking clemency from Governor Hickenlooper for his de facto life sentence for a non-violent drug possession conviction and pursuing post-conviction relief under Colorado Rule of Criminal Procedure 35©. The clemency petition is pending with Governor Hickenlooper's clemency board, and the post-conviction motion is pending in El Paso County District Court.

---

Decoteau v. Raemisch – Outdoor Exercise Class Action.
Students in the Civil Rights Clinic, along with our co-counsel the Civil Rights Education and Enforcement Center, filed a class action lawsuit challenging the Colorado Department of Corrections' failure to provide outdoor exercise to prisoners at Colorado State Penitentiary (CSP), a supermax prison in Cañon City, CO. Student attorneys investigated the conditions of confinement at CSP, selected class action representatives, drafted and filed a complaint, drafted and filed a motion for partial summary judgment and responded to a defense motion for summary judgment, conducted discovery and began preparation for trial – in addition to, among many other tasks, handling a live radio interview, multiple press interviews, and appearing in federal court. The parties ultimately reached a settlement agreement, which was approved by the Court at a final fairness hearing in June 2016. As a result of this lawsuit, all prisoners at CSP will receive access to outdoor exercise.

---

Anderson v. Colorado Department of Corrections, et al. CRC students represented Troy Anderson, a mentally ill prisoner who had been held in isolation for more than a decade at Colorado State Penitentiary (CSP), the state "supermax" prison. Mr. Anderson's lawsuit sought improved mental health treatment and better conditions at CSP. Pursuant to the Eighth Amendment, the Americans with Disabilities Act (ADA), and the Rehabilitation Act (RA), Mr. Anderson sought effective medications to treat his mental illness. In addition, Mr. Anderson raised an Eighth Amendment claim challenging the fact that CSP did not permit any prisoner access to the outdoors. Mr. Anderson had not felt the sun for twelve years. Finally, the lawsuit challenged how prisoners at CSP progressed out of solitary confinement, claiming that the use of behavioral notes called "negative chrons" was arbitrary and violated the due process clause of the Fourteenth Amendment. These "chrons" could be entered by any staff member, for any reason, and result in prisoners, like Mr. Anderson, staying in solitary confinement for additional months. CRC students drafted the complaint, conducted extensive discovery, including an entry onto the CSP grounds and thirteen depositions. Starting on April 30, 2012, the students then conducted a seven-day bench trial, which included sixteen witnesses. News articles about the trial can be found here and here. CRC students also had the opportunity to work with co-counsel on this case, specifically Amy Robertson from the civil rights law firm of Fox & Robertson, P.C. (now the Civil Rights Education and Enforcement Center).

---

Oakley v. Raemisch, et al. CRC students represented Mr. Oakley in a lawsuit raising an Eighth Amendment challenge to the lack of outdoor exercise at Colorado State Penitentiary. Having taken over Mr. Oakley's representation from another attorney at a later stage in this litigation, CRC student attorneys filed a motion for summary judgment on Mr. Oakley's behalf, prepared for trial in Mr. Oakley's case, and responded to a defense motion to dismiss, including arguing against the motion in federal court.

---

Mallory v. Jones, et al. CRC students represented Matthew Mallory, who was formerly incarcerated at Centennial Correctional Facility (CCF). While held in isolation in the custody of Colorado Department of Corrections, Mr. Mallory began to vomit blood. For four days, he told correctional officers and nursing staff, none of whom provided him with reasonable medical care, never even removing him from his cell to be examined. On the fourth day, he collapsed and was rushed to the hospital. Having lost 2/3 of his blood, Mr. Mallory was given emergency surgery and forced to remain in the hospital for weeks. Mr. Mallory sued nurses and correctional officers for their failure to treat him adequately, as well as managers in the prison who knew that bleeding ulcers were common but did not adequately train their staff to identify and treat this condition. Students drafted his complaint and took and defended seventeen depositions on his behalf. Extensive summary judgment briefing was done in this case, but prior to a decision, CRC students engaged in settlement negotiations with counsel for Defendants. The parties were able to reach a settlement agreement to resolve the case.

---

Jordan v. Pugh, 504 F.Supp.2d 1109. CRC students represented Mark Jordan, a prisoner confined at the federal "supermax" prison, in his First Amendment challenge to a federal Bureau of Prisons regulation that prohibits prisoners from "acting as a reporter" or "publishing under a byline." CRCstudents conducted discovery, engaged in complex motions practice, and ultimately conducted a three-day bench trial that resulted in a decision striking the regulation as unconstitutional. A copy of the district court's order may be found here.

---

Mohammed Saleh, et al., v. Federal Bureau of Prisons. CRC students represented three prisoners challenging several issues related to their conditions of confinement in the federal supermax prison, including infringement of their right to exercise their religion in violation of the First Amendment and the Religious Freedom Restoration Act; and a lack of due process as to their placement/continued confinement in ADX (all three clients were transferred to ADX after the events of September 11, 2001, despite there being no evidence that any of them was involved in the events of that day). The student attorneys working with these clients prepared an amended consolidated complaint on behalf of all three clients, propounded and responded to written discovery requests, conducted multiple depositions, worked with expert witnesses, and engaged in motions practice. In 2008, they were able to negotiate a settlement of the religion claims which may be found here.

---

Rezaq v. Nalley, et al. CRC students represented a prisoner who was placed in the federal supermax and held there for thirteen years without explanation of what he needed to do to be removed from isolation and returned to a regular, high-security prison. This claim—raised under the due process clause of the Fifth Amendment—asked for increased procedures to explain why Mr. Rezaq was placed in solitary confinement at the supermax and why he continued to be held there. Though the claim survived a motion to dismiss, the district court found in favor of the government at summary judgment. This case was then consolidated on appeal with Saleh, and CRC students filed an appeal on behalf of the clients to the Tenth Circuit.

---

Silverstein v. Bureau of Prisons, et al. CRC students represented Tommy Silverstein, a prisoner confined in the federal supermax, in his lawsuit claiming that the Bureau of Prisons' confinement of him under "no human contact" status for over 28 years constitutes cruel and unusual punishment in violation of the Eighth Amendment and violated his Fifth Amendment right to due process. Students working on this case researched and developed the client's claims, drafted the complaint, conducted written discovery requests and depositions and responded to complex motions involving issues of qualified immunity, personal jurisdiction and constitutional law. This work resulted in a landmark decision in which the district court held that extended solitary confinement—in and of itself—could violate that Eighth Amendment's prohibition against cruel and unusual punishment. At summary judgment, however, the court ruled in favor of Defendants on all claims. CRC students sought to have this decision reconsidered, and to supplement the record based on the increasing national trend against long-term solitary confinement. The court denied the motion for reconsideration, and the CRC appealed to the Tenth Circuit Court of Appeals, which affirmed the district court's grant of summary judgment.

---

Krystofik v. Great Western Floral Exchange, et al., CRC students represented a woman in her sexual harassment and sex discrimination claims against her former employer, who harassed her over a period of several months until the conditions of her employment were so intolerable that she was forced to resign. CRC represented the client in a state court action asserting statutory claims under the Colorado Anti-Discrimination Act as well as state tort claims. In 2008, the students representing Ms. Krystofik conducted discovery and filed a motion for summary judgment on behalf on their client, on which they prevailed. The decision granting summary judgment may be found here. They then conducted a damages hearing which resulted in an award of $70,000 to their client.

---

CRC represented a group of nine national and state organizations who filed an amicus brief in support of the plaintiff class in Shook v. El Paso County, a prisoners' rights case on appeal to the U.S. Court of Appeals for the Tenth Circuit. The plaintiffs brought suit in federal court on behalf of prisoners held in the El Paso County Jail in Colorado Springs, challenging inadequate mental health care. Student attorneys on this case coordinated the groups interested in participating as amici, researched the issues relating to certification of 23(b)(2) injunctive classes, and wrote a brief representing the interests of all amici that was filed in the Tenth Circuit.

---

CRC represented a Jewish man who was harassed at his job on the basis of his religion and was terminated after complaining about the harassing conduct. This case was litigated in federal district court, and student attorneys representing our client amended the client's complaint to allege claims under Title VII, § 1981, and Colorado tort law. The students appeared in federal court for conferences and motions, drafted discovery requests, engaged in informal fact investigation, and filed and responded to discovery motions. Ultimately, the students negotiated a favorable settlement on behalf of their client.

---

CRC students represented a man who is HIV+ and who was denied LASIK surgery on the basis of his HIV status in violation of the Americans with Disabilities Act (ADA) as well as state contract and tort law. Shortly after filing a complaint in federal district court, the student attorneys negotiated a creative settlement for their client that provided him several nontraditional remedies that were specifically tailored to his objectives.
Professor Laura Rovner TEDTalk
What Happens to People in Solitary Confinement
Making an Impact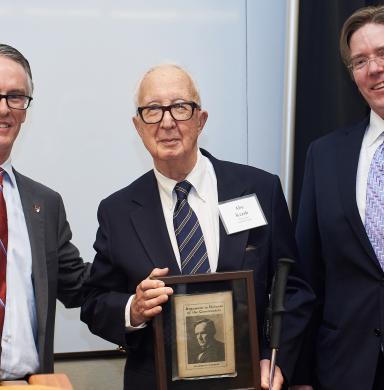 Gift Advances Nationally Recognized Work of the Civil Rights Clinic
A recent $687,000 gift from the Arnold & Porter Foundation to the University of Denver will create two new endowed scholarships at the Sturm College of Law to support outstanding students with a demonstrated commitment to civil liberties and civil rights. The gift also will support a strategic litigation fund designed to advance the nationally recognized work of the law school's Civil Rights Clinic, part of Denver Law's No. 8-ranked clinical program.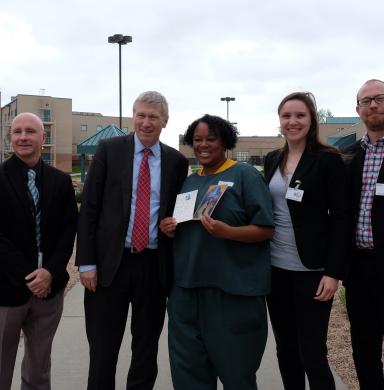 Student Lawyers Restore Prisoner Access to Greeting Cards
When Tiffany McCoy approached the Civil Rights Clinic (CRC) she had one simple, but incredibly meaningful, request: receive original greeting cards while incarcerated. Through collaborative work with Ms. McCoy and the Colorado Department of Corrections (CDOC), CRC student attorneys Alexandra Parrott, JD'19, and Justin Yanowicz, 3L, restored the rights of incarcerated individuals in the state to receive items that were touched and written by loved ones.
Clinical Programs - Student Law Office