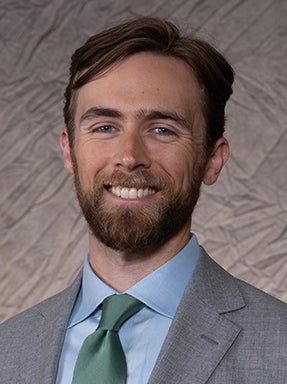 Wyatt Sassman
Assistant Professor of Law
Faculty
Rocky Mountain Collective on Race, Place & Law
Environmental & Natural Resources Law Program
Office 365H, Frank H. Ricketson Law Bldg., 2255 East Evans Ave. Denver, CO 80210
Specialization(s)
Environmental Law Clinic, Law School Clinical Program
Professional Biography
Before joining the University of Denver faculty, Wyatt Sassman taught for two years as a fellow with the Appellate Courts Immersion Clinic at Georgetown University Law Center, working with students on public-interest litigation in the federal appellate courts and the U.S. Supreme Court. Before that, he worked as an associate attorney at the Southern Environmental Law Center and clerked for Judge Gilbert S. Merritt, Jr. of the U.S. Court of Appeals for the Sixth Circuit. Professor Sassman has experience representing public-interest clients before administrative agencies and state and federal courts on a broad range of environmental and civil rights issues. His scholarship focuses on environmental justice and federal courts.
Degree(s)
LLM, expected 2018, Georgetown University Law Center.
JD, 2013, Vanderbilt University Law School
BA, 2010, Vanderbilt University
Featured Publications
Community Empowerment in Decarbonization: NEPA's Role, 96 Wash. L. Rev __ (2021) (forthcoming).
Beyond Emissions: Migration, Prisons, and the Green New Deal, 51 Envtl. L. 161 (2021) (with Danielle C. Jefferis).
Critical Questions in Environmental Law, 98 U. Detroit Mercy L. Rev. 487 (2020).
How Circuits Can Fix Their Splits, 103 Marq. L. Rev. 1401 (2020).
Cases as Fictions: Clinical Methods in Teaching and Scholarship, 4 Savannah L. Rev. 95 (2017)
A Survey of Constitutional Standing in State Courts, 8 Ky. J. Equine, Agric. & Nat. Resources L. (2016).
Applying Originalism, 63 UCLA L. Rev. Disc. 154 (2015).
Environmental Justice as Civil Rights, 18 Rich. J. L. & Pub. Int. 441 (2015).