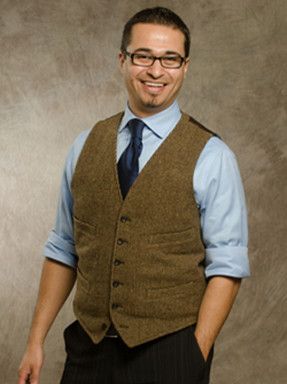 Tom I. Romero II
Associate Professor of Law & Affiliated Faculty, Department of History
Director, Interdisciplinary Research Institute for the Study of Inequality
Faculty
Rocky Mountain Collective on Race, Place & Law
Environmental & Natural Resources Law Program
303-871-7784 (Office)
Office 415D, Frank H. Ricketson Law Bldg., 2255 E. Evans Ave. Denver, CO 80208
Specialization(s)
Environmental and Natural Resources Law, Legal History, Property Law, Water Law, Environmental Law
Professional Biography
Dr. Romero is an Associate Professor of Law and is Affiliated Faculty with the Department of History at DU. The author of numerous articles, book chapters, and essays, Dr. Romero teaches and researches in the areas of the legal history of the American West, with a particular emphasis on the relationship between race and water law, school desegregation, property, land use, and urban development and local government.

Currently, Dr. Romero is revising a book manuscript on the legal history of race and law in post-World War II Denver, Colorado. He also working on several projects related to the past history and current challenges of immigration, racial inequity, and water law and policy. Those projects include a book chapter that examines the intersection between developments in water and immigration law in the late 19th and early 20th centuries and a community based participatory research project on water access and water quality issues impacting a Latinx neighborhood in Denver, Colorado.

Dr. Romero has served as the interim Vice Chancellor of Diversity, Equity, and Inclusion and the Associate Provost of DEI Research and Curricular Initiatives for the university during the last eight years. He also directs all activities associated with DU's Interdisciplinary Research Institute for the Study of (In)Equality (IRISE).

Dr. Romero is also is on the advisory board of History Colorado's Lost Highways Podcast and was a featured expert in Season 2's episode on the Colorado's declaration of martial law against Mexican Americans during the Great Depression. He is also a board member of the Colorado Water Trust and the One World One Water Center at the Metropolitan State University of Denver.  He received his Ph.D and J.D. from the University of Michigan and is an undergraduate alum of the University of Denver.

View CV
Degree(s)
PhD, History, University of Michigan, 2004
JD, University of Michigan, 2000
MA, History, University of Michigan, 1999
BA, History/Public Affairs, University of Denver, 1995
Featured Publications
The Color(blind) Conundrum in Colorado Property Law, 94 U. COLO. L. REV. (forthcoming 2022).
A Brown Buffalo's Observations on Color(Blindness), Legal History, and Racial Justice in the Rocky Mountain West, 2022 UTAH L. REV. 751 (2022).
The Color of Local Government: Observations of a Brown Buffalo on Racial Impact Statements in the Movement for Water Justice, 25 CUNY L. REV. 242 (2022).
The Keyes to Reclaiming the Racial History Of the Roberts Court, 20 Michigan Journal of Race and the Law 415 (2015).
Observations on History, Law, and the Rise of the New Jim Crow in State-Level Immigration Law and Policy for Latinos, 66 of the American Quarterly 153 (March 2014).
How I Rode the Bus to Become a Professor at the University of Denver Sturm College of Law; Reflections on Keyes's Legacy for the Metropolitan, Post-Racial, and Multiracial Twenty-First Century, 90 Denver University Law Review 1023 (2013).
"Of Greater Value than the Gold of Our Mountains:" The Right to Education in Colorado's Nineteenth Century Constitution, 83 U. Colo. L. Rev. 781 (2012)., 83 U. Colo. L. Rev. 781 (2012).
The Color of Water: Observations of a Brown Buffalo on Water Law and Policy in Ten Stanzas, 15 Denver Water Law Review 329 (2012).
The Social Reconstruction of Race & Ethnicity of the Nation'S Law Students: a Request to the ABA, AALS and LSAC for Changes in Reporting Requirements, co-authored with Kevin D. Brown, 2011 Mich. St. L. Rev.1133.
Steams, Steel, and Statutes: True Tales from Colorado Legal History, Frank Gibbard, ed., CLE in Colorado (2010).
Review of Justice Gregory Hobbs, Jr., Living the Four Corners: Colorado Centennial State at the Headwaters, 39 Colorado Lawyer 59 (December 2010).
100 Years Strong: Southern Minnesota Regional Legal Services and the On-Going Pursuit for Equal Rights and Equal Justice, co-authored with Bruce Beneke, 31 Hamline Journal of Public Law and Policy 1 (2009).
Kelo, Parents and the Spatialization of Color (blindness) in the Berman-Brown Metropolitan Heterotopia, 2008 Utah Law Review 947 (Winter 2009).
No Brown Towns: Anti-Immigrant Ordinances and Equality of Educational Opportunity for Latina/os, Journal of Gender, Race and Justice, Vol. 12, No. 1, 2008.
¿La Raza Latino?: Multiracial Ambivalence, Color Denial, and the Emergence of a Tri-Ethnic Jurisprudence at the End of the Twentieth Century, New Mexico Law Review, Vol. 37, No. 2, 2007.
Bound Between & Beyond the Borderlands: Region, Race, Scale and a Subnational Legal History, Oregon Review of International Law, Vol. 9, p. 301, 2007.