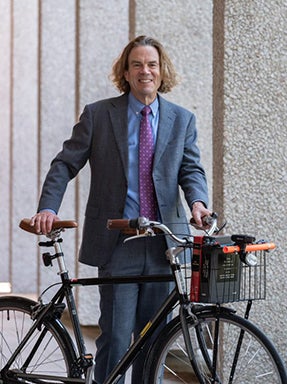 Thomas D. Russell
Professor
303-871-6224 (Office)
Office 407D, Frank H. Ricketson Law Bldg., 2255 East Evans Ave. Denver, CO 80208
Specialization(s)
American Legal History, Contracts, Litigation and Litigation Skills, Torts
Professional Biography
Professor Tom Russell has taught at five top-25 law schools including the University of Florida Levin College of Law (#21), with visits in Spring 2022, Fall 2023, and Fall 2024. He was a tenured Professor of Law at The University of Texas at Austin (#17). He also taught as a visitor at Stanford Law School (#2) and Berkeley Law (#9). During the spring of 2023, Professor Russell will be a visiting professor at Washington University in St. Louis (#16).
Outside the top 25, Professor Russell was a visiting professor at the University of California Hastings College of Law.
Professor Russell's international experience includes serving as a Fulbright Senior Specialist at the University of the West Indies, St. Augustine campus in Trinidad and Tobago, where he taught the Caribbean's first Restorative Justice class. He spent a fantastic year in the Republic of Ireland at Maynooth University, teaching the Irish law of Contracts and Torts to almost 200 first-year university students. In July 2022, Maynooth's Department of Law and Criminology invited him to deliver a keynote address to mark the tenth anniversary of the law program.
The Social Science Research Network, which Malcolm Gladwell calls "the greatest website on the Internet," ranks Professor Russell's downloads in the top 1.5 percent worldwide. Professor Russell's most downloaded work, "Frivolous Defenses," is an empirical study of answers that insurance defense lawyers filed in car-crash lawsuits in Colorado. "Disrupting Frivolous Defenses" examines the efforts of the late Milton I. Shadur, a Judge of the United States District Court for the Northern District of Illinois, to improve the quality of answers that defense attorneys file. As part of the ongoing Frivolous Defenses project, Professor Russell published a comparative study of car-crash litigation in Colorado and Alberta, Canada.
Professor Russell's legal history articles are pathbreaking. In 2010, he published "'Keep Negroes Out of Most Classes Where There are a Large Number of Girls': The Unseen Power of the Ku Klux Klan and Standardized Testing at The University of Texas, 1899-1999." The provocative title is from a memo that The University of Texas registrar sent to the university's president just after the United States Supreme Court issued the Brown v. Board of Education opinion. Russell shows that UT responded to Brown by naming a dormitory after a law professor who was a violent Ku Klux Klan organizer during Reconstruction and also by adopting standardized testing that administrators knew would disproportionately exclude African Americans. Russell's article was a cause of the university's renaming of Simkins Hall--the first substantial building-renaming event in the early 21st century.
Russell's pioneering empirical work on the history of American slavery continues to have impact. With research drawn from his Ph.D. dissertation, Russell put courts and legal officials at the center of American slave auctions. He showed that legal officials who conducted sales separated enslaved family members more often than private auctioneers. Professor Russell has argued for a new conception of slave property that better represents the complicated legal relationships that spread the stake that Americans had in slave property.
From Stanford University, Professor Russell holds Ph.D. (History), J.D., and M.A. degrees. He earned a B.A. in American Studies from Northwestern University.
Professor Russell is proud to be an attorney in California and Colorado. He specializes in personal injury matters, including seven-figure verdicts and settlements. He actively litigates in Colorado's trial courts, Court of Appeals, and Supreme Court and also before the Public Utilities Commission. Russell was second chair on Colorado's first-filed marriage equality suit. Before Uber and Lyft destroyed the taxi business, he successfully represented 150 East African immigrants who fought incumbent taxi companies and the Public Utilities Commission to form their own business.
Professor Russell lives in Denver, Colorado with his wife Amy and their cats RBG (Gigi) and Elena. A native of Pittsburgh, Pennsylvania, Professor Russell has deep family roots in Alameda County, California. He bicycles and runs and loves plants.
Degree(s)
PhD, 1993, Stanford University
JD, 1989, Stanford University
MA, 1986, Stanford University
BA, 1983, Northwestern University
Licensure / Accreditations
Attorney in California and Colorado.
Featured Publications
Frivolous Defenses, 69 Clev. St. L. Rev. 785 (2021).

Disrupting Frivolous Defenses, 52 Loy. U. Chi. L.J. 907 (2021).

'Keep Negroes Out of Most Classes Where There Are a Large Number of Girls': The Unseen Power of the Ku Klux Klan and Standardized Testing at The University of Texas, 1899-1999, South Texas Law Review, Vol. 52, No. 1 (2010).

South Carolina's Largest Slave Auctioneering Firm, Chicago-Kent L. Rev., Vol. 68, pp. 1241-82 (1993).

Articles Sell Best Singly: The Disruption of Slave Families at Court Sales, Utah Law Review, Vol. 1996, p. 1161-1209 (1996).

A New Image of the Slave Auction: An Empirical Look at the Role of Law in Slave Sales and a Conceptual Reevaluation of the Nature of Slave Property, Cardozo Law Review, Vol. 18, p. 473 (November 1996).

More Civil Wrongs: Personal Injury Litigation, 1901-1910 (with Lawrence M. Friedman), American Journal of Legal History, Vol. 34, p. 295 (July 1990).