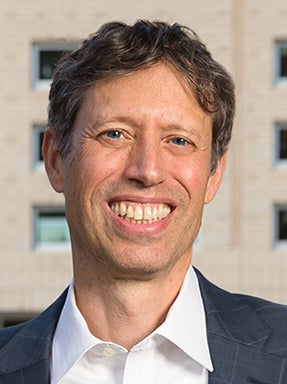 Laurent Sacharoff
Professor of Law
Maxine Kurtz Faculty Research Scholar
Faculty
Constitutional Rights & Remedies Program
Specialization(s)
Criminal Law, Criminal Procedure, Evidence
Professional Biography
Laurent Sacharoff's research focuses on criminal procedure, especially the history of the Fourth and Fifth Amendments. He has a particular interest in the history of pre-trial criminal procedure including search and arrest warrants, preliminary examinations, and pre-trial commitment. He also writes on computer law and crime, including the Computer Fraud and Abuse Act, and the Fourth and Fifth Amendments as applied to digital searches.
His work has appeared in the Stanford Law Review, the Texas Law Review, the Iowa Law Review, and the Fordham Law Review, as well as popular press articles in Politico and The Washington Post. His work has been regularly cited by courts, particularly on the issue of compelled passwords for digital devices and encryption.
Professor Sacharoff joined the Denver faculty in fall 2022, where he teaches or will teach criminal law, criminal procedure, and cybercrime. Before that, he was a professor at the University of Arkansas School of Law for 12 years, where he was named outstanding professor of the year in 2015, and the University-wide Rising Teacher of the year in 2016.
Before academia, Prof. Sacharoff clerked for the Honorable John S. Martin, Jr. in the Southern District of New York and then joined the law firm of Sullivan & Cromwell, where he was the pro-bono fellow handling prison litigation, as well as a litigation associate. Professor Sacharoff also worked as a public defender at the Legal Aid Society in Brooklyn, New York.

View CV
Degree(s)
B.A., Princeton University
J.D., Columbia Law School.
Featured Publications
SELECT LAW REVIEW PUBLICATIONS

The Broken Fourth Amendment Oath, 74 STAN. L. REV. 603 (2022).
Criminal Trespass and Computer Crime, 62 WM. & M. L. REV. 571 (2020).
The Fourth Amendment Inventory as a Check on Digital Searches, 105 IOWA L. REV. 1643 (2020).
What Am I Really Saying When I Open My Smartphone: A Response to Prof. Kerr, 97 TEX. L. REV. ONLINE 63 (2019).
Unlocking the Fifth Amendment: Passwords and Encrypted Devices, 87 FORDHAM L. REV. 203 (2018).
Who Should Own Police Body Camera Videos?, 95 WASH. U. L. REV. 269 (lead article) (co-author Sarah Lustbader) (2017).
Conspiracy as Contract, 50 U.C. DAVIS L. REV. 405 (2016).
Miranda's Hidden Right, 63 ALA. L. REV. 535 (2012).
Former Presidents and Executive Privilege, 88 TEX. L. REV. 301 (2009).

OTHER PUBLICATIONS

Do Bots Have First Amendment Rights?, POLITICO MAGAZINE, Nov. 27, 2018
Russia Gave Bots a Bad Name. Here's Why We Need Them More Than Ever., POLITICO MAGAZINE, Aug. 14, 2018.
The Fight Between Biden and Trump Over Executive Privilege Should Be Decided In Favor of the Sitting President, THE WASHINGTON POST, Oct. 10, 2021.