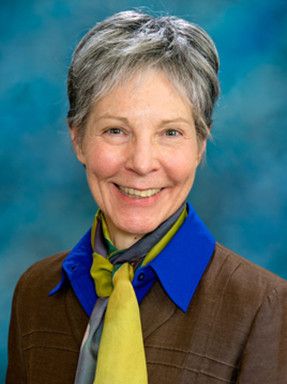 KK DuVivier
Professor
John A. Carver, Jr. Chair in Natural Resources Law
Faculty
Environmental & Natural Resources Law Program
303-871-6281 (Office)
Office 330N, Frank H. Ricketson Law Bldg., 2255 East Evans Ave. Denver, CO 80208
Specialization(s)
Civil Procedure, Energy Law, Renewable Energy Law, Environmental Law
Professional Biography
K.K. DuVivier graduated cum laude, Phi Beta Kappa from Williams College with a double major in English and Geology. She interned in the mineral departments of the Smithsonian Institution and the Hudson River Museum and then joined the American subsidiary of the French company COGEMA (currently Areva NC) as an exploration geologist. For three and a half years, she mapped, logged core, and coordinated field operations in Colorado, Texas, and New Mexico, before leaving to attend law school at the University of Denver. She received the Order of St. Ives when she graduated in 1982 and immediately started practice in natural resources law, first at Sherman & Howard and then at Arnold & Porter.

While her children were young, Professor DuVivier worked as an Assistant City Attorney for the City and County of Denver and as the Reporter of Decisions for the Colorado Court of Appeals. She started full-time teaching at the University of Colorado School of Law in 1990, and she joined the faculty at DU in 2000. Her awards include the 2013 Sturm Faculty Excellence Award for "Best Professor"; Sturm Mentorship Award 2013-2014; Hughes-Ruud Research Professor 2015; AALS DU Teacher of the Year 2015; the Robert B. Yegge Excellence in Teaching Award from DU in 2018; the Clyde O. Martz Award from the Rocky Mountain Mineral Law Foundation in 2019, and the MICDS Distinguished Alumni Award in 2020.

Professor DuVivier is the John A. Carver Chair in Natural Resources Law and has taught a variety of subjects over the years, including Energy Law, Renewable Energy Law, Civil Procedure, Mining Law, Legal Research & Writing, Local Government, Wills & Trusts, and Environmental Law. Using her science background, Professor DuVivier has taught interdisciplinary courses and received a National Science Foundation award to partner with an atmospheric scientist and an economist to address wind farm impacts.

She served as Director of DU's Lawyering Process Program from 2000 to 2007 and hosted the 2007 Association of Legal Writing Director's Conference in Denver. In 2008, she returned to natural resources, teaching both Energy Law and Mining Law. From 2009-2010, she was designated Director of DU Law's Environmental and Natural Resources Law Program. She also has taught energy and renewable energy courses as a visiting professor at Lewis & Clark Law School and at the University of Houston Law Center.

The numerous legal articles and book chapters Professor DuVivier has authored or co-authored have placed her in the top ten percent of Authors on the Social Science Research Network (SSRN) measured by all-time downloads: http://ssrn.com/author=725005  She is sole author of two books. The Renewable Energy Reader (Carolina Academic Press 2011) was the first devoted exclusively to U.S. renewable energy law. She also created a website www.RenewableEnergyReader.com to support the book. Her second book, Energy Law Basics​ (Carolina Academic Press 2017), spans a wide spectrum of energy issues and includes several fundamental skills exercises for experiential learning opportunities. In addition, Professor DuVivier co-authored an interdisciplinary work published in NATURE ENERGY on November 26, 2018: Costs and consequences of wake effects arising from uncoordinated wind energy development, J. K. Lundquist, K. K. DuVivier, D. Kaffine, J. M. Tomaszewski, NATURE ENERGY: https://rdcu.be/bb0aS

Professor DuVivier currently coordinates the Colorado Solar and Storage Coalition and serves on the International Advisory Board of the Sustainable Development Strategies Group.  She also is the Sturm College of Law's Advisory Board Representative to the Institute of Energy Law in the Center for American and International Law in Plano, Texas, and DU's Trustee for The Foundation for Natural Resources and Energy Law (formerly the Rocky Mountain Mineral Law Foundation), a non-profit for which she also served as Trustee-at-Large from 2012-2015 and as a member or chair of several committees. Professor DuVivier's past service includes a number of officer capacities for the Association of American Law Schools' (AALS) Natural Resources and Energy Section, including Chair of this AALS section in 2014. From 2010 to 2020, she served as a Vice-Chair for the Renewable, Alternative, and Distributed Energy Resources (RADER) Committee of the Section of Environment, Energy, and Resources (SEER) of the American Bar Association (ABA), and her past service includes six years as Vice-Chair of the ABA Hard Minerals Committee and ten years as Chair or Vice-Chair of the Appellate Practice Subcommittee of the Litigation Section of the Colorado Bar Association. In 2006, Professor DuVivier was inducted as a member of the American Law Institute (ALI).

Professor DuVivier's former home in Denver was built following German Passive House principles. Because the home was so efficient and achieved net positive energy without a furnace, it was frequently featured in sustainability tours and won the Colorado Renewable Energy Society's Renewable Energy and Sustainable Design in Buildings Award for the Residential-New Construction category in 2012.

Professor DuVivier continues to research, write, and present in numerous national and international forums. Her current focus is on energy and renewable energy law, with a special emphasis on wind, solar, energy efficiency, energy justice, distributed generation, and storage.
Degree(s)
J

D, 1982, University of Denver, College of Law

BA, 1975, Williams College
Licensure / Accreditations
Featured Publications
K.K. DuVivier & Tara Righetti, Changing Paradigms for a Low-Carbon World, 46 HARVARD ENVIRONMENTAL LAW REVIEW ONLINE 59 (May 25, 2022). 
Time of Renewables, U Denver Legal Studies Research Paper No. 21-21 (2021).
Preventing Wind Waste, 71 American University Law Review (forthcoming 2021).
NIMBY to NOPE - or YESS?, co-authored with Thomas A. Witt, 38 Cardozo L. Rev. 1453 (2017).
Energy Law Basics, Carolina Academic Press (2017).
Chapter 19. Distributed Renewable Energy, Draft chapter from Michael B. Gerrard and John Dernbach, eds., LEGAL PATHWAYS TO DEEP DECARBONIZATION IN THE UNITED STATES (forthcoming from Environmental Law Institute) DO NOT CITE WITHOUT PERMISSION FROM THE AUTHOR: kkduvivier@law.du.edu.
Wind-Scattered Resources, in Transmission and Transport of Energy in the Western U.S. and Canada: A Law and Policy Road Map, 52 Idaho Law Review 387 (2016).
Wind Power Growing Pains, 21 NEXUS J. of L. & Pol'y 1 (2016).
The Superagency Solution, 46 McGeorge L. Rev. 189 (2015).
Rural Wind Windfalls, 23 The Kansas Journal of Law & Public Policy 401 (2014).
Solar Skyspace B, 14 Minn. J. L. Sci. & Tech. 389 (2014).
Sins of the Father, 1 TEX. A&M REAL PROP. L. J. 301 (2014), reprinted in full in 51 Rocky Mountain Mineral Law Foundation Journal 293 (2014).
E-Legislating, 92 Oregon L. Rev. (lead article) (2013).
Converting Natural Resources into Electricity, co-authored with Robin Newmark, ROCKY MTN. MIN. L. FOUNDATION SPECIAL INSTITUTE ON RENEWABLE ELECTRIC ENERGY LAW, DEVELOPMENT, AND INVESTMENT Paper No. 2 Mineral Law Series Vol. 2013, No. 5.
Managing the Dark Side of Trees,, co-authored with Dan Staley, SOLAR TODAY 28 (July/ August 2013).
Good-bye Christopher Columbus Langdell?,, 43 Envt'l. L. Rep. 10475 (issue No. 6, June 2013).
Book Review—Fuel Cycle to Nowhere: U.S. Law and Policy on Nuclear Waste Richard Burleson Stewart and Jane Bloom Stewart (Vanderbilt University Press 2011), 30 J. Energy Nat. Resources L 337 2012.
Renewable Energy Reader, Carolina Academic Press (2011).
Letter to Editor - Trees vs. air pollution, Denver Post, October 29, 2010, at 10B.
Review of Split Estates, Movie Review (2010).
Colorado Citations, 34 Colo. Law. 121 (Sept. 2005), reprinted in ROBERT MICHAEL LINZ, COLORADO LEGAL RESEARCH, part of Carolina Academic Press's state Legal Research Series texts (2010).
Review of "Dirty Business" by Bullfrog Films (2010).
Animal, Vegetable, Mineral - Wind? The Severed Wind Power Rights Conundrum, Washburn Law Journal, Vol. 49, p. 69 (2009).
Jousting at Wind Mills: When Wind Power Development Collides With Oil, Gas, and Mineral Development, co-authored with Roderick E. Wetsel, Rocky Mountain Mineral Law Institute, Vol. 55, No. 9 (2009) Also reprinted in Part I MMX No. 3 National Association of Division Order Analysts (NADOA) 29 (July/August/September 2010) and Part II (October/November/December 2010). Also reprinted in 35 E-Section Report, no. 3, of the Oil, Gas and Energy Law Resources Section of the State Bar of Texas (March 2011) www.oilgas.org.
Guest Commentary—Retain Solar Access In Code, DENVER POST, October 28, 2009, at 11B.
The Scrivener, bimonthly column on legal writing for The Colorado Lawyer (from March 1991to March 2007).
Fast-Food Government and Physician-Assisted Death: The Role of Direct Democracy in Federalism (2007).
Out of the Bottle: The Genie of Direct Democracy, 70 Albany L. Rev. 1045 (April 2007).
The United States as a Democratic Ideal? International Lessons in Referendum Democracy, Temple Law Review, Vol. 79, p. 821 (2006).
State Ballot Initiatives in the Federal Preemption Equation: A Medical Marijuana Case Study, 40 Wake Forest L. Rev. 221 (Spring 2005).
Are Some Words Better Left Unpublished?: Precedent and the Role of Unpublished Decisions, 3 J. Appellate Prac. & Process 397 (2001).
Think Globally, Act Locally: The Role of State and Local Ballot Initiatives in International Environmental Law, Colo. J. Int'l Entl L. & Pol'y (2000 Yearbook).
Continuing Legal Education in Colorado, Inc., Colorado Appellate Handbook (Janice B. Davidson, J., ed., 3d ed., 2000) (K.K. DuVivier participated as an author in the revisions).
By Going Wrong All Things Come Right: Using Alternative Initiatives to Improve Citizen Lawmaking, 63 U. Cin. L. Rev. 1185 (1995).
We All Lose with Constitutional Amendment by Initiative, The Advocate, May 1993, at 3.
Attorney Fees as Superfund Response Costs, Nat. Resources & Env't, Summer 1991, at 34 (co-author).