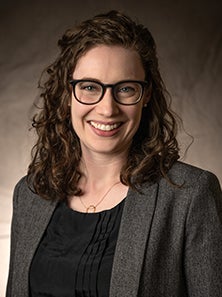 Katelin Ybanez
Career Consultant
Professional Biography
Expertise:
Katelin Ybanez brings in-house, law firm, private sector, and public sector experience to the Sturm College of Law's Office of Career Development & Opportunities (CDO). As a Career Consultant, Katelin works with students and graduates who are seeking positions at law firms or in the public sector, including judicial clerkships and fellowships. She also facilitates programming designed to expand career opportunities for students and alumni.

Background:
Prior to joining the CDO, Katelin served as a trusted legal advisor and advocate for clients throughout the public and private sectors. Although she most recently worked in-house, Katelin also spent several years at law firms in Chicago, Illinois where she primarily focused her practice on labor and employment law. Katelin also has extensive experience working with clients in the education sector, particularly with respect to personnel matters, Title IX, board governance, and traditional labor relations.

Throughout her career, Katelin has been recognized for her skills in research, writing, and advocacy and successfully argued for a new constructive filing rule in the Ninth Circuit through her clinic work in law school. She credits this experience as providing a strong foundation for her legal career.
Degree(s)
Juris Doctor, Pepperdine University School of Law (now Pepperdine Caruso School of Law)
Master of Dispute Resolution, Straus Institute for Dispute Resolution, Pepperdine University School of Law (now Pepperdine Caruso School of Law)
Bachelor of Arts, Public Relations and Political Science, Gonzaga University