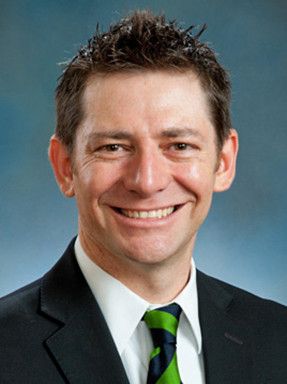 Ian Farrell
Associate Professor
303-871-6035 (Office)
Office 462B, Frank H. Ricketson Law Bldg., 2255 East Evans Ave. Denver, CO 80208
Specialization(s)
Criminal Law, Criminal Law and Procedure
Professional Biography
Ian Farrell completed both his undergraduate degree in pure mathematics and his law degree at the University of Wollongong, in Australia. After graduating with First Class Honours in law, Professor Farrell worked at the Sydney office of Mallesons Stephen Jaques, one of Australia's leading law firms, before being awarded a Fulbright Scholarship and attending Harvard Law School as part of the LLM program. Professor Farrell also attended the University of Texas as part of the Law and Philosophy program and graduated with a Masters in Philosophy.
Professor Farrell clerked for Judge Benjamin Kaplan on the Massachusetts Court of Appeals. Prior to joining the University of Denver Law faculty, Professor Farrell was a Fellow in the University of Texas School of Law's Emerging Scholars Program. Professor Farrell has also taught law at his alma mater, The University of Wollongong.
Professor Farrell's scholarship and teaching interests converge on criminal law and procedure, constitutional law, and the philosophy of law. His work has appeared in the William and Mary Law Journal, the Texas Law Review, and Villanova Law Review, among others.
Degree(s)
MA, Philosophy of Law, The University of Texas, 2003
LLM, Harvard Law School, 1999
JD, Law, University of Wollongong, 1995
Pure Mathematics, Computer Science, University of Wollongong, 1992
Featured Publications
Taking Voluntariness Seriously, co-authored with Justin Marceau, 45 B.C. L. Rev. 1545 (2013).
Strict Scrutiny Under the Eighth Amendment, 40 FL. St. U. L. Rev. 783 (2013).
Abandoning Objective Indicia, 122 Yale L. J. Online 303 (2013).
Objective Indicia and Juvenile Life Without Parole, DENVER U. ONLINE L. REV. (2012) (posted May 6, 2012).
On the Value of Jurisprudence, 90 Tex. L. Rev. 187 (2011).
Provocation Manslaughter as Partial Excuse and Partial Justification, co-authored with Mitchell N. Berman, 52 WM & MARY L. J. 1027 (2011).
Gilbert & Sullivan and Scalia: Philosophy, Proportionality, and the Eighth Amendment, 55 VILL. L. REV. 321 (2010).
H.L.A. Hart and the Methodology of Jurisprudence, 84 TEX. L. REV. 983 (2006).
Book Review, 'Dori Kimel, From Promise to Contract: Towards a Liberal Theory of Contract', 116 ETHICS 447 (2006).
Book Review, 'Larry Alexander, Is There a Right of Freedom of Expression?', NOTRE DAME PHILOSOPHICAL REVIEWS (2006).