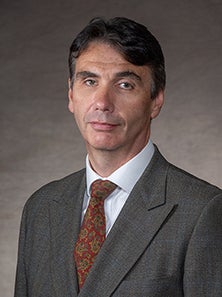 Iain Davis
Assistant Dean
Admissions and Student Financial Management
Professional Biography
Iain Davis is the Assistant Dean, Student Financial Management & Admissions. He joined the University of Denver in 1997 in the loan servicing and collections department following a career in British law enforcement. After moving to the Sturm College of Law as director of financial aid, he was later named assistant dean of financial management and international admissions before being promoted to his current position.
Iain has held a number of volunteer positions with the Law School Admission Council (LSAC). He has presented on the subject of financial aid at numerous law school forums as well as at annual meetings and summer regional workshops. He served as chair of the Financial Aid Advisory Group (2008–2014), as a member of the New Admission Personnel and Faculty Members Workshop Planning Work Group (2010), and as a mentor for the New Admission Personnel and Faculty Members Workshop mentor/mentee program (2013–2014). He also served as a member of the Services and Programs Committee (2011–2013), Forums Ad Hoc Work Group (2013–2015), and Annual Meeting and Educational Conference 2017 Planning Work Group. He is currently a member of the Board of Trustees and serves as trustee liaison to the Test Development and Research Committee.
Iain studied English literature and history at Liverpool Polytechnic in the United Kingdom and earned a master of science degree in legal administration from the University of Denver Sturm College of Law.