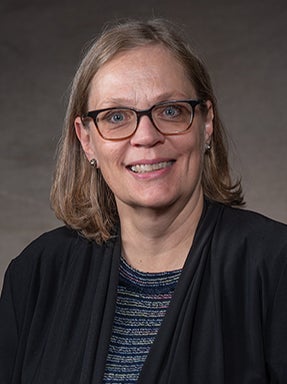 Diane B. Kraft
Associate Professor of the Practice of Law
Director of the Academic Achievement Program
303-871-6405 (Office)
Office 455H, Frank H. Ricketson Law Bldg., 2255 E. Evans Ave. Denver, CO 80208
Specialization(s)
Academic Achievement Program
Professional Biography
Professor Kraft joined the University of Denver Sturm College of Law faculty in 2019 as the Director of the Academic Achievement Program. Before heading west, Professor Kraft taught legal research and writing for ten years at the University of Kentucky College of Law, where she also served as the Director of the Academic Success Program for three years. Teaching is in Professor Kraft's blood: before becoming a lawyer, she taught English as a Second Language for five years in South Korea and Texas, and Russian language for a year or two before that.
After graduating from the University of Wisconsin School of Law, Professor Kraft was an attorney at a law firm in Madison, Wisconsin, practicing in civil litigation. She represented clients in a wide variety of cases, including medical malpractice, defamation, personal injury, and secured transactions.
In her free time, Professor Kraft does not like to climb mountains. However, she does love walking outside and playing with her very cute dog, Addie, and her even cuter great-nephew, Wesley.
Degree(s)
JD, University of Wisconsin Law School, 2006
MA, Applied Linguistics/TESOL, Indiana University, 1998
MA, Slavic Languages and Literature, Indiana University, 1996
BA, Journalism and History (double major), University of Wisconsin-Madison, 1986
Featured Publications
Contrastive Analysis and Contrastive Rhetoric in the Legal Writing Classroom, 49 New Mexico Law Review 35 (2019)
Language Changes, But Should Legal Writing Change With It? Ky. Bar Ass'n Bench & Bar 81 (Nov. 2017)
Do Real Lawyers Use CREAC? Ky. Bar Ass'n Bench & Bar 80 (May 2016)
CREAC in the Real World, 63 Cleveland State Law Review 567 (2015)
Book Review: Storytelling for Lawyers, The Second Draft 28 (Fall 2015)
Helping International Students Avoid the Plagiarism Minefield: Suggestions from a Second Language Teacher and Writer, 23 Perspectives: Teaching Legal Research & Writing 37 (2014)
In Other Words… When and How to Quote and Paraphrase, Ky. Bar Ass'n Bench & Bar 78 (Nov. 2014)
When is Copying OK in Legal Writing? Ky. Bar Ass'n Bench & Bar 77 (May 2013)
Checklists: Not Just for Pilots Anymore, Ky. Bar Ass'n Bench & Bar 75 (Nov. 2011)
The Perils of Hyperbole, Ky. Bar Ass'n Bench & Bar 75 (May 2011)
Commas and Colons and Semicolons, Oh My!, Ky. Bar Ass'n Bench & Bar 74 (Nov. 2010)
South Korea's National Security Law: A Tool of Oppression in an Insecure World, 24 Wisconsin International Law Journal 627 (2006)
Presentations
Incorporating Ideas from Applied Linguistics and English Education into the Legal Writing Classroom, LWI Biennial Conference, Milwaukee, Wisconsin (July 2018), panelist
Different Organizational Structures for Different Types of Legal Tests and Arguments, CLE Session, LWI Biennial Conference, Milwaukee, Wisconsin (July 2018), presenter
Current Research in Contrastive Rhetoric: What Does it Mean for the Legal Writing Classroom? Global Legal Writing Skills Committee Webinar (May 20, 2017), presenter
What Applied Linguistics Research Can Tell Us About Teaching Legal Writing to Non-Native Speakers, LWI Biennial Conference, Portland, Oregon (July 2016), presenter
Collaborating on Scholarship through Peer Support Systems, LWI One-Day Workshop, The Ohio State University Moritz College of Law, Columbus (December 2015), co-presenter
CREAC in the Real World, LWI Southeastern Regional Legal Writing Conference, Stetson University, Gulfport FL (April 2014), presenter
ALWD Teaching Workshop, Stetson University, Gulfport FL (April 2014)
Technology in the Classroom, Legal Writing Institute One-Day Workshop, University of Kentucky College of Law, Lexington (December 2013), co-presenter
LWI Writers' Workshop, Delavan, Wisconsin (July 2013), participant
The Sun Shines Bright on Our New Kentucky LRW Program, ALWD Conference, Marquette University, Milwaukee (June 2013), co-presenter
We Are Family: Effective Ways to Integrate the Legal Research & Writing Components of a First-Year LRW Course Even When Taught Separately, ALWD Conference, Marquette University, Milwaukee (June 2013), co-presenter
Teaching to Foreign Students: Plagiarism, Legal Writing Institute One-Day Workshop, Michigan State University College of Law, East Lansing (December 2012), presenter
Teaching Legal Writing to International and ESL Students: Plagiarism, Legal Writing Institute One-Day Workshop, Washburn University School of Law, Topeka (December 2012), presenter
Plagiarism Detection Programs: How Good Are They? Legal Writing Institute Biennial Conference, Palm Desert (June 2012), co-presenter
Current Trends in ESL Writing Theory, Rocky Mountain Legal Writing Conference, Las Vegas (March 2011), presenter
Effective Student Conferences, Legal Writing Institute One-Day Conference, Dayton (December 2010), presenter
Developing Ideas Conference, Lexington (April 2009), discussion leader