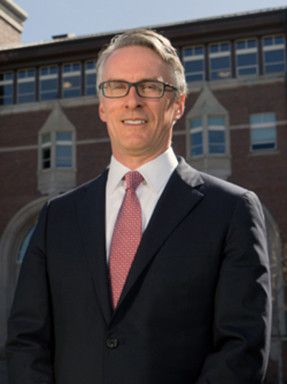 Bruce Smith
Sturm College of Law Dean
Professor of Law
Faculty
Workplace Law Program
303-871-6103 (Office)
Office 215C, Frank H. Ricketson Law Bldg., 2255 E. Evans Ave. Denver, CO 80208
Specialization(s)
Intellectual Property, Legal History, Sports Law
Professional Biography
Bruce Smith is the 20th dean of the University of Denver Sturm College of Law, having served in that role since July 2016. Previously, he was professor of law and Guy Raymond Jones Faculty Scholar at the University of Illinois College of Law, where he was dean from 2009-14. In the latter capacity, he successfully completed a $50 million capital campaign; launched an innovative Chicago Program, three new clinics, and a postgraduate public interest fellowship program; and recruited a dozen new faculty members to campus. Dean Smith has been a visiting faculty member at the University of Michigan Law School, the George Washington University Law School, and the University of Luxembourg. From 1996-2001, he practiced in the litigation group at Covington & Burling LLP in Washington, D.C., where he focused on intellectual property litigation and sports law, representing the NFL, NHL, and NBA, among other clients.
An internationally recognized historian of Anglo-American criminal procedure and an award-winning teacher, Dean Smith is the author of History of the Common Law: The Development of Anglo-American Legal Institutions (with John H. Langbein and Renée Lettow Lerner). He has published articles on the presumption of innocence, the origins of public prosecution, and the history of plea bargaining in Law & History Review, the Yale Journal of Law & the Humanities, and the Annual Review of Law & Social Science. His invited papers and lectures include presentations at the University of London, the University of Luxembourg, the University of Michigan, Northwestern University, the University of Palermo (Buenos Aires, Argentina), the University of Pennsylvania, UCLA, and Yale University, among other institutions.
Dean Smith currently serves on a number of educational, civic, and corporate boards, including the board of advisors of the Institute for the Advancement of the American Legal System (IAALS), the board of directors of the Center for Legal Inclusiveness (CLI), the external advisory board of the University of Luxembourg Research Unit in Law, and the board of directors of State Farm Bank.
He received a B.A. in History summa cum laude from Williams College, a B.A. and M.A. in History from the University of Cambridge, a J.D. from Yale Law School, and a Ph.D. in History from the Yale University Graduate School of Arts & Sciences, which he attended as a Mellon Fellow in the Humanities.
Degree(s)
PhD, Yale University
JD, Yale Law School
MA, University of Cambridge
BA, Williams College