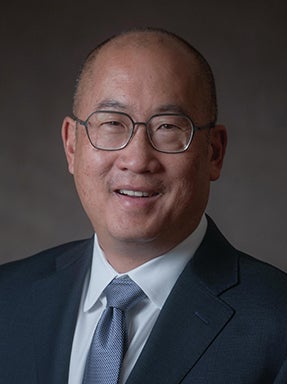 Bernard Chao
Professor of Law
Co-Director, Intellectual Property and Technology Law Program
303-871-6110 (Office)
Offfice 407B, Frank H. Ricketson Law Bldg., 2255 East Evans Ave. Denver, CO 80208
Specialization(s)
Contracts, Intellectual Property, Patent Law, Privacy Law
Professional Biography
Bernard Chao is a professor of law, co-director of the law school's Intellectual Property and Technology Law Program and chair of the law school's Hughes Committee, which supports faculty conducting empirical research. Professor Chao has written about both patent and data privacy issues important to the technology sector. His patent writings have been recognized with a Samsung-Stanford Patent Prize and included in West/Thomson's annual Intellectual Property Law and Patent Law Reviews. As an outgrowth of this research, Professor Chao has authored several amicus briefs to the U.S. Supreme Court working with different groups including the Harvard Cyberlaw Clinic and Electronic Frontier Foundation. Professor Chao also conducts experiments on legal decision-making.  This research cuts across several subject areas including remedies, the 4th Amendment, evidentiary rules, and jury instructions. Professor Chao's papers have appeared in a number of leading publications including the California Law Review, Northwestern University Law Review and American Business Law Journal. 
Prior to joining the University of Denver, Professor Chao practiced law in Silicon Valley for almost twenty years in variety of different roles. At Wilson, Sonsini and Pennie & Edmonds, Professor Chao litigated high stakes patent cases. At Covad Communications, he served as Vice President of Legal Strategy as the company grew from a small broadband startup to a public company. Later Professor Chao co-founded his own boutique firm, Chao Hadidi Stark & Barker LLP.  Professor Chao has also had the privilege of advising federal judges as a court appointed Special Master, most notably, in the largest patent multidistrict litigation in U.S. history, In Re Katz Interactive Call Processing Patent Litigation.

View CV
Degree(s)
JD, Duke University School of Law

BS, Electrical Engineering Purdue University
Licensure / Accreditations
Registered with the Patent and Trademark Office
Active Member of California Bar
Featured Publications
Unjust Enrichment: Standing Up for Privacy Rights, 108 Iowa Law Review Online 49 (2023).
Biological Patent Thickets and Delayed Access to Biosimilars, An American Problem, Vol. 9 Issue 2, Journal of Law and the Biosciences (2022) (co-authored with Rachel Goode).
Why Patent Monopsonies Increase Consumer Welfare, 30 Texas Intellectual Property Law Journal 1 (co-authored with Tod Duncan) (2021).
Does Conjoint Analysis Reliably Value Patents?, 58 American Business Law Journal 225  (co-authored with Sydney Donovan) (2021).

Privacy Losses as Wrongful Gains

, 106 Iowa Law Review 555 (2021).

Saliency, Anchors and Frames: A Multicomponent Damages Experiment, 26 Michigan Technology Law Review 1 (co-authored with Roderick O'Dorisio) (2019).
Focusing Patent Litigation, 18 Chi-Kent J. Intell.Prop. 497 (solicited) (2019) .
How Evidence of Subsequent Remedial Measures Matters, 84 Missouri Law Review 609 (co-authored with Kylie Santos) (2019).
Crowdsourcing & Data Analytics: The New Settlement Tools, 102 Judicature 62 (co-authored with Christopher Robertson and David V. Yokum) (peer reviewed) (2018).
Why Courts Fail to Protect Privacy: Race, Age, Bias and Technology, 106 California Law Review 263 (co-authored with Ian Farrell, Catherine Durso and Christopher Robertson) (2018).
Lost Profits in a Multicomponent World, 59 Boston College Law Review 1321 (2018).
Testing the White Hat Effect in Patent Litigation, 27 Federal Circuit Bar Journal 155 (co-authored with Roderick O'Dorisio) (2017).
Time is Money: An Empirical Assessment of Non-Economic Damages Arguments, 95 Washington University Law Review 1 (2017) (co-authored with John Campbell and Christopher Robertson).
Countering the Plaintiff's Anchor: Jury Simulations to Evaluate Damages Arguments, 101 Iowa Law Review 543 (2016) (co-authored with John Campbell, Christopher Robertson and David Yokum).
Horizontal Innovation and Interface Patents, 2016 Wisconsin Law Review 287.
Causation and Harm In a Multicomponent World, 164 University of Pennsylvania Law Review Online 61 (2016).
An Early Look at Mayo's Impact on Personalized Medicine, 2016 Patently -O-Patent Law Journal 10 (co-authored with Amy Mapes).
The Infringement Continuum, 35 Cardozo Law Review 1359 (2014).
A Case Study In Patent Litigation Transparency, 2014 Journal of Dispute Resolution 87 (2014) (solicited and co-authored with Derigan Silver).
Patent Imperialism, 109 Northwestern University Law Review Online 77 (2014).
Finding the Point of Novelty in Software Patents, 28 Berkeley Technology Law Journal 1218 (2013).
Reconciling Foreign and Domestic Infringement, 80 UMKC Law Review 607 (invited symposium contribution) (2012).
Moderating Mayo, 107 Northwestern University Law Review 423 (2012).
The Case for Contribution in Patent Law, 80 University of Cincinnati Law Review 113 (2011) awarded a Samsung/Stanford Patent Prize.
Not So Confidential: A Call for Restraint in Sealing Court Records, 2011 Patently-O Patent L.J. 6 (July 29, 2011).
Breaking Aro's Commandment: Recognizing That Inventions Have Heart, 20 Fordham Intellectual Property, Media & Entertainment Law Journal 1185 (2010).
Rethinking Enablement in the Predictable Arts – Fully Scoping the New Rule (2009 Stanford Technology Law Review 3 (2009) reprinted in Intellectual Property Law Review, Thomson West 2010 ed.).
After eBay v. MercExchange: The Changing Landscape for Patent Remedies, 9 Minn. J. L. Sci. and Tech. 543 (2008) (reprinted in Patent Law Review, Thomson West 2009 ed.).