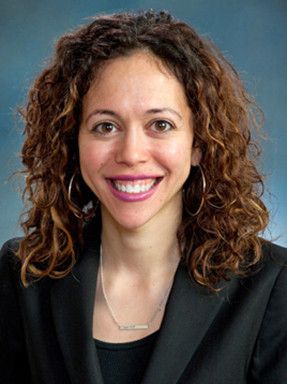 Alexi Freeman
Associate Dean of Diversity, Equity and Inclusion | Director of Externships and Social Justice Initiatives
Professor of the Practice of Law
Faculty
Externship Program
Rocky Mountain Collective on Race, Place & Law
303-871-6788 (Office)
Office 365M, Ricketson Law Building, 2255 E. Evans Ave. Denver, CO 80208
Specialization(s)
Legal Externships, Public Interest Law, social justice
Professional Biography
At Denver Law, Alexi Freeman leads our nationally recognized externship program, teaches social change lawyering courses, and oversees a range of efforts dedicated to diversity, equity and inclusion. Freeman was awarded the prestigious Robert B. Yegge Excellence in Teaching Award at Denver Law in 2019, after teaching here for only 6 years, as well as named the University Faculty Career Champion for All Graduate Students (based on student submissions for all faculty across university graduate departments) by the University of Denver Career Services. She has been the recipient of multiple grants from IRISE and the Center for Community Engagement, and won the Colorado Women's Bar Association Raising the Bar Award in 2023 and the Center for Legal Inclusiveness' Individual Award in 2019. Freeman is particularly proud to regularly be voted on by the student body as Outstanding Mentor.
Freeman has a distinguished record working alongside low-income communities and communities of color as a racial justice and legal advocate. Prior to joining Denver Law, Freeman worked as an attorney at Advancement Project, a national civil rights group, where she assisted grassroots organizations across the country on social justice advocacy campaigns around education and juvenile justice policy, housing, and voting rights issues. Freeman continues to support grassroots communities and social justice movements pro bono. She now serves on the board of the Center for Legal Inclusiveness and previously served on the boards of the ACLU of Colorado and the Colorado Center on Law and Policy. She is an active member on various academic committees around experiential learning; regularly presents on topics related to equity and belonging, movement lawyering, and externships; and produces scholarship on such topics.
Freeman received a JD from Harvard Law School, where she was recognized for her leadership on campus and public service commitment, and a B.A. in Journalism and Interdisciplinary Studies from the University of North Carolina at Chapel Hill. Freeman identifies as multiracial and interfaith, and as a proud working mother.

View CV
Degree(s)
JD, Harvard Law School, 2007
BA, Journalism & Cultural Studies - Double Major, University of North Carolina at Chapel Hill, 2004
Licensure / Accreditations
Bar Admission as Law Professor - Colorado
Bar Admission/Admitted to Practice Law
Bar Admission/Admitted to Practice Law
Professional Affiliations
Society of American Law Teachers
Clinical legal education association
AALS Section on Pro Bono and Public Service Opportunities
National Association of Pro Bono Professionals
Featured Publications
Laying the Framework for Transformative Change: What Law Schools Can Do Now to Promote Anti-Racism,

(with Erika Sisneros Kelley), Rutgers Race and the Law Review (forthcoming Fall 2021).

Don't Hire Me as a Token:  Best Practices for Recruiting and Supporting Externs From Historically Marginalized Backgrounds, 72 S.C. L. Rev. 357 (2020).
Yes, You Can Learn Movement Lawyering in Law School: Highlights from the Movement Lawyering Lab at Denver Law, 56 Howard Human and Civil Rights Law Review 55 (2020).
Uniting the Head, Hands, and Heart: How Externship Departments Can Combat Public Interest Drift, co-authored with Katie Steefel, 25 (2) Clinical Law Review 325 (2019).
Positive Disruption: Addressing Race in a Time of Social Change Through a Team-Taught, Reflection-Based, Outward-Looking Law School Seminar, co-authored with Lindsey Webb, 21 U. Pa. J. L. & Soc. Change 121 (2018).
From Symposium to Action: Five Ways for Law Schools to Bridge the Gap Between Students and Marginalized Communities, 94 Denver L. Rev. (forthcoming May 2017).
It's About Power, Not Policy: Rebellious Lawyering for Large-Scale Social Change, co-authored with Jim Freeman, 23(1) Clinical Law Review 147 (2016).
The Pledge for the Public Good: A Student-Led Initiative to Incorporate Morality & Justice in Every Classroom, co-authored with Katherine Steefel, 22 Wash. & Lee J. Civ. Rts. & Soc. Just. 49 (2016).
Pro Bono, Public Interest and More: A Look at a Student-Led Initiative to Elevate the Public Good, co-authored with Katherine Steefel, The Docket, the magazine of the Denver Bar Association (2016).
Teaching for Change: How the Legal Academy Can Prepare the Next Generation of Social Justice Movement Lawyers, 59 How. L.J. 99 (2015).
Getting Your Hands Dirty: New School Legal Education, 36 The Docket, Issue 1 (January 2014).
Public Service at Denver Law, 43 The Colorado Lawyer 8, 97 (August 2014).