University of Denver Graduate Programs Rank Among the Top 100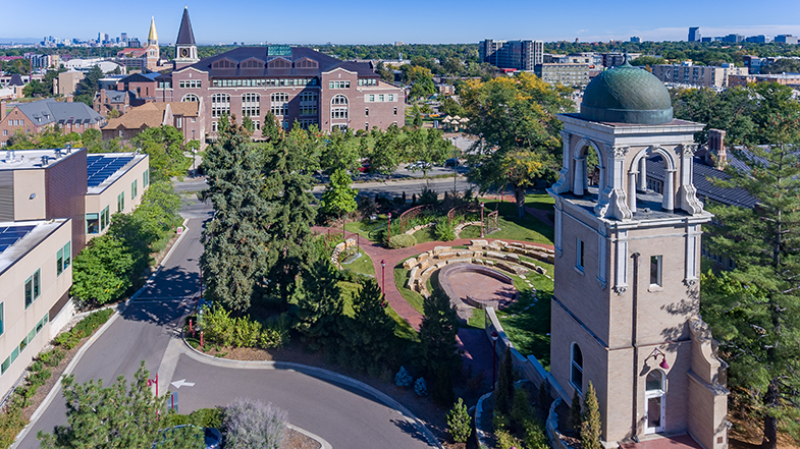 Numerous University of Denver graduate programs are once again recognized among the nation's top 100, according to U.S. News & World Report, which released its 2023 Best Graduate School Rankings today.
The Graduate School of Social Work (GSSW) is ranked No. 11 for best social work programs, a category that includes the master's and doctoral programs. This is the first time in three years that U.S. News has updated its ranking for social work programs. In 2020, GSSW was ranked No. 17.
"We are humbled and honored to be recognized among the nation's best social work graduate programs," says Morris Endowed Dean and Professor Amanda Moore McBride. "The true value of our school is in the impact we make in the world — in the work of our graduates who are transforming lives as social workers, in the deep community impact of our research and scholarship, in our collective efforts to advance equity and justice."
The Daniels College of Business climbed six spots for its full-time Denver MBA program. The program is now ranked No. 71. The part-time Professional MBA program is ranked No. 75 in the country.
"The rankings are a reflection of the hard work we've put into an exceptional student experience, and we're delighted to see the full-time Denver MBA continue to climb in the rankings," says Daniels Dean Vivek Choudhury. "We know our challenge-driven curriculum prepares all of our MBA students for the workforce; we see the results in our placement outcomes."
The Sturm College of Law received three top 10 rankings. The legal writing program ranks No. 6, up three spots from last year; the clinical training program is up one spot from last year to No. 8; and the trial advocacy program now ranks No. 10, up from a No. 12 ranking in 2022.
Other specialty areas experienced single- and double-digit gains from last year. Environmental law, dispute resolution, international law and constitutional law improved over last year and now rank in the top 100.
The specialty areas of criminal law, tax law, contracts and commercial law, intellectual property law, business and corporate law, and health care law continue to rank in the top 100. Overall, Denver Law's full-time program ranks No. 78, while the part-time program ranks No. 16.
In the College of Arts, Humanities and Social Sciences (CAHSS), the doctoral program in psychology ranks No. 97. U.S. News did not provide rankings for this category in 2022.
"We in the College of Arts, Humanities & Social Sciences are thrilled to see the well-earned accolades for our psychology program," says CAHSS Dean Rhonda M. Gonzales. "Our passionate students and faculty take an integrative approach to research, helping to establish next-generation leaders in a field that benefits the public good. This ranking recognizes the dedication and hard work from everyone in the Department of Psychology."
The Morgridge College of Education ranks No. 100 by U.S. News. In addition, the college's program in Educational Leadership and Policy Studies (ELPS) is No. 24 in the category of best educational administration and supervision programs.
"Throughout its history, the Morgridge College of Education has been a leader in educational excellence. We are honored to have been ranked, again, in the Top 100 by U.S. News & World Report," says interim dean Bruce Uhrmacher. "We are proud of our programs that have been recognized for their excellence as well. Over more than a century, our renowned faculty, exceptional staff, talented students, and dedicated community have made Morgridge what it is. Together, they will continue to make it possible for us to offer the highest quality and most impactful educational opportunities possible."
U.S. News & World Report rankings for graduate programs are based on two types of data: expert opinions about program excellence and statistical indicators measuring the quality of a school's faculty, research and students. Rankings data comes from statistical surveys of more than 2,150 programs and from reputation surveys sent to more than 23,000 academics and professionals.
To view the complete 2023 Best Graduate School Rankings, please click here.