Team Among Top Finishers at National Pro Football Contract Negotiation Competition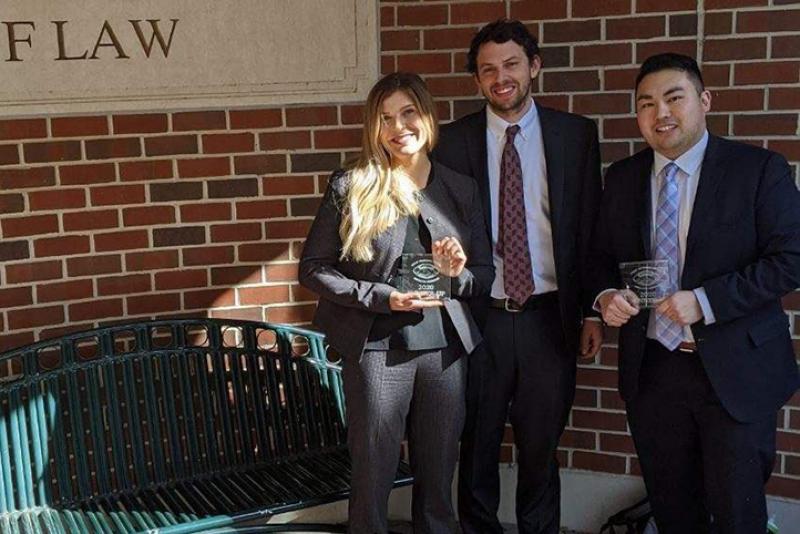 University of Denver Sturm College of Law students Emily Staker, 3L, Nick Moore, 2L, and Grant Shibao, 3L, placed second at this year's Tulane Professional Football Contract Negotiation Competition in New Orleans.
The students, coached by alumnus John Gronka, JD'17 and advised by Professor David Schott, competed against 48 teams from 39 different law schools around the nation. 
In the competition, teams represented both the team side and the player side throughout a contract. They are given objectives to try to meet in their final contract and are also scored on argument, negotiation style, presentation of analysis and more. Industry experts from NFL teams serve as judges.
Denver Law was among only eight teams to advance past the first round and went onto take second place against Villanova in the finals. The two schools are considered sports negotiation powerhouses.
Denver Law teams continue to see more success every year of the competition. Last year, Denver Law was the only law school to have two teams advance to the second round. This year, the team took that accomplishment farther by negotiating all the way to the finals.
"Our team is a strong knit group. We spend a lot of time together practicing, forming arguments, and writing briefs. We had a goal of winning the championship this year and fell just short of our goal, but I'm excited to see where the team goes in the future," said Shibao.
Video of the team in action at the competition is available courtesy of Tulane Pro Football Negotiation Competition.
The final 15 minutes of negotiations https://t.co/kmrMcqbv6U

— Tulane Pro Football Negotiation Competition (@TulanePFNC) January 25, 2020