Sturm College of Law Scores Victory at 20th Annual ABA Tax Competition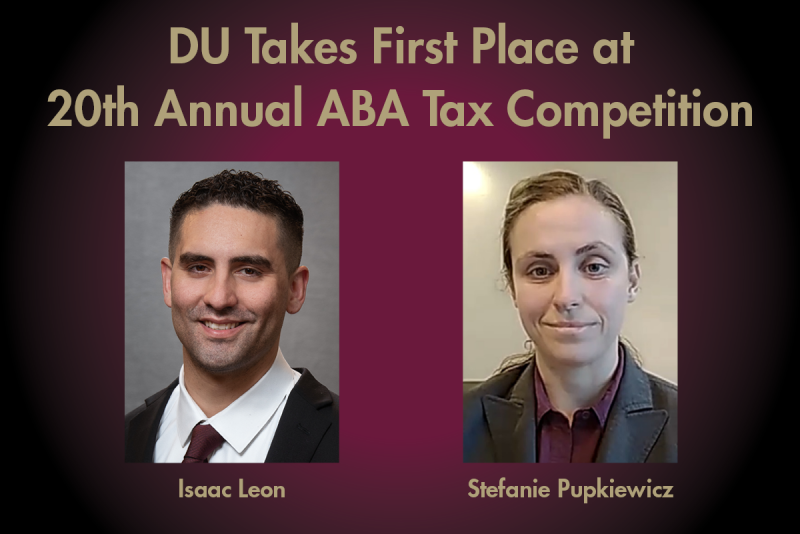 Sturm College of Law Students Take Home First Place at the 20th Annual ABA Tax Competition

Congratulations to University of Denver Sturm College of Law students Isaac Leon and Stefanie Pupkiewicz, who earned first place in the LL.M. Division of the 20th Annual American Bar Association's (ABA) Law Student Tax Challenge (LSTC).  This victory marks the third year in a row the University of Denver has had a team place in the top three and the second win for DU in three years.

The LSTC is a standing competition that serves as an alternative to established moot contests and is organized by the Section's Young Lawyers Division, the ABA's center for emerging lawyers. The LSTC challenges its competitors by asking the two-person teams to tackle a business problem that could be seen in everyday tax practices. The students are assessed for their resulting product: a memorandum to a senior partner and a letter to a client explaining the result. The winning teams in both the LL.M. and the J.D. Divisions are then invited to the Midyear Meeting, where their work is evaluated by some of the nation's top tax experts.

Visiting Assistant Professor of the Practice of Taxation and Denver Law alumna Sabrina Strand, LLM'14, coached Isaac and Stefanie, helping them secure this esteemed victory. Under Strand's guidance, and through the rigorous training for the LSTC competition, they gained invaluable experience in the practice of tax law. Congratulations, Isaac and Stefanie, as well as to your coach, Professor Strand.