Sturm College of Law Earns High Rankings from preLaw Magazine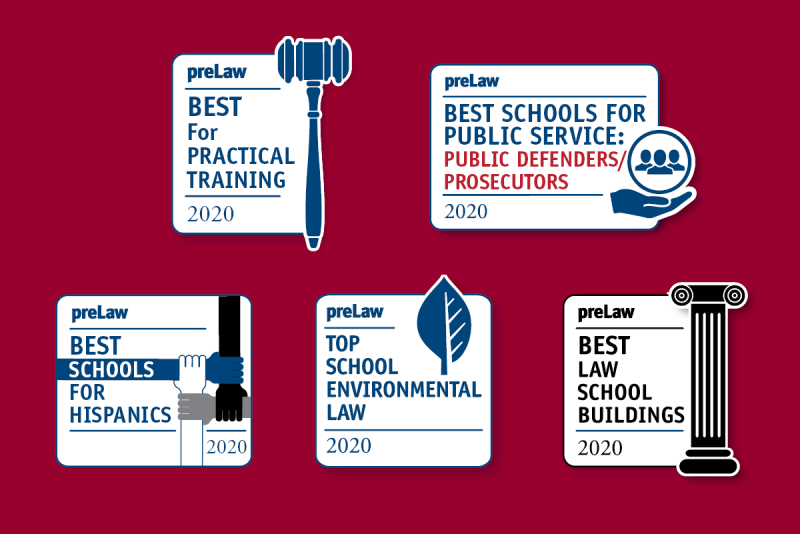 Sturm College of Law Earns High Rankings from preLaw Magazine

Each year, preLaw Magazine recognizes outstanding law schools across the nation for areas in which they have demonstrated exemplary offerings and programs for student pursuing a legal education. Excelling in 2020, the University of Denver Sturm College of Law continues receiving high rankings and honor-roll listings from the 2020 preLaw Magazine rankings:
First, in preLaw's Winter 2020 publication, Denver Law was endorsed as a top law school for Hispanic students. The publication considered a range of factors in its review, including the population of Hispanic students at the law school and the percentage of minority faculty.

Additionally, the Winter 2020 Magazine highlighted the Sturm College of Law as a top school for Public Defenders, earning a placement of 13th out of the 25 top law schools for Public Defenders.

The Spring of 2020 preLaw issue brought similar accolades to the law school's expertise in experiential learning, honoring Denver Law with an A+ ranking for Practical Training. preLaw cites its practical skills training methodology indicating that "We graded schools on a number of data points, focusing on key practical training offerings such as clinics, externships, simulation courses, pro bono hours and moot trial participation." This holistic approach to practical training embodies the value that the University of Denver effectively places on its implementation of experiential learning. The law school is also gratified to earn an A for Environmental Law. Our faculty has noted that "No other law school in the United States offers a specialized program in environmental and natural resources law with the breadth, scope and opportunities provided at the University of Denver Sturm College of Law."

The most recent publication from preLaw highlighted our achievements by ranking the Sturm College of Law an A+ for Business Law, A for Racial Justice and A- for Criminal Law in their Fall 2020 issue. The A+ ranking for the law school's business law program, alongside 12 other renowned law schools, is recognition of our faculty member's tireless efforts in this developing this program.

The Fall 2020 issue of preLaw paid particular interest to institutional values around racial justice. Jennifer McEntee writes on the subject of "Top Schools for Racial Justice," stating "Dozens of law schools are adding offerings in the wake of racial unrest that has swept the nation. Yet, those that lead the pack have had such programs in place for some time." The Sturm College of Law has taken pride in standing as an ally and supporter of education that upholds racial justice and will continue to expand these practices. Lastly, preLaw recognized our school for excellence in criminal law. They recognized the wide interest in this field, "Many students are drawn to the legal profession because they want to engineer change — a goal that appears to be on the rise in the wake of recent social unrest. And criminal law is a specialty some are pursuing in hopes of doing so." Denver Law has worked diligently to develop this robust curriculum and grants our students a comprehensive track in criminal law.

The Sturm College of Law is committed to continued growth and development in providing our students an exemplary legal education and sharing the results of these efforts reflected in preLaw Magazine's rankings.