Professor Ved Nanda Receives 2018 Louis B. Sohn Award for Public International Law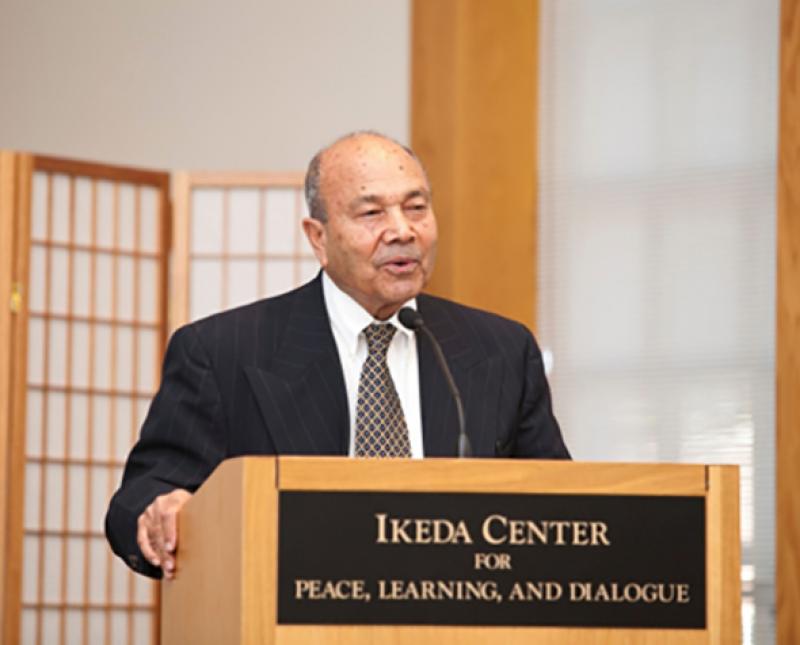 American Bar Association honors Denver Law's International Legal Studies Program founder for distinguished contributions to public international law.
The American Bar Association (ABA) Section of International Law selected Professor Ved Nanda as the 2018 co-recipient of the prestigious Louis B. Sohn Award for Public International Law. Nanda will receive the award at the ABA Section of International Law's annual conference on April 19, 2018.
Nanda's selection is testament to his wide-reaching in uence in the eld of public international law
as demonstrated by his many contributions to organizations such as the Executive Committee of the International Academy of Comparative Law, the Academy of International Commercial and Consumer Law, the Advisory Council for the U.S. Institute of Human Rights, the American Society of International Law, the Task Force on U.N. Commission on Human Rights for the ABA Section on International Law, the U.N. and International Associations of Penal Law's Committee of Experts to Draft Implementation Measures to Assist Victims of Crime and the Committee of Experts to Draft Convention Against Torture.
Previous recipients include Elliot Richardson (2000, posthumous), Arthur Helton (2004, posthumous), Dean Harold Koh (2005), The Honorable Thomas Buergenthal (2006), ICJ President Rosalyn Higgins (2007), Professor Louis B. Henkin (2008), James H. Carter (2009), Jerome J. Shestack (2010), John Murphy (2011), Anne-Marie Slaughter (2012), James R. Silkenat (2013), Daniel Magraw (2014), Judge Joan E. Donoghue (2015), Bruce Rashkow (2016) and Homer Moyer (2017).
Professor Nanda has taught at the University of Denver College of Law since 1965. He founded the International Legal Studies Program and the Denver Journal for International Law & Policy in 1971. In 2006 he was honored by Doug (JD'77) and Mary Scrivner with a founding gift to create the Ved Nanda Center for International and Comparative Law.
---
The Nanda Center emphasizes the intersection of public and private international law in the real world oflegal practice. It promotes quality writing and research in those elds via its Sutton International Law EssayCompetition, and through its annual programs such as the Leonard v.B. Sutton Colloquium in International Law, the Myres S. McDougal Distinguished Lecture in International Law, the Cox Price International Human Rights Lecture and Award, and the Henry and Mary Bryan Lecture in Private International Law. For more information visit http://www.law.du.edu/ved-nanda-center-for-international-law.