Professional Mentoring Program Going Strong after 15 Years
Seven Mentors Honored with Hall of Fame Recognition at February Celebration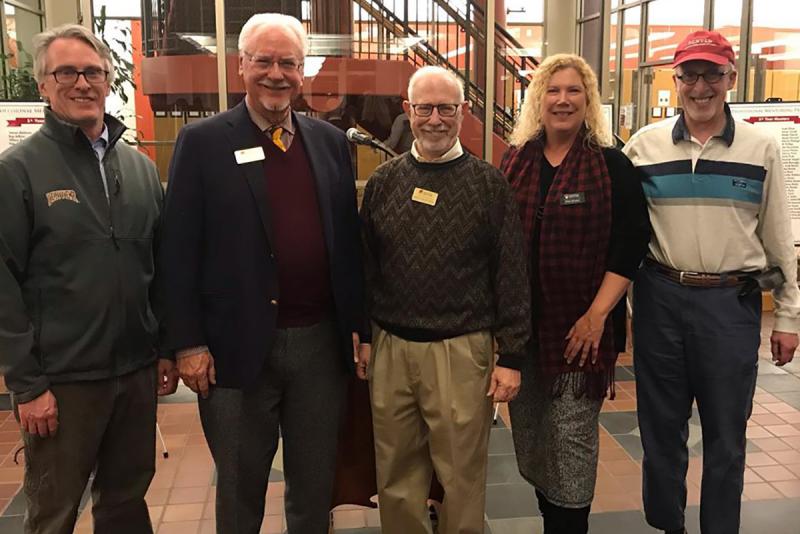 What started with a single class in the Lawyering Process (LP) program has turned into a juggernaut that has guided hundreds of students as they take their first steps into the legal profession.
This year, University of Denver Sturm College of Law's Professional Mentoring Program (PMP) is celebrating 15 years of bringing legal professionals and students together. Since 2005, the PMP has been a national leader in offering guidance on legal skills, career opportunities and much more to law students. But its strength lies not only in the practical skills provided but also in the personal connections it fosters and the dedicated mentors who donate their time.  
Small Steps Make a Big Difference
The PMP is the brainchild of program director Mike Massey. It was while teaching in the LP program that he noticed a need for student guidance.  
"I discovered that most of my first-year students had little first-hand knowledge of what lawyers did. Most of them had never met a lawyer and few of them had lawyers in the family," Massey relates.
With the help of lawyer friends from his network, he launched the PMP to connect law students with lawyers. The program started modestly, including only students in Massey's LP class, but it soon started to grow as more students learned the value of professional connections.
Massey, along with then director of the LP program, Professor K.K. DuVivier, decided to expand the PMP, and by the 2007–08 academic year, the program offered a mentor to each first-year student at Denver Law, and has expanded to offer services to all J.D. and graduate students. Today, under the guidance of Massey, Andrew Frohardt, senior Professional Mentoring Program coordinator, and John Farrell, program coordinator, nearly 1,100 people participate, including more than 600 students and 400 mentors.
Dedicated Legal Leadership
Much of the program's success can be attributed to the many legal professionals who volunteer their time and knowledge as mentors. Matched with students who have an interest in their legal field, mentors help guide mentees through school, teach them the importance of professional responsibility and get them started in the profession.
From one year of participation to 15 years, the program's mentors are helping shape the future of the legal profession. As of this year, there are 238 five-plus year mentors, 61 ten-plus year mentors and seven 15-year participants, who were recognized as the first class of Hall of Fame mentors at this year's annual celebration.
Bill Banta, Doug Brown, Dick Fleischman, Paul Karlsgodt, Gregg Kay, Judge John Leopold and Deb Overn have all shared their time, knowledge and experience with lucky Denver Law students since the beginning of the PMP.

Hall-of-Famer Overn, a senior assistant city attorney in the Denver City Attorney's Office, sees her job as helping students visualize the lawyer they want to be, identifying the steps needed to get there and then helping them take those steps.

"I really enjoy getting to know the mentees, and I love helping them achieve their goals. I try to teach them that there are MANY ways to be successful in the law," Overn said. "Success should be measured against one's own standard. If you are achieving your personal goals, feel proud of your work and are content with what you do each day, then you are a success."
The significance of the program is that it is not only about helping students; it's a positive experience for all involved, continually renewing mentors' interest in the profession and reminding them why they do what do, as well.
"My mentees have taught me that the law is truly a profession, not just a way to earn your keep," said Overn. "After nearly 30 years of practice it is easy be jaded. Facing the idealism and excitement of a brand new 1L each year keeps the practice fresh for me and reminds me how cool it is that we get to do what we do as lawyers."
With 15 years of mentoring at Denver Law under her belt, Overn is looking forward to participating in the PMP for years to come.
"I'll keep mentoring as long as the students accept me as useful," she said. 
Congratulations to the PMP for 15 years of service to our students, and thank you to all the mentors, and our Hall of Famers, for their dedication.
Denver Law's PMP is always accepting new mentors to help shape the future of the legal profession. To learn more about the program, visit law.du.edu/professional-mentoring-program.