Honoring a Legacy by Supporting Students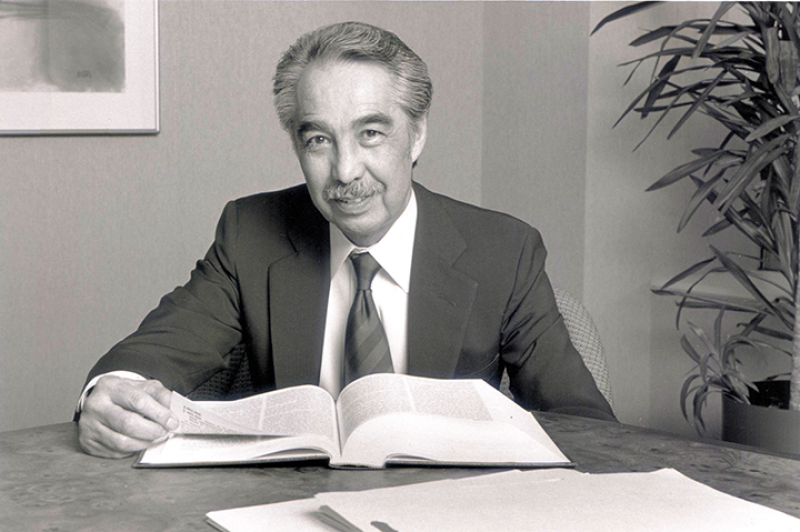 "After serving his country in the military in the Korean War, my father was a trailblazer in the field of law, overcoming barriers and making a tremendous impact. One of the best ways I can honor his legacy is by giving opportunity to future law students," says Lori Montano.
Her father, Joe Montano, a graduate of the University of Denver's Sturm College of Law, later became the first Hispanic partner of a major law firm in Colorado. Her recent gift to the Sturm College of Law provides scholarships to students from diverse backgrounds, helping to ensure that future generations of lawyers can follow in her father's footsteps.
"Joe Montano's legacy in the Colorado law community is remarkable," says Chancellor Jeremy Haefner. "The scholarship that bears his name, strengthened by Lori Montano's gift, will provide untold opportunities to students in the Sturm College of Law for many decades to come. We are grateful for the Montano family's foresight and generosity."
Born in 1928 in the tiny farming town of Lasauses in the San Luis Valley, Joe Montano was a fourth-generation Coloradan who could trace his family's North American heritage back to 1598. After graduating second in his class from DU's law school in 1953, he had a decades-long career of significant accomplishments in both public service and private practice.
Joe's 18 years of public service brought him to prominence as an assistant attorney general in the Colorado Attorney General's Office, where he ultimately was selected to be the Chief Highway Counsel. Capitalizing upon his renowned expertise in the area of eminent domain law and private property rights, he led the negotiations on behalf of the State for the creation of both the I-25 and I-70 highway corridors through Colorado, as well as managing the contract for the construction of the Eisenhower Tunnel, a feat of engineering. His legal expertise and leadership were key to the success of these landmark accomplishments.
Upon transitioning to private practice, Joe became the first Hispanic partner of a major law firm in Colorado during his time at Gorsuch, Kirgis, Campbell, Walker and Grover. He later joined the law firm of Faegre & Benson, now Faegre Drinker Biddle & Reath, LLP, at a time when Denver was experiencing exponential growth in all sectors of the city.
Until his retirement in 1998, he represented private landowners in some of the largest public work projects in Colorado history, including Coors Field, Highways C-470 and E-470, and Denver International Airport. In engineering the acquisition of land to build Denver International Airport, Joe secured an award of $70 million for his clients, believed to be the largest award in Colorado history.  
No stranger to litigation, Joe tried no fewer than 300 cases, with his prominence as a trial lawyer earning him numerous awards and honors, including becoming a member of the prestigious American College of Trial Lawyers. Additionally, the Sturm College of Law awarded him its highest alumni honor, the Outstanding Alumni Award, at the annual DU Law Stars awards dinner in 2002.
In commemoration of his professional achievements and contributions to the firm, partners at Faegre Baker Daniels established the Faegre Baker Daniels/Joe Montano Endowed Scholarship Fund in 2006. Lori Montano's gift will further support that fund, helping students at the Sturm College of Law with tuition costs. The Montano family legacy continues through their support of students at Sturm and in the work of many professionals whom Joe mentored along the way.
"A fourth-generation Coloradan born in the San Luis Valley, Joe Montano was a remarkable trailblazer: a nationally recognized expert in the field of eminent domain law and private property rights; the first Hispanic partner at a major Colorado law firm; and the legal architect of some of Colorado's most important infrastructure projects, including the construction of the I-25 and I-70 corridors, the Rockies baseball stadium, and Denver International Airport," observed Sturm College of Law Dean Bruce Smith. "He was also deeply devoted to his family and to his community. This generous commitment is a significant and fitting testament to Joe's incredible professional, personal, and civic legacy, for which we are profoundly grateful."
"As a first-generation law student and immigrant, I was very hesitant to embark on the uncharted trek up the mountain of law school," says Liliana Vior, J.D. candidate and president of the Latinx Law Student Association. "I worried if the financial burden I would shoulder would fall solely on my family and me. The Faegre Baker Daniels/Joe Montano Endowed Scholarship is that extra hand of support for my family who, after twenty years of moving to the United States, is continuing to establish roots and create a better life. In turn, I am inspired by the Montano family to help another family establish strong financial roots and a better life as soon as I am able. I am confident the family's contributions will continue to reverberate in the lives — and the family's lives — of those benefitted throughout time. From one immigrant to another, one Latinx individual to another, hand in hand, together we climb."