DU Law Graduate Wants To Make Human Impact, Aid Native Populations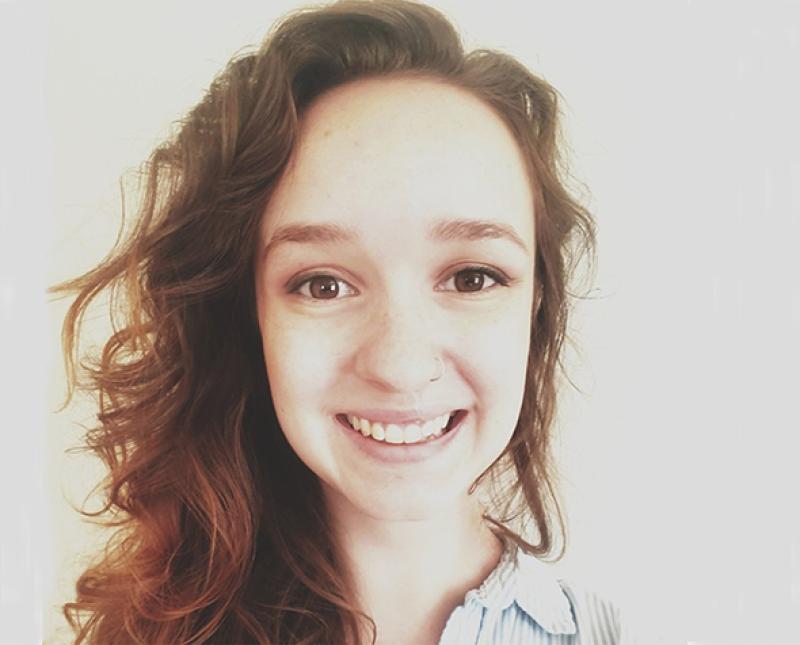 At the heart of Isabel Dufford's interest in law is a desire to help people. Direct representation, family law and making a personal impact are at the center of her career goals after she graduates from Sturm College of Law on Saturday.
"It's the potential to make a big impact," Dufford says. "Really tangible things that are going to help [people] right here and right now."
If a future lawyer wants to go into corporate law or the criminal justice system, there are well-trodden paths to reach those goals. But for the kind of law Dufford wants to practice—public interest law—the trails are murkier, especially if the legal practitioner has little interest in being a public defender. Throw in that Dufford is a first-generation law student, and it was particularly complicated.
But with the Civil Litigation Clinic, a DU course where law students help low-income clients work through civil cases in housing, domestic violence, employment issues and many other areas of the law, Dufford found herself in an environment that emphasized personal connection and impact. She says family and housing law can be messy, with high personal stakes, but her personality and skillset work well in that environment.
"I inherited this case and had the first client meeting I'd ever had," Dufford says. "We used an interpreter because English isn't her first language, and I developed a really close working relationship with both the client and the interpreter. I loved working with her directly and loved working to brainstorm issues, not only with the client but also with my classmates and professors. I found it to be a very collaborative environment, and the focus was always on how we can help people right now, and how that coincides with their priorities and what the law says. It was a really positive experience and made me feel like I was on the right path."
Between that experience and an externship with the Colorado Bar Association Federal Pro Se Clinic in the summer of 2021, Dufford had a path forward. She worked with Colorado Legal Services in its Boulder office in the summer of 2022 and the spring of 2023. There, she worked with a small group of attorneys on family and housing law issues, developing close working relationships with her coworkers and clients. She also appreciated the collaborative environment among the 13 Colorado Legal Services offices across the state.
The connection to Colorado Legal Services and a sponsorship from Greenberg Traurig LLP paved the way for Dufford to be a 2023 Equal Justice Works Fellow. She'll once again be hosted by Colorado Legal Services and will focus on direct representation for Native American clients who need assistance with divorces, custody, adoptions, guardianships, protection orders, wills and other aspects of family law.
Dufford, who is a member of the Choctaw Nation of Oklahoma, will also focus on community partnerships with Denver-area Native populations, a natural extension of her work at DU, where she was heavily involved with the Native American Law Students Association (NALSA). The group—like many student groups across campus—was dormant during the COVID-19 pandemic. Dufford was part of NALSA's revival in the spring of 2021.
Though Dufford grew up in the Colorado Springs area, away from the Choctaw culture, she had heard stories from her grandma, and great aunts and uncles, who had been raised in Oklahoma. Those connections became more important as she went through college, completing her undergraduate education at the University of Denver with a degree in history and socio-legal studies.
"A combination of going to law school, graduating, and getting older—I started to realize how important it was to learn my place in all of it," Dufford says. "When I went to law school, I knew that was going to be really important to me."
Dufford started as NALSA's secretary and eventually became the organization's vice president, working with the university to construct a comprehensive land acknowledgment. They also helped formulate a faculty pledge for inclusiveness in teaching and planned an event on indigenous intersections with the law this spring.
Ultimately, Dufford hopes to continue making an impact for Native populations and the Denver community as a whole.
"I love being in Denver, and I love being in Colorado," she says. "I kind of want to be here for the rest of my life. It's been really cool over the past few years as a law student feeling like I'm putting down roots."