Denver Law Student Wins Anti-Defamation League Writing Competition
Molly Clarke, 3L, scores ADL Summer Associate Research Memo Competition victory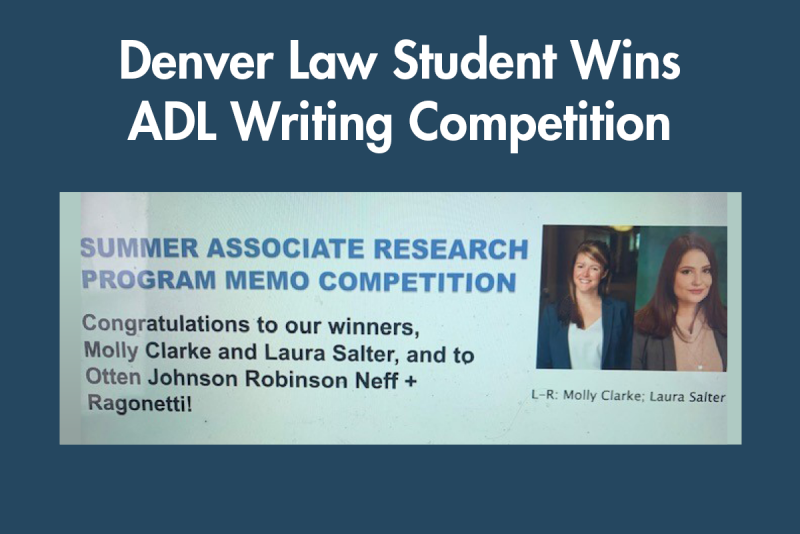 The University of Denver Sturm College of Law's Office of Diversity, Equity, and Inclusion is pleased to announce that third-year student Molly Clarke has been honored as a winner of the Anti-Defamation League's 2020 ADL Summer Associate Research Memo Competition. Clarke authored a memorandum during the course of her summer associate position at Otten Johnson Robinson Neff + Ragonetti PC in 2020. Clarke received her award at the ADL's regional board meeting on February 17, 2021.

Otten Johnson, alongside other Denver-based firms, partnered with the ADL pro bono to provide much needed legal research support. Clarke's memorandum explored the issue of privacy concerns related to contact tracing during the COVID-19 pandemic. Her memorandum concluded that because the United States holds little to no comprehensive privacy statutory law or firm jurisprudence, that absent a violation of the Privacy Act of 1974, digital contact tracing raises very few legitimate privacy or constitutional issues. Consequently, almost no legal remedies are available to those who are subjected to privacy invasions. The memorandum also juxtaposed U.S. federal law with the laws of the European Union and the State of California which feature more stringent privacy provisions.

Dedicated to public service, Clarke is continuing to provide support to nonprofits through her current Semester in Practice externship with Colorado Legal Services, working with and on behalf of Coloradans in Boulder County in the area of family law.