Denver Law Professors Honored with LSA 2020 Awards
Margaret Kwoka and César Cuauhtémoc García Hernández receive Law and Society Association awards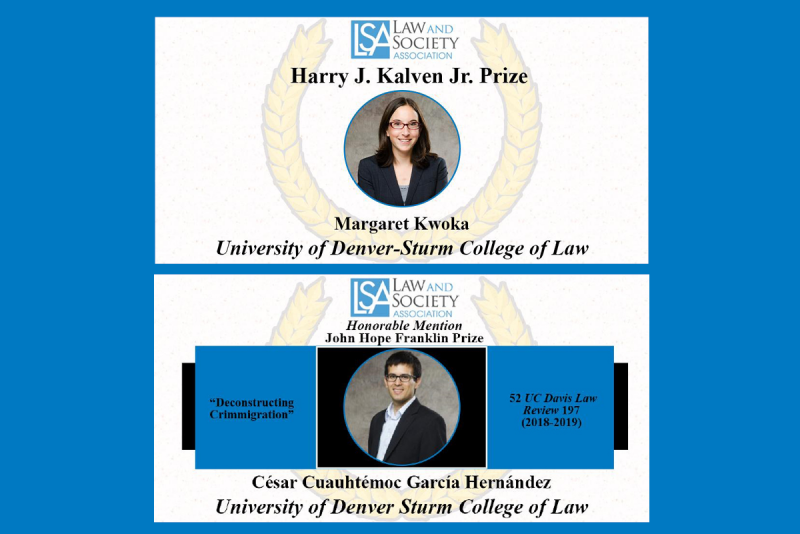 Denver Law Professors Honored with LSA 2020 Awards

On May 11, 2020, the Law and Society Association (LSA) honored academic legal scholars with its 2020 awards including University of Denver Sturm College of Law Associate Professor of Law César Cuauhtémoc García Hernández and Professor Margaret Kwoka.

With Denver Law among the founding members in 1964, the LSA is a global organization for interdisciplinary scholars and academics to share their passion for law and its intersection with social, political, economic and cultural life, serving as one of the foremost associations for legal research, publishing, and study.

The LSA announced the recipients of the 2020 Awards, noting that "our award winners not only significantly contribute to the sustainability and viability of the LSA, but they continue to advance the entire field of sociolegal studies." The organization added that awardees represent "a range of disciplines and backgrounds from academic and research institutions across the globe."

Associate Professor César Cuauhtémoc García Hernández received an honorable mention for the John Hope Franklin prize, an award established in 2010 to celebrate "exceptional scholarship in the field of Race, Racism and the Law." Professor García Hernández was recognized for his article, "Deconstructing Crimmigration," which explores the foundations of crimmigration law, an intersectional field of legal study combining criminal and immigration law. His scholarship details "harms to people, institutions, and law before offering a theoretical challenge to crimmigration law."

Professor Margaret Kwoka was co-winner of the Harry J. Kalven, Jr. prize, which is granted to those who demonstrate "empirical scholarship that has contributed most effectively to the advancement of research in law and society." Professor Kwoka earned this esteemed award for her scholarship on government transparency and the Freedom of Information Act (FOIA), an area in which her national expertise is widely recognized. Professor Kwoka demonstrates innovative practices for balancing governmental transparency against unintended FOIA practices, assessing whether it is working in accordance with what it was originally established to do.

The University of Denver is grateful to LSA for its ongoing commitment to legal scholarship and members of the prize committee for their resolute efforts, and also offers congratulations to Professors García Hernández and Kwoka for their well-deserved honors.