Denver Law Grads Ready to Apply COVID Lessons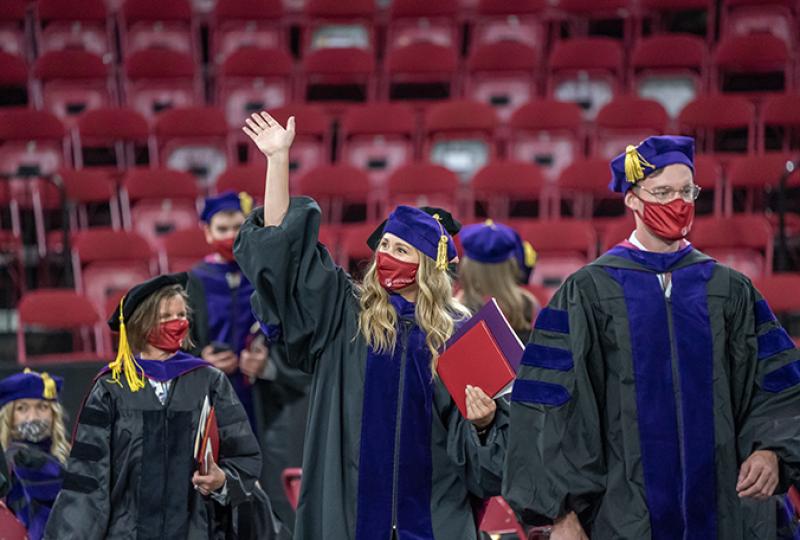 For 125 years, precedent has held that the University of Denver's Sturm College of Law honor one graduating class at its Commencement ceremony. This year, Colorado Supreme Court Justice Carlos Samour Jr. (JD '90) overturned it.
"There is no rule against having two celebrations," Samour, the keynote speaker, told the crowd in Magness Arena via video. "This is certainly one of those events that's worthy of multiple celebrations."
On May's penultimate weekend, the Sturm College of Law conferred degrees to two classes of graduates — formally to the Class of 2021 and ceremonially to the Class of 2020, which had its festivities delayed by the COVID-19 pandemic.
"It's such an honor to finally, finally celebrate you all in person," Chancellor Jeremy Haefner said. "I know it took hard work and dedication to earn your degrees, and it took patience this past year as we waited out a historic pandemic in order to have this important ceremony to celebrate your accomplishments. You survived unprecedented challenges, and now you can face just about anything."
Provost Mary Clark added: "In any year, graduation from law school is a time to celebrate incredible professional achievement and boundless professional potential. In this very special year, it is a time to celebrate your exemplary character and determination."
Though students — and their families in the stands — sat masked, six feet apart, the sights and sounds of graduation day remained the same: waving, cheering supporters giving their graduates a standing ovation as they entered to Sir Edward Elgar's "Pomp and Circumstance."
After taking their seats, the crowd listened to several speakers, including Matt Almadhi (LLM '20), who officially earned his degree in 2020.
"Hopefully one of the lessons of COVID is to reprioritize the footprint we want to leave," Almadhi said. "This is the time for us to use our law degree and our position to help change the world for the better."
In his virtual keynote address, Samour told his own story of struggle and perseverance. At the age of 13, Samour, his parents and his 11 siblings fled his native El Salvador. His house was riddled with bullets after his father, a judge, made an unpopular ruling that precipitated death threats against the family.
As new immigrants, the Samours slept on the floor of an aunt's Colorado home, as they worked to rebuild their lives. Though he had always dreamed of becoming a lawyer, the teenaged Samour wasn't even confident he would be able to learn English.
His parents could not afford to buy their son a computer, much less send him to law school. But they instilled in him faith, morals, values, a can-do attitude, resilience and a tireless work ethic, and encouraged him to dream big.
Samour, in turn, encouraged Denver Law's newest graduates to cherish mentorship, act civilly, work hard, make a difference, enjoy the journey and follow their hearts. He made special note of the exceptional circumstances the graduates weathered with determination and resilience.
"Remember: Tough times don't last; tough people do," he said. "All of you who are graduating today are tough, determined, resilient and strong-minded people. You wouldn't have made it here if you weren't. So, please don't be discouraged by the difficult times we're enduring. Instead, rise to the challenge, just as you did to get here. Step up and lead, just as you did to get here. And, just as you did to get here, be creative, think outside the box, be resourceful and show the world what you're made of as you find ways to succeed in times of great adversity."
In his own address, Bruce Smith, dean of the Sturm College of Law, drew from "Journal of the Plague Year," Daniel Defoe's 1722 work, which narrates the day-to-day life of an individual during London's Great Plague. Amid the suffering, Smith said, Defoe took comfort in the decency, courtesy and compassion citizens showed one another, which Defoe calls "brutal courage."
"Like those noble and worthy citizens, you have shown regard for your community — for your clients, your classmates and your loved ones," Smith said. "On this most special day, in this most special of years, I stand before you to honor not only your momentous academic achievement but also your courage, your commitment, your character and your community spirit."