Denver Law Celebrates Justice-Driven, Community-Minded Graduates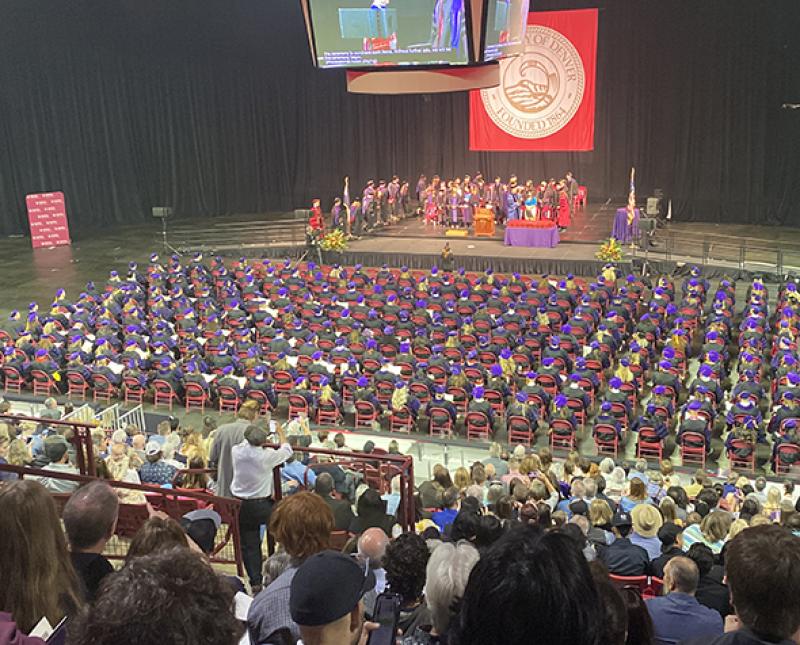 The through lines for the Sturm College of Law commencement on Saturday were social justice, compassion and community focus. Those themes were carried throughout numerous speakers from inside and outside the Denver Law community as hundreds gathered in Magness Arena to celebrate the class of future lawyers and legal professionals.
In the wake of the COVID-19 pandemic, something that heavily impacted this class, and political and social unrest, each speaker highlighted the strength and companionship of the group.
Bruce Smith, dean at the Sturm College of Law, shared the commitment to social justice, spirit of dissent and community-focused compassion of the class.
"Graduating from any U.S. law school is a time for tremendous pride and we're proud of you," Smith says. "Your achievement is particularly impressive because you graduated from a law school that is distinctive among U.S. law schools. Distinctive for breaking down the barriers to legal education, distinctive for its commitment to social justice and the public good, and distinctive for training lawyers of exceptional skill and unparalleled ethics."
Provost and Executive Vice Chancellor Mary Clark, who is a tenured faculty member at Denver Law, drew attention to the University's land acknowledgement and spoke on the tribal law as she introduced commencement speaker Ethel Branch
Branch is the Attorney General of Navajo Nation as well as a Harvard Law School graduate, leading lawsuits against the Environmental Protection Agency in the wake of the Gold King Mine Spill in 2015 and the efforts to protect Bears Ears National Monument through executive order.
Branch shared the story of her mother, who still lives in their childhood home in Navajo Nation without electricity or running water. She said while she's proud of her mother and her people, and isn't ashamed of where she's from, it's frustrating to see such wealth and prosperity on what was once Native land while people in "Indian Country" suffer.
She also touched on the importance of justice-minded lawyers and stressed the need for "wild bravery" in an uncertain world.
"There's a lot of transition in this country and this world, and a lot of tension and friction because of that," Branch said. "I'm not even talking about the ecology of the globe and the transition that's happening in that regard. You guys are in this incredible moment that requires bravery, courage and execution."
Above all, she imparted the importance of being authentic to oneself and one's community.
"Don't be afraid actualizing a world around you that is better than the world we live in now."
In addition to Branch, there were several student speakers. Keeping with the theme of community focus, the law class selected seven speakers from among their peers. Chuck Alcock, Adam Estacio, Kelly Lotterhos, Malie Minton, Camille Moore, Hanaã Obeidat and Pelecanos each spoke for one minute to their fellow students, family, friends and the larger audience in the arena. They commented on the sense of community and collaboration present at Denver Law, something they say is rare in hyper-competitive environments. They also pointed to the importance of moral duty of working towards the public good.
An estimated 295 students walked at commencement, the vast majority receiving a Juris Doctorate. Still, there were graduates present who received Master of Science in Legal Administration, Master of Legal Studies, Master of Law in International Business Transactions, Master of Taxation, and Master of Laws in Taxation.
Of those at commencement, 21 were Sturm Law Scholars, a designation that honors academic excellence, professional potential and commitment to give back to future generations. An additional 32 scholars—including Isabel Dufford—received a public good distinction an honor awarded graduating students based on their demonstrated commitment to public interest law throughout their legal education. In addition to traditional graduation requirements, students devote at least 16 credit hours to public interest coursework and participate in a capstone course in their final year.