Civil Rights Clinic 2022 Highlights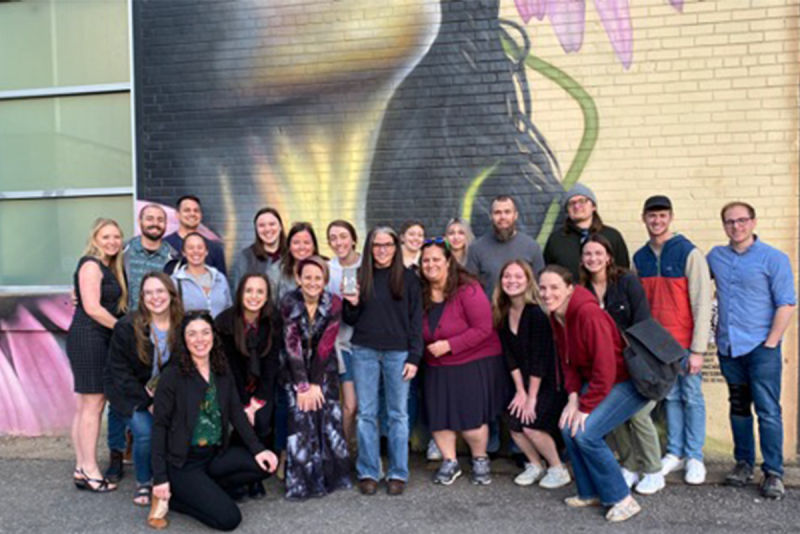 In April 2022, after seven years of litigation, students in the CRC obtained a $300,000 settlement from the Federal Bureau of Prisons to resolve their formerly incarcerated client's claim that prison officials denied him adequate medical care for Type 1 diabetes. Earlier generations of CRC student attorneys defeated prison officials' assertion of qualified immunity in both the district court and at the U.S. Court of Appeals for the Tenth Circuit.

Another student attorney team won a victory in the Tenth Circuit regarding their Muslim client's ability to seek damages against federal prison officials for violating his rights under the Religious Freedom Restoration Act.  In November 2021, student attorney Julieanne Buchanan argued the case before the Tenth Circuit (via Zoom). Ultimately, the Tenth Circuit reversed the district court's decision against the CRC's client in a published opinion.
With the case now on remand, 2022-23 CRC students (pictured below) are litigating their client's injunctive claim against the Federal Bureau of Prisons and his claims for damages against individual federal officials in the district court.
In August 2022, following a two-year investigation, the CRC published "Abused & Forgotten," an in-depth investigative report documenting the deplorable conditions of confinement in a protective custody unit in the Colorado Department of Corrections (CDOC). The report is the product of hundreds of hours of work of CRC student attorneys who conducted interviews and corresponded with over 40 people currently or formerly incarcerated in the protective custody unit; reviewed documents obtained via open records requests; and considered publicly filed documents in litigation involving protective custody. The report urges the CDOC and the Colorado Legislature to act immediately to stem the violence and deteriorative impacts of the conditions in the PC Unit.
In 2022, after three generations of CRC student attorneys investigated and litigated a case advocating for the rights of all Deaf and hard of hearing people incarcerated by the CDOC, CRC student attorneys Kassidy Roberts, Hannah Williams, Anna Goebel, and Jennifer Tuttle (along with the CRC's client organization and other co-counsel) reached a settlement with the CDOC to implement major changes in its accommodations of people with hearing disabilities.  The settlement requires CDOC to provide sign language interpreters, hearing aids, hearing exams, training to staff, accommodations for audible notifications, and many other accommodations to Deaf and hard of hearing people as required under federal law. The team and its co-counsel will be monitoring the implementation of this massive agreement for two years.

And finally, another team—Katie Wynn, Kaity Touhy, and Andrew Ferland—are preparing for an appeal before the U.S. Court of Appeals for the Fifth Circuit with CRC coalition partner ACLU of Louisiana as part of its Justice Lab: Putting Racist Policing on Trial initiative, which challenges racially discriminatory policing practices in Louisiana.