3L Stephanie Frisinger to Join Civil Beat Law Center for the Public Interest as a Post-Graduate Fellow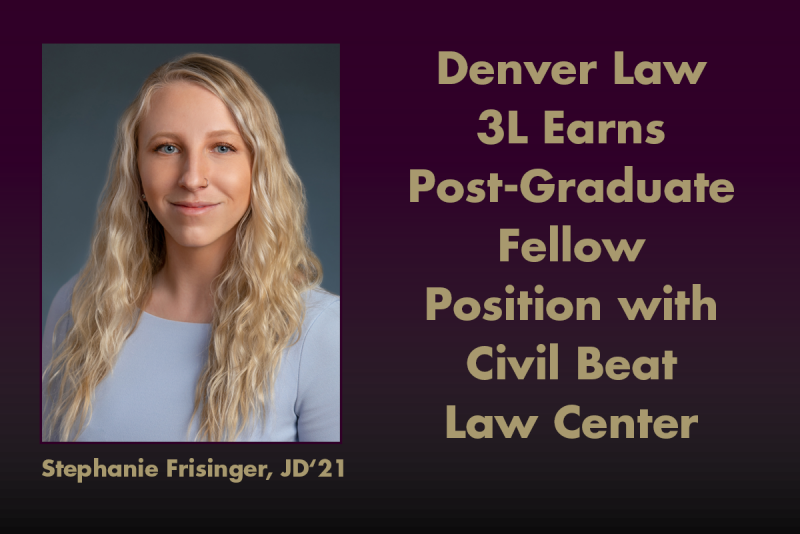 Stephanie Frisinger, a 3L at the Sturm College of Law, was selected for a post-graduate fellowship with The Civil Beat Law Center for the Public Interest (the Law Center). The Law Center is a small but influential non-profit located in Hawai`i whose mission is to develop solutions that promote transparency and responsiveness in government. The Law Center hosts an active litigation docket focused on these issues. Since 2016, the Law Center has fostered a fellowship position for recent law school graduates in open government advocacy. Stephanie will be the organization's 5th fellow.

Stephanie has soared at Denver Law. She is a Chancellor's Scholar, which is a scholarship afforded to students with a demonstrated history of excellence in academics and public service. She completed two years with the Civil Rights Clinic, where she has been a critical member of the team that recently filed a 100-page complaint alleging systemic Americans with Disabilities Act (ADA) violations against d/Deaf and hard of hearing incarcerated people by the Colorado Department of Corrections. By her graduation, Stephanie will have earned a certificate in Constitutional Rights and Remedies and distinctions in Public Good and Anti-Racism Education. She will graduate among the top students of her class. This fellowship will give her the opportunity to keep her active litigation skills sharp and will also return her to the island where she spent two years prior to law school teaching with Teach For America. She also hopes to re-engage with some of her former students.

"Organizational-based public interest fellowships are incredibly difficult to obtain but this position seems tailor made for Stephanie," said Alexi Freeman, professor and associate dean at Denver Law who worked closely with Stephanie over the years. "Stephanie brings a demonstrated commitment to serving the people of Hawai`i and has seen firsthand the value of government transparency work based on how critical records requests were to her experience with our clinic and her past internship with a civil rights law firm in Denver."

"I am overjoyed to return to the beautiful island of O`ahu to continue my public interest work there. My experience teaching math to freshmen and sophomore students at James Campbell High School, the largest public school in the state of Hawai`i, is what ultimately inspired me to go to law school. Denver Law has been an excellent law school to cultivate my passion for public interest lawyering. Professors Laura Rovner, Nicole Godfrey, and Nancy Leong and Associate Dean Lexi Freeman have been integral to my law school education. I am incredibly grateful to have these remarkable women as teachers and mentors now and in the future."

The Sturm College of Law extends a huge congratulations to Stephanie Frisinger for earning this competitive post-graduate position with the Civil Beat Law Center for the Public Interest.