2022 Christopher N. Lasch Clinical Teaching Fellows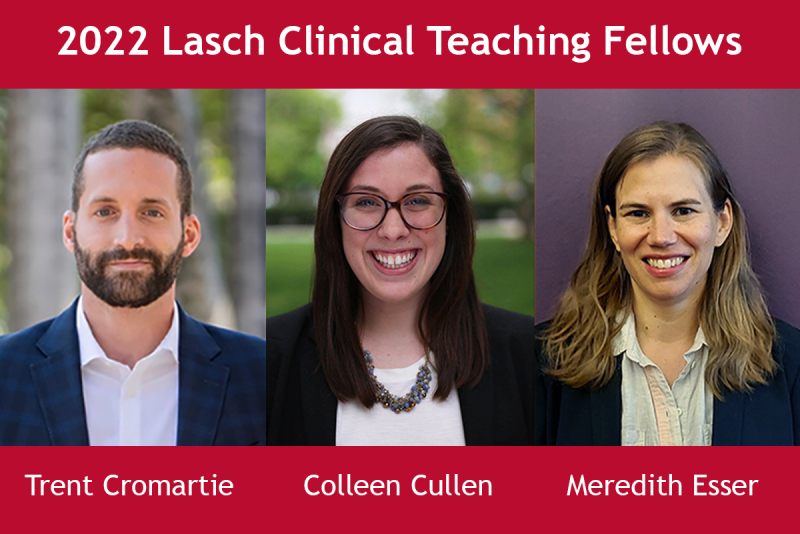 The Lasch Clinical Teaching Fellowship at Denver Law has three new fellows and a new director. Associate Professor Lindsey Webb is serving as the new Christopher N. Lasch Clinical Teaching Fellowship Program director, which is also welcoming three new clinical teaching fellows this year.

The Student Law Office at the University of Denver has been hosting clinical teaching fellows since 2007, and our Clinical Teaching LLM program was established in 2015. After the death of our friend and colleague Professor Chris Lasch in 2021, the program was renamed the Christopher N. Lasch Clinical Teaching Fellowship in his honor. This three-year program is designed to provide fellows with excellent training as clinical law teachers as well as substantial and engaged support in developing legal scholarship and a scholarly agenda.

Our former fellows are now teaching at law schools throughout the country, including the George Washington University Law School, University of Nebraska College of Law, University of St. Thomas School of Law, the University of Tennessee College of Law, the University of Alabama School of Law, Michigan State University College of Law, University of Montana School of Law, and Widener University Delaware School of Law­, as well as practicing law both locally and nationally.

Trent Cromartie, Lasch Teaching Fellow with the Civil Litigation Clinic
Trent Cromartie joins Denver Law with experience as a civil litigation attorney at Messner Reeves, LLP. Prior to joining Messner Reeves, Mr. Cromartie practiced as an insurance defense attorney with Lasater & Martin, P.C. Cromartie earned his JD from the University of Denver Sturm College of Law in 2018. During law school, Cromartie participated in the Civil Litigation Clinic, where he was named the 2018 Most Outstanding Civil Litigation Student Attorney, and the Veterans Advocacy Project, where he helped veterans obtain discharge upgrades and disability benefits, in addition to interning for Judge Edward Bronfin of the Second Judicial District and Senior Administrative Law Judge Ed Felter of the Office of Administrative Courts.

Meredith Esser, Lasch Teaching Fellow with the Civil Rights Clinic
Meredith Esser joins the University of Denver after serving as an Assistant Federal Public Defender for eight years. Most recently she worked in the Denver office representing clients in appellate and post-conviction matters. Prior to becoming a public defender, Esser was an associate at Arnold & Porter, LLP, where she maintained a pro bono case load that included prison conditions cases and other matters related to criminal legal reform. Esser clerked for the Hon. Russel F. Canan, who was then the Chief Judge of the Criminal Division of the D.C. Superior Court, and the Hon. Rosemary Barkett on the United States Court of Appeals for the Eleventh Circuit. Esser graduated from Georgetown University Law Center in 2010 and Dartmouth College in 2003.

Colleen Cullen, Lasch Teaching Fellow with the Criminal Defense Clinic
Colleen Cullen joins Denver Law from the Wisconsin State Public Defender's Office, where she has represented indigent accused people since 2018. She is a graduate of Georgetown University Law Center, where she participated in the Criminal Defense and Prison Advocacy Clinic, in addition externships with the Public Defender Service in Washington, D.C., the Office of the Federal Public Defender in Los Angeles, CA, and the U.S. District Court for the District of Columbia.