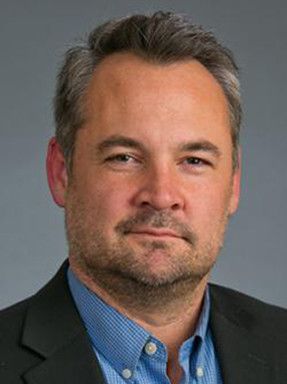 John Campbell
Associate Professor of the Practice of Law
303-871-6461 (Office)
Office 330M, Frank H. Ricketson Law Bldg., 2255 East Evans Ave. Denver, CO 80208
Specialization(s)
Lawyering Process
Professional Biography
Professor Campbell focuses on bringing the real-world into the classroom. He also focuses his scholarship and service efforts on the enhancing the nexus between practicing attorneys and scholars.
Teaching
John teaches a variety of courses, including lawyering process, torts, evidence, and a live client appellate class. He also teaches internationally, including at Moscow State University.
Scholarship
John creates high-impact scholarship about mortgage issues, measuring written persuasion, and studying jury behavior. He recently won the national writing competition held by the American College of Financial Service Lawyers, an ABA group. And his work on juries and other topics have appeared in a variety of journals, including the Washington University Law Review (a Top 20 journal), Iowa Law Review (a Top 20 journal), the University of Michigan Journal of Law Reform, Brooklyn Law Review, and Catholic Law Review.
Service
In order to bring his trial work and jury study work together to benefit the University, John co-founded and is the co-director of the Denver Empirical Justice Institute (DEJI) - an organization dedicated to promoting two fundamental ideas. They are 1) being a trial and appellate lawyer is a noble calling, and 2) empirical studies can inform and improve trial practice and the rules that impact it.
Impact beyond the University
In addition to his work at the University, John is an active trial and appellate lawyer (Of Counsel, Campbell Law LLC). As a trial and appellate lawyer he is ranked by SuperLawyer and Best Lawyers. He is also rated AV Preeminent on Martindale Hubbell, and has served as lead counsel in cases that resulted in total recoveries of over $300 million.
John also runs a jury consulting group (Empirical Jury), where he helps litigants assess their case, improve it, and then pick better juries. The firm uses online platforms, statistics, and lessons from big data to change the way attorneys prepare for trials.
Degree(s)
JD, Saint Louis University School of Law, 2006
BA, Education, Concordia University at Austin, 2000
Licensure / Accreditations
Law License
Licensed to Practice Law
License to Practice Law - Illinois
License to Practice Law - Missouri
Featured Publications
Budding Torts: Forecasting Emerging Tort Liabilty in the Cannabis Industry, co-authored with Sahib Singh, Loyola Consumer Law Review, Forthcoming.
Time Is Money: An Empirical Assessment of Non-Economic Damages Arguments,, 95 Washington University Law Review 1 (2017).
Countering the Plaintiff's Anchor: Jury Simulations to Evaluate Damages Arguments, co-authored with Bernard Chao, Christopher Robertson and David Yokum, 101 Iowa Law Review 543 (2016).
Where Kafka Reigns: A Call for Metamorphosis in Unlawful Detainer Law, 49 U. Mich. J.L. Reform 557 (2016).
Employment Law Update: Dukes, Comcast, and Italian Colors: Three Decisions Dramatically Impacting Employment Class Actions, Henry Perritt, Chapter _ (forthcoming 2016).
Can We Trust Trustees?: Proposals for Reducing Wrongful Foreclosures, 63 Cath U. L. Rev. 103 (2014).
Mis-Concepcion: Why Cognitive Science Proves the Emperors Have No Robes, 79 Brook. L. Rev. 107 (2013).
Workplace Privacy in Social Media in Emerging Technologies in the Employment Context, in 2013 EMPLOYMENT LAW UPDATE 8.01 (Henry H. Perritt Jr. ed., 2013) (with Timothy Grochocinsky).
Unprotected Class: Five Decisions, Five Justices, and Wholesale Changes to Class Action Law, 13 WYO. L. REV. ___ (forthcoming 2013) (requested).