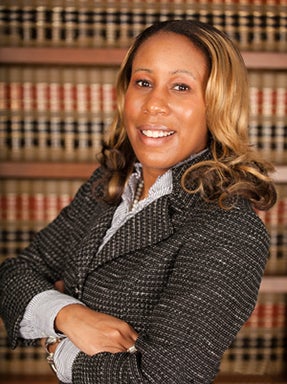 Jenipher Jones Bonino
Program Manager for Diversity, Equity, Inclusion and Social Justice Initiatives
Frank H. Ricketson Law Bldg., 2255 East Evans Ave. Denver, CO 80208
Specialization(s)
Diversity/Equity/Inclusion
Professional Biography
After instructing in the Sturm College of Law's Civil Rights Clinic, Jenipher Jones Bonino now manages programs for Denver Law's Diversity, Equity, Inclusion (DEI) and Social Justice Initiatives, helping to advance institutional commitments to DEI and social justice. Working closely with Associate Dean Lexi Freeman and other staff members, Jenipher supports a range of student-related initiatives, including academic advising, academic success, inclusion, well-being, and professional development, as well as our pipeline partnerships.

Prior to joining the law school, she graduated from, HBCU, Bennett College for Women with a B.A. in Political Science with honors. She then attended law school at Loyola University New Orleans College of Law with membership to the Loyola Maritime Journal Law Journal, The International Legal Honor Society of Phi Delta Phi, and clinical study.

Jenipher began her career in civil and human rights as a Fellow at the Albert Schweitzer Fellowship at the Southern Poverty Law Center. Jenipher has worked on law enforcement accountability issues, including a clerkship at the civilian law enforcement oversight agency, the City of New Orleans Office of the Independent Police Monitor (OIPM), and a landmark federal consent decree involving the New Orleans Police Department (NOPD). She has also practiced at the National Employment Litigation Unit (NELU) of the United States Postal Service handling class action employment discrimination matters.

Most recently, at a civil rights law firm, Jenipher litigated complex civil litigation cases involving prisoners' rights, law enforcement misconduct, and employment discrimination. She has been published in both domestic and international publications. Jenipher has also advocated for the rights of prisoners in the United States before the U.S. Commission on Civil Rights, The United Nations Association, and the U.S. Department of State Bureau of Bureau of Democracy, Human Rights, and Labor.

A member of the Executive Committee for the American Association of Law Schools (AALS), Balance Section and Scholarship Committee, she promotes diversity and wellness in the legal profession, particularly among law students and lawyers of color. Jenipher is also active in the community and serves on Board of Directors for The Blue Bench of Colorado and supports the arts and humanities.
Degree(s)
JD, Loyola University New Orleans College of Law
BA, Bennett College for Women