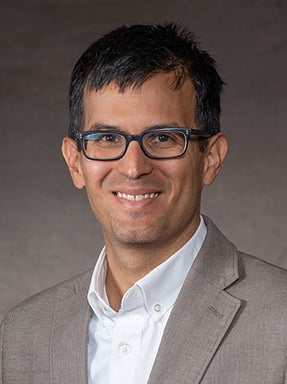 César Cuauhtémoc García Hernández
Associate Professor of Law
303-871-6442 (Office)
Office 455D, Frank H. Ricketson Law Bldg., 2255 East Evans Ave. Denver, CO 80208
Professional Biography
César Cuauhtémoc García Hernández is an associate professor at the University of Denver Sturm College of Law and a frequent commentator in national and international media. He publishes crimmigration.com, a blog about the convergence of criminal and immigration law that is a past recipient of the 100 best law blogs honor by the ABA Journal. César's academic interests also center on crimmigration law. His articles about the right to counsel for immigrants in the criminal justice system, immigration imprisonment, and race-based immigration policing have appeared in the California Law Review, UCLA Law Review, BYU Law Review, Maryland Law Review, and Georgetown Immigration Law Journal, among others. His first book, Crimmigration Law, was published by the American Bar Association in 2015. He is currently writing a second book, Migrating to Prison: Immigration in the Age of Mass Incarceration, to be published by The New Press in 2019.
In addition to teaching and research, César's analyses of policies affecting migrants regularly appear in the United States and abroad. He has published opinion articles in The New York Times, The Guardian, Newsweek, and many other venues. Through more than 150 interviews, he has lent his expert analysis to journalists in Brazil, Canada, Germany, South Africa, and the United States. He has also consulted with policymakers and is a member of the American Bar Association's Commission on Immigration.
César's accomplishments have been widely recognized. In 2019, he will deliver the Buck Franklin Memorial Civil Rights Lecture at the University of Tulsa, named after the pioneering African-American lawyer who devoted countless hours to assisting victims of the Tulsa Race Riots. Recently, he finished a semester as a Fulbright Scholar at the University of Ljubljana Faculty of Law's Institute of Criminology in Slovenia. In 2016, he was a scholar-in-residence at the University of California, Berkeley and Texas Southern University. Two years earlier, César was presented with the Derrick A. Bell, Jr. Award by the Association of American Law Schools Section on Minority Groups, an honor issued to a "junior faculty member who, through activism, mentoring, colleagueship, teaching and scholarship, has made an extraordinary contribution to legal education, the legal system or social justice."
Degree(s)
JD, Boston College, 2007
AB, American Civilization, Literatures in English, Brown University, 2002
Licensure / Accreditations
Featured Publications
Additional Publications
Immigration Imprisonment's Failures, 36 Immigration and Nationality Law Review 47 (2016).
CrImmigration Law (American Bar Association 2015).
Naturalizing Immigration Imprisonment, 103 California Law Review 1449 (2015).
Immigration Law by Proxy: The Case of Colorado's Human Smuggling Crime, 92 Denver University Law Review Online 41 (2015).
The Life of Crimmigration Law, Denver University Law Review, Vol. 92, No. 4 (2015).
Immigration Detention As Punishment, 61 UCLA Law Review 1346 (2014).
Invisible Spaces and Invisible Lives In Immigration Detention, 57 Howard Law Journal 869 (2014).
Creating CrImmigration, 2013 Brigham Young University Law Review 1457.
Book Review: Social Control and Justice: Crimmigration in the Age of Fear, 60 Crime, Law, and Social Change 457 (2013).
Strickland-Lite: Padilla's Two-Tiered Duty for Noncitizens, 72 Maryland Law Review 844 (2013).
Criminal Defense After Padilla v. Kentucky, 26 Georgetown Immigration Law Journal 475 (2012).
Immigrant Outsider, Alien Invader: Immigration Policing Today, 48 California Western Law Review 231 (2012).
Padilla v. Kentucky's Inapplicability to Undocumented and Non-Immigrant Visitors, 39 Rutgers Law Record 47 (2012).
The Perverse Logic of Immigration Detention: Unraveling the Rationality of Imprisoning Immigrants Based on Markers of Race and Class Otherness, 1 Columbia Journal of Race and Law 353 (2012).
Due Process and Immigrant Detainee Prison Transfers: Moving LPRs to Isolated Prisons Violates Their Right to Counsel, 21 Berkeley La Raza Law Journal 17 (2011).
When State Courts Meet Padilla: A Concerted Effort is Needed to Bring State Courts Up to Speed on Crime-Based Immigration Law Provisions, 12 Loyola Journal of Public Interest Law 299 (2011).
La Migra in the Mirror: Immigration Enforcement and Racial Profiling on the Texas Border, 23 Notre Dame Journal of Law, Ethics, and Public Policy 167 (2009).
Of Inferior Stock, The Two-Pronged Repression of Radical Immigrant Birth Control Advocates at the Turn-of-the-Twentieth-Century, 20 St. Thomas Law Review 513 (2008).