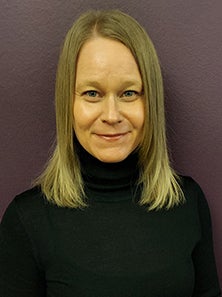 Cathlin Sandler
Assistant Director of Career Development and Opportunities
Professional Biography
Expertise:
Cathlin Sandler is the Assistant Director of Career Development and Opportunities at the University of Denver Sturm College of Law and brings nearly 15 years of experience as a criminal defense attorney in the public sector as a Deputy State Public Defender for the State of Colorado. 
As a part of the CDO Team, Cathlin works with students who are seeking positions in a wide variety of legal environments specializing in the public sector, judicial settings, non-profit organizations, and other public interest agencies.  Cathlin also advises on government placements and private sector careers including law firms and corporations.  Cathlin has several professional contacts across all practice settings and has extensive experience helping people find direction and create plans to achieve their goals.
Background:
Cathlin Sandler has a non-traditional educational history and is a first-generation college graduate.  After earning her BA, Cathlin worked in the non-profit sector for several years in Development and Fundraising, Communications and Administration.  During her law school career, she continued her work in the non-profit sector as the Coordinator of a Street Law Program for the Minnesota Justice Foundation.  After interning for the Hennepin County Public Defender's Office in Minneapolis, Minnesota during her 3L year, Cathlin successfully secured employment in Colorado and began her long-term career as a Public Defender representing clients in a number of jurisdictions across the state.  During that time, Cathlin also served on the Supreme Court Advisory Committee for Problem Solving Courts and was a founding and dedicated member of a variety of problem-solving courts in Adams, Broomfield and Morgan Counties, including drug courts, veterans courts, DUI courts and gender specific problem solving courts. 
Degree(s)
J.D. Law, William Mitchell College of Law, 2007
BA, Professional Communications, 2000
Licensure / Accreditations