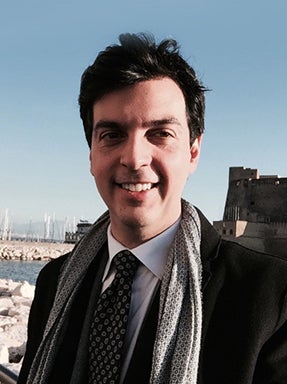 Amedeo Arena
Adjunct Professor
Coordinator of the Exchange Agreement with Federico II Law School
Specialization(s)
Antitrust Law, Comparative Law, International Law
Professional Biography
Amedeo Arena is Associate Professor of European Union Law at the School of Law of the University of Naples Federico II, where he teaches European Union Law and EU Internal Market and Competition Law.
He serves as Coordinator of the Exchange Agreement between Federico II Law School and Sturm College of Law. In the framework of Sturm College of Law's International Legal Studies Program, he teaches Comparative Competition Law and Fundamentals of Italian Law.

Professor Arena was Visiting Scholar/Researcher at, among others, the University of California Berkeley, University College London, and the University of Tokyo; he was Visiting Professor at, among others, KU Leuven, the University of Leiden, and the University of Sheffield; he was Invited Speaker, inter alia, at Cambridge, Chicago, Columbia, Harvard, Oxford, and Stanford University.
Professor Arena is the author of three research monographs (2011, 2013, and 2019), an encyclopedia volume (2014), a casebook (2016), a collection of international treaties (2008), and over forty articles published in edited books and peer-reviewed journals. His work has been cited by an Advocate General of the EU Court of Justice, the Court of Appeal of England and Wales, the EU Fundamental Rights Agency, and a number of leading legal scholars. He is currently writing a book on a Doctrine of Preemption for the European Union, which will be published by Oxford University Press in the Oxford Studies in European Law Series.
Professor Arena serves as International Advisor to the American Antitrust Institute (Washington DC), to the Institute for Consumer Antitrust Studies (Chicago), and to the Observatory on the Application of Competition Law (Porto). He sits on the Editorial/Advisory Board of legal journals such as Diritto del Commercio Internazionale (Milan), European Competition Journal (London), Market and Competition Law Review (Porto), and Yearbook of Antitrust and Regulatory Studies (Warsaw) and served as reviewer for Oxford University Press, Hart Publishing, and for several legal journals
Professor Arena is the recipient of several awards, including the SIDI 2011 Award by the Italian Society of International Law and European Union Law and the Leonardo da Vinci Prize by the Italian Ministry of Education University and Research. 
Courses
Comparative Competition Law 
Fundamentals of Italian Law
Degree(s)
Ph.D., University of Naples Federico II
LL.M., New York University (Fulbright Scholar)
LL.M., King's College London
Laurea in Giurisprudenza, University of Rome Tor Vergata
Research
Amedeo Arena's current research focuses the formulation of a doctrine of preemption for the European Union. While other jurisdictions, such as the US, have developed a set of criteria and presumptions to determine when federal legislation conflicts with State law, in the European Union it is for the European Court of Justice (ECJ) to make that assessment, seemingly on a case-by-case basis. However, just as other legal systems, such as Canada, Australia, and the Andean Community, have developed analytical frameworks for the resolution of normative conflicts, it is submitted that also in the ECJ jurisprudence some recurring patterns can be observed and that an EU doctrine of preemption can therefore be formulated. It is submitted that such a doctrine would provide a clearer picture of the inherently dynamic division of powers between the EU and its Member States. Also, that doctrine would provide Member States with more effective arguments to protect their regulatory autonomy vis-à-vis EU law. Finally, that doctrine would make the resolution of vertical conflicts by the ECJ more predictable, thus increasing legal certainty and easing tensions between the ECJ and Member States' supreme and constitutional courts.
Professor Arena's book proposal on that topic has been accepted for publication by Oxford University Press, in the Oxford Studies in European Law book series. 
Awards
Leonardo da Vinci Prize, Italian Ministry for Education, University, and Research, 2019 

SIDI Award, Italian Society for International and European Union Law, 2011