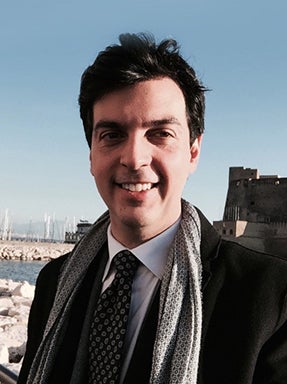 Amedeo Arena
Adjunct Professor
Coordinator of the Exchange Agreement with Federico II Law School
Specialization(s)
Antitrust Law, Comparative Law, European Law, International Law
Professional Biography
Amedeo Arena is Associate Professor of European Union Law at the School of Law of the University of Naples "Federico II" (est. 1224), where he teaches European Union Law and EU Internal Market and Competition Law. He serves as Academic Coordinator of the Exchange Agreement between Sturm College of Law and "Federico II" Law School. In the framework of Sturm College of Law's Italy Summer Program, he teaches Comparative Competition Law and Fundamentals of Italian Law.

Professor Arena graduated in law summa cum laude from the University of Rome "Tor Vergata", holds an LLM in European Law from King's College London and an LLM in International Legal Studies from New York University, where he was also a Fulbright Fellow. Moreover, he completed a PhD and a Postdoctoral Research Fellowship at the Department of International and EU Law of the University of Naples "Federico II".

Professor Arena has been Visiting Academic at Oxford IECL and Harvard Law School; Visiting Researcher at UC Berkeley Law and U Tokyo Faculty of Law; Visiting Professor at Leiden Law School and Riga Graduate School of Law; Invited Speaker, inter alia, at Cambridge, Chicago, Columbia, Yale, and Stanford Law School, as well as at the College of Europe (Bruges) and at the European University Institute (Florence).

Professor Arena is the author of three research monographs (2011, 2013, and 2019), an encyclopedia volume (2nd Ed., 2014), a casebook (2nd Ed., 2020), a collection of international treaties (2008), and over forty articles published in edited books and peer-reviewed journals. His work has been cited by an Advocate General of the EU Court of Justice (in Case C-129/19 and Case C‑2/18), the Court of Appeal of England and Wales (in Micula v Romania), the EU Fundamental Rights Agency (in its 2019 Report), and a number of leading legal scholars. He is currently writing a book on a Doctrine of Preemption for the European Union, which will be published by Oxford University Press in the Oxford Studies in European Law Series.

Professor Arena serves as International Advisor to the American Antitrust Institute (Washington DC) and for the Institute for Consumer Antitrust Studies (Chicago), he is also a member of the Advisory Board of the Observatório da Aplicação do Direito da Concorrência (Porto). He sits on the Board of peer-reviewed journals such as Diritto del Commercio Internazionale (Milan), European Competition Journal (London), Market and Competition Law Review (Porto), Yearbook of Antitrust and Regulatory Studies (Warsaw).

Professor Arena is the recipient of several accolades, including the "SIDI 2011" Writing Award by the Italian Society of International Law and European Union Law and the "Leonardo da Vinci 2019" Grant by the Italian Ministry of Education University and Research and by the Italian Ministry of Foreign Affairs and International Cooperation. 
Courses
Comparative Competition Law 
Fundamentals of Italian Law
Degree(s)
Ph.D., University of Naples Federico II
LL.M., New York University (Fulbright Scholar)
LL.M., King's College London
Laurea in Giurisprudenza, University of Rome Tor Vergata
Research
Amedeo Arena's current research focuses the formulation of a doctrine of preemption for the European Union. While other jurisdictions, such as the US, have developed a set of criteria and presumptions to determine when federal legislation conflicts with State law, in the European Union it is for the European Court of Justice (ECJ) to make that assessment, seemingly on a case-by-case basis. However, just as other legal systems, such as Canada, Australia, and the Andean Community, have developed analytical frameworks for the resolution of normative conflicts, it is submitted that also in the ECJ jurisprudence some recurring patterns can be observed and that an EU doctrine of preemption can therefore be formulated. It is submitted that such a doctrine would provide a clearer picture of the inherently dynamic division of powers between the EU and its Member States. Also, that doctrine would provide Member States with more effective arguments to protect their regulatory autonomy vis-à-vis EU law. Finally, that doctrine would make the resolution of vertical conflicts by the ECJ more predictable, thus increasing legal certainty and easing tensions between the ECJ and Member States' supreme and constitutional courts.
Professor Arena's book proposal on that topic has been accepted for publication by Oxford University Press, in the Oxford Studies in European Law book series. 
Featured Publications
A. Arena, The Wall Around EU Fundamental Freedoms: the Purely Internal Rule at the Forty-Year Mark, 38 Yearbook of European Law (2019) 153-219
A. Arena, From an Unpaid Electricity Bill to the Primacy of EU Law: Gian Galeazzo Stendardi and the Making of Costa v. ENEL, 30 European Journal of International Law (2019) 1017-1037
A. Arena, Primacy and Pre-emption, in R. Schütze and T. Tridimas (eds.), Oxford Principles of European Union Law - Volume I: The European Union Legal Order (Oxford University Press, Oxford, 2018) 300-349
A. Arena, State aids and Tax rulings: an assessment of the Commission's recent decisional practice, 1 Market and Competition Law Review (2017) 49-79
A. Arena, Exercise of EU Competences and Pre-emption of Member States' Powers in the Internal and the External Sphere: Towards Grand Unification?,  35 Yearbook of European Law (2016), 28-105
A. Arena, The relationship between antitrust and regulation in the US and the EU: can legal tradition account for the differences, 3 Cambridge Journal of International and Comparative Law (2014) 330-356
A. Arena, B. Bergmann, J. Himes, Two bodies of law separated by a common mission: unilateral conduct by dominant firms at the IP/Antitrust intersection in the EU and the US, 9 European Competition Journal (2013) 623-675
E. Fox and A. Arena, The International Institutions of Competition Law: The Systems' Norms, in E. Fox e M. Trebilcock (eds.) The Design of Competition Law Institutions: Global Norms, Local Choices (Oxford University Press, Oxford, 2013) 444-487
A. Arena, The Doctrine of Union Preemption in the EU Internal Market: Between Sein and Sollen, 17 Columbia Journal of European Law (2011) 477-556
A. Arena, The GATS Notion of Public Services as an Instance of Intergovernmental Agnosticism: Comparative Insights from the EU Supranational Dialectic, 45 Journal of World Trad e (2011) 489-528
Presentations
"The Untold Story of Costa v ENEL", Oxford University, Institute of European and Comparative Law, February 27, 2020
"Is EU Law Still a Pillar of the European Union?", Harvard Univeristy, Center for European Studies, November 22, 2019
"The European Tax Rulings Saga", Yale Law School, YLS European Law Association, October 16, 2019
"Reining in International Tax Competition?" Chicago Law School, International Law Society Talk Series, April 25, 2019
"A Doctrine of Pre-emption for the European Union", Cambridge University, Centre for European Legal Studies, February 13, 2019
"Secret tax deals of multinationals exposed", Stanford Law School, Stanford Tax Club, October 12, 2018
Awards
Leonardo da Vinci Prize, Italian Ministry for Education, University, and Research, 2019 
SIDI Award, Italian Society for International and European Union Law, 2011